Nina Mozer: For me, 4th place is akin to complete failure
Posted on 2019-08-15 • No comments yet
Interview with Nina Mozer. About the ISU international pair skating seminar held in Novogorsk, development of pair skating, Olympics and past season.
for Moskow skater magazine #2 (54) 2019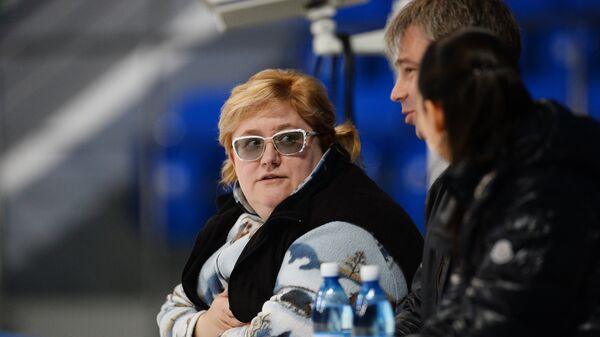 Nina Mikhailovna, for is the purpose of this seminar?
– The seminar is held by ISU, the purpose is developing of world pair skating. We attract our and foreign specialists to conduct a great practical work with the athletes. In addition to Russian pairs, there are European and American pairs. In general, representatives of each country which has pair skating came to us, except for China and Canada.
Why does ISU choose our trainings base for the seminar, and not Canadian, for example, or Chinese?
– Now the ISU holds two such seminars – in our country and in Germany. When I just started working as a top-level coach, I first came to such an event in Germany. American coach Dalilah Sappenfield, who now participates in the seminar with her athletes, was the main coach at that seminar. It was so many years ago, but I still remember my impressions and what a push that seminar in Berlin gave.
Recently, these seminars began to be held in our country, because after our very successful performance in Sochi, the management of the ISU and the technical committee of single and pair skating decided that we are leaders in this discipline and can conduct such seminars.
What do you work on at such seminars?
– We work on improving of the elements, complicated some things, looking for new entries, approaches, exits from elements. We learn multi-rotational throws, multi-rotational twists, new lifts, because every year something new appears in the ISU rules, and at the seminars the first work on such things begins. Athletes come with their coaches and specialists who note for themselves everything that can be useful in their work. These are such training camps for development of pair skating.
If we are leaders, how did it happen that in the last season we didn't place 1st at any championship we've participated?
– And what, only the 1st place considered leadership?
Many consider this to be a criterion for success, are they not right?
– Yes, I understand. But leadership is not always only about gold medals. You know, there are traditions of leadership. There are things that basically show the level of development. Over the past years, we have always been with medals at the World Championships, and few have succeeded like that, maybe Chinese. They perfectly develop pair skating on the basis of the Russian system and also due to their hard work and perseverance they achieve high results.
And then, just in case, there's a billion of them.
– It doesn't matter.
This is not an argument?
– Not an argument at all. In all countries there are national teams, regardless of the number of people participating in the development of this sport. Just the Chinese are a gifted nation, like all Asians. We arrived to the World Championships, they gave us a magazine, which is usually issued during the championship. We look at the medal contenders in men's single skating: six photos – all Asians. Same situation in ladies' skating, except Zagitova. So in the single skating, we have an absolute dominance of Asian athletes, because they have twice more speed fibers than Europeans. If Africans were engaged in figure skating, then it would be even harder for us to compete, as in athletics. They are fast and with lots of stamina, unlike us, I mean not only Russia.
In my life I have seen thousands of competitions, trainings, warm ups, I saw moments of falls, injuries. An Asian falls, gets up, rubs the bruised place and continues to skate. A European from any country falls – minimum sprain, maximum fractures or torn ligaments. We have surprisingly become fragile. Or is it just such genetics.
In your opinion, how much will pair skating develop till the Beijing Olympics? Will it be extreme again?
– I hope no. I'm glad that now all these "killer" elements are not worth so much to kill yourself doing them. Of course, many are unhappy that the rules have changed, but no one has been forbidden to do these elements. However, now they praise not for trying, but for qualitative execution. If the element is done very well, then +5 gives a big increase in scores. It seems to me that this is a more correct way, when the result is affected by the cleanliness of skating, quality of the elements.
How hard is it to gain quality in pair skating?
– All my life I have been working with pair skating and have seen how it changed. From the simplest classics to current modern. Every time I say: "Lord, if I knew what this would go to, I would seriously think what profession to choose." Because it's just scary to look at some elements, and I, as a coach, have to motivate athletes to practice them in training, perform in competitions, realizing that the guys are risking their health and even life at these moments. Especially since I've seen such horrors in this regard, so … Honestly, I forgot what the question was ….
I understand.
– Just …. I remembered several of these serious injuries that happened in front of my eyes, and really got in stupor.
How hard is it to gain quality in pair skating?
– It's hard. In our discipline, there are two people who meet at a young age, each still continues to grow and form, and they have to learn pair elements. In order for the boy to cope with the girl, her weight and height should be acceptable for him. The higher the pair, the more amplitude it has, but at the same time less speed, and vice versa, shorter guys will be fast and sharp, but without breathtaking throws and twists. That is, an absolutely different approaches to the training system are necessary, because they have different abilities. In a pair, one athlete should remain small and quick, because you need to perform twists, land throws, jumps, and the other athlete must be strong, powerful, reliable. And these two people need to be prepared so that at the right time and in the right place they can do what planned. In fact, this is such a roulette that every day keeps you in tensions. You always think how correctly you draw up a training plan for today so that everyone would do their job, get in shape and go home happy.
This is really cool.
– Probably. I don't know. But after the Olympics in Korea, I decided to step aside from all this. As far as possible.
Emotional burnout?
– No matter how you call it. You know, I didn't succeed at the Olympics in Korea. I brought a wooden medal (Russian name for pewter medal – ed.). For me, 4th place is akin to complete failure.
But it wasn't on purpose. It just happened so …
– At these Games, in general, the circumstances developed in some strange way. It seems that some things have engraved in my memory forever, although, in fact, I shouldn't have noticed them at all.
What do you mean?
– For example, during the last warm-up, where Tarasova-Morozov skated, in the VIP sector, one of the IOC leaders arranged a selfie photo session with North Korean skaters. Moreover, I saw that there are a bunch of specialists standing next to me and no one pays attention to it. And I was shaking.
Why?
– Outrage. Photosession, camera flashes, joyful fuss. Journalists didn't take photos of the warm-up, but this mess, in short, everyone is happy. I looked at it, and everything was boiling inside me: Stolbova and Klimov were not allowed to the Games, what a tragedy for the guys, and here such fun. I kind of understood that he personally is not to blame, but I couldn't cope with myself. I was so outraged that I lost a minute of warm-up because of my emotions.
In general, I remember that warm-up like in a slow-motion movie. I remember that I saw that Zhenya was standing near the board and sniffing ammonia, like perfume. Only from the fourth time she realized that it was ammonia. I understand that she is in a deep stupor. But there's no time to fix something. She is in such a state and goes for a warm-up, and then I see this photo shoot.
And you are also in a stupor …
– Generally there were a lot of strange things of all kind. Evgenia and Vladimir had the last starting number, and everyone skated very well. I remember how nervous I was, I went outside to breathe — inhale and exhale — I returned, for some reason I watched Savchenko's performance, although I never watch how our competitors skate. It was evident that there was such a state that I made a lot of things that I never do.
Have you analyzed why?
– This whole Olympics was a serious test for us. It all started with team event, when Kolyada brought the team only three points in the short program. This meant that even with good performances the team wouldn't place above 3rd place. And if someone else fails the short program, then goodbye team competitions. The work of many people in vain. After a short program, it was scary to look at all ours. And I even don't want to remember how looked Kolyada and his coach. So painful it was.
How did it happen that you was with Kolyada and Valentina Chebotareva during his free program?
– I wasn't just there. I went to their practices every day. Said: we do this, go there, think about this. When Misha and Valentina Mikhailovna asked: "Can you go with us to the free program?", there was no option to answer "No!"
Do you beat yourself up about this? Why?
– You see, I haven't completed my task. I set myself that I would stand behind this board four times, and I stood five. And the fifth time – it was Zhenya and Vova's free program, but there was already not enough strength, probably. Well, there were many other reasons why the free program didn't turn out.
After that, it was very difficult to get out of this state. Even told some of my friends that I forgot how to lose. I lost this game, do you understand? It was hard. For two or three days I just cried endlessly, couldn't recover. And then I forbade close people to talk with me about this Olympics, to recall its events. I simply told them: "This Olympics didn't happen."
Didn't the fact that, in spite of everything, our team won silver please you? Including your athletes Tarasova – Morozov, Zabijako – Enbert.
– You know, they constantly ask me: "Why don't you rejoice medals?" In fact, I rejoice, but someone else's victories. When Alena Zavarzina (snowboard – ed.) won medal at the Games, I cried with happiness. But most of the time I don't rejoice my medals. Because for me, every medal won has a flip side: today this work is done, tomorrow it is necessary to start again. Just for me tomorrow comes right away.
So this "tomorrow" nullify the joy of victory for you?
– Yes. There was a goal, you reached it and then all over again. Again we must run fast to get a result for the country, for fans, for athletes, for ourselves. And you hear around: "You are wrong, you don't know how to work, you don't know how." In a word, I decided to step aside from coaching, to give young coaches the opportunity to work.
But exactly one year later you again stood at behind the board at Worlds, turns out you changed your mind?
– No. If not for Zhenya and Volodya, I would not have returned. Back in October, I saw that not everything turns out.
Maxim asked me to come to their training. If before that I said: "No, I will never return," then in the fall, I agreed to come to them once a week. I'm not one of those people who are pleased to see how some business collapses without them.
I would never have thought so.
– I say – this is not my style. But when you have been created athletes for four years, and not only on ice, but in life, when you not only told everyone how beautiful they were, but also worked to make them really beautiful, it's impossible to leave people like that. After the Grand Prix Final and before Nationals, I was with them more often. The Russian Nationals turned out to be very strong: in the last warm-up, not a single pair made a single mistake, and Zhenya and Volodya performed very well. But at the European Championships, which took place almost a month before Worlds in Japan, I had a certain frustration about the quality of their skiing. I understood that I had to do something, but I didn't have the strength to break myself. And so on the last day of the European Championships, Fedor Klimov and I were sitting in a cafe, I was thinking out loud "Maybe, I should join their preparation once again", and Fedor suddenly said: "Probably it will be right."
Did his words become decisive for you?
– Yes. I took it, because failure couldn't be allowed. And again there was a challenge to everyone and myself. Because Zabijako-Enbert had their health situation. Doctors forbade Sasha to perform the full amount of loads, and he had to slow down a lot. The decision about his admission to full trainings was difficult. He was endlessly on examination, then on treatment, then again on examination. Before the Worlds, Sasha got permission, so I was taking two pairs. This again was a challenge for me as a coach: can I prepare them for the World championship in a month? It was necessary to decide on this. So I constantly recalled this cup of coffee and a conversation with Fedya in Minsk.
For Zhenya and Volodya, this was also a challenge?
– They were upset with their skating, they saw that it wasn't working out as it should. I set a condition for them that my word is a law. They said yes. Everyone worked like a clock, clenching their teeth. Not a single complaint, not a single lateness. Two weeks in Moscow, then another two weeks in Japan. And it all worked out.
Silver and bronze medals at Worlds after the month of preparation. Were you happy that time?
– Yes. When Zhenya and Volodya finished their program, I cried for the first time in my life at the end of the performance. Trankov also cried. It was both happiness and devastation. First, Natasha and Sasha skated cleanly and were currently at the first place. I understood that there were only two pairs left, so they were definitely with medals. I was already happy, knowing how long they hadn't trained, and at the same time showed the best skating. Evgenia and Vladimir skated right after them, both on the nerve, absolutely constrained because of fear to make a mistake. Both of them have such a psychology: they are afraid to make mistakes and they make mistakes. It's difficult to break this. Maybe this year will be able to do it. They skate, Maxim and I skate too. Then we were shown video how it looks from the outside. It looks funny. But at that moment it wasn't funny for us. And when they finished their skating – that was happiness! We cried that everything worked out.
Related topics: Evgenia Tarasova Vladimir Morozov, Natalia Zabijako Alexander Enbert, Nina Mozer