Rafael Arutyunyan: "For a very long time I have not calculated points. We have no need for this."
Posted on 2021-03-29 • 2 comments
Interview with Rafael Arutyunyan. About Nathan Chan's performance at the World Championships and his coaching plans.
source: russian.rt.com dd. 29th March 2021, by Elena Vaitsekhovskaya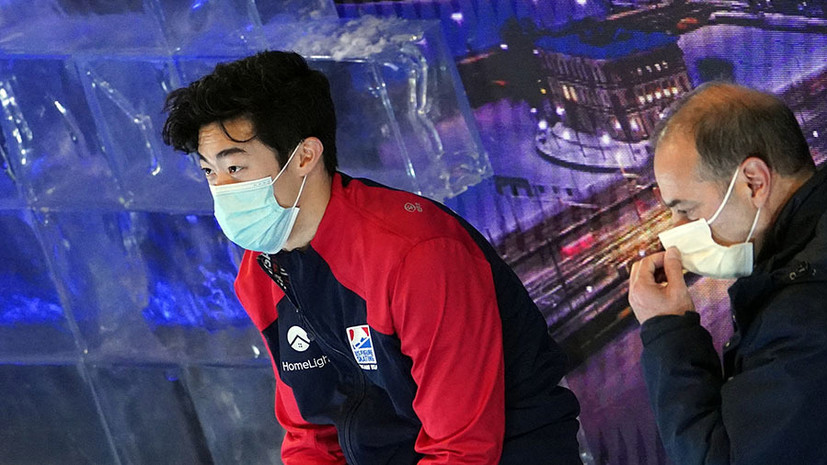 Before the start of the World Championships, you told me that you don't really like to make any judgments based on the first training run-throughs, because they are rarely indicative. I saw Nathan's training on the eve of the short program, and it seemed to me that you were a bit worried about the way he skated.
Rafael Arutyunyan: The first two days Nathan trained very well. And then some nervousness appeared. But I roughly understand what happened, since I have been working with Chen for more than ten years, I have studied him well and I dare to think that I know sports well. This happened for one simple reason. Nathan has not seen rivals for a long time. This is not a very important factor, after all, almost all skaters did not see each other, Chen just was invincible for too long. After the Olympic Games in Pyeongchang, he did not lose a single competitions, and this, whether we like it or not, puts a certain pressure on a person – a completely different responsibility appears.
But in general, I want to say this. Now everyone admires how Chen performed the free program, but I have seen it many times in training. For some reason, it seems to everyone that an athlete should show all the best when he goes to the competitions. And this is wrong. First of all this should be shown in training run-throughs. Nathan and I have it this way: if for some reason he doesn't skate on maximum in training, then he goes and skates again. We managed to prepare very well for the World Championships.
Therefore, when I saw that in Stockholm my athlete began to worry a little, it did not scare me. Rather, I understood that it was really hard for him.
Did the fact that Chen was left without a quadruple lutz in the short program really discourage you?
Rafael Arutyunyan: You may be surprised, but no. First of all, Nathan himself was uncomfortable – he clearly did not consider such a scenario. But for some reason, my relatives were very worried about me after that performance. Even my daughter called and asked in a cautious tone: "Dad, how are you?" And when she heard from me that everything was fine, I think she didn't even believe it.
Really?
Rafael Arutyunyan: When a person has such a long series of victories and everyone is constantly promoting and heating this topic in one way or another, there is nothing catastrophic in losing some intermediate skate.
Does it help to relieve unnecessary stress and, in some sense, to get your head out of the clouds?
Rafael Arutyunyan: May I not develop the topic? You understand sports as well as I do, and you yourself will make right conclusions.
In terms of understanding the sports, you can probably already be put on a par with Tamara Moskvina and Alexei Mishin, who are celebrating their 80th anniversary this year. When you have such an example, I would say that you still have everything ahead.
Rafael Arutyunyan: I won't work as a coach for so long, I just can't.
Why?
Rafael Arutyunyan: I have 45 years of coaching experience this year. To be honest, I don't think that Moskvina or Mishin have much more. After all, they finished skating very late, and I stood behind the board and started to coach at the age of 18.
What did you say to Chen after that mistake when you were waiting for the scores in the kiss and cry corner together?
Rafael Arutyunyan: Nothing. It's better not to touch the athlete at such a moment. But before the free skate after the morning practice, I told him one single phrase: "I am absolutely sure that you will do everything. No doubts." I don't know how Chen took my words, but I can repeat: he did all this repeatedly in training, and most importantly, with the same quality as he skated the free program in Stockholm. The decisive factor here is quality.
Are there any signs that allow you to predict during the skating process how well the skater is able to cope with the task?
Rafael Arutyunyan: There is only one sign: whether the athlete is ready for competitions or not. If he's ready, it makes no difference what is happening around, how many bears flied on the ice after Hanyu's performance, which scores the others got, who said what… Yes, there are falls, as it happened in our short program on the quadruple lutz. What can I say to this? Nonsense, of course, but it happens …
Why, by the way, did Chen make a mistake on the jump?
Rafael Arutyunyan: Due to some circumstances, we trained lutz very limited – we made a limited number of attempts in training. I guess this could be the reason.
Is the advantage that Yuzuru Hanyu earned in the short program over his main competitor is a trifle?
Rafael Arutyunyan: For a very long time I have not calculated points and I can explain why. Let those count who differ from their rivals by a point or two. We have no need for this. Do you remember how much did Chen won at the last Worlds?
More than 20 points, if I am not mistaken, setting the new world record.
Rafael Arutyunyan: That's the answer. If you go through the history of our performances and look how much Nathan won against everyone else, it will become clear that these are still not very comparable levels. I put a lot of effort into making Chen skate exactly the way he does it now, so I probably have the right to say that. In general, I think you shouldn't go to an expensive restaurant if you have a hundred bucks in your pocket. Because it will not be a pleasure, but a tense calculation, whether you have enough money to leave a tip to the waiter or not.
Related topics: Nathan Chen, Rafael Arutyunyan
2 Responses to "Rafael Arutyunyan: "For a very long time I have not calculated points. We have no need for this.""