Eteri Tutberidze: "Serious concerns about skaters' motivation? Those who don't need anything will never have motivation."
Posted on 2023-04-08 • No comments yet
Eteri Tutberidze about Akatieva, Pentoryan, Medvedeva vs Zagitova confrontation and changes that happened to Kamila Valieva.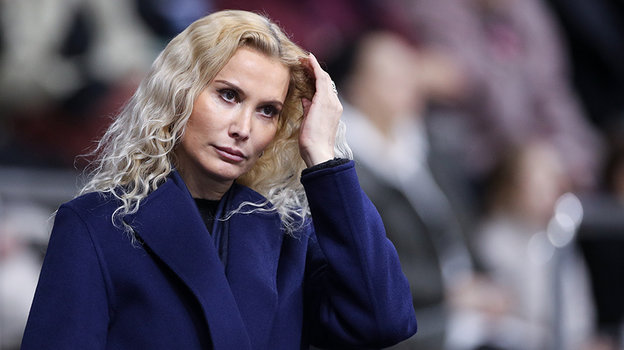 source: Kp.ru dd. 7 April 2023 by Denis Akinin
Do you think this was the strangest season in recent memory?
Eteri Tutberidze: Wasn't the covid season weird? And the next season after, it was very weird when we traveled around the country with all the restrictions. Why complain about something you can't change?
Daniil Gleikhengauz said that this year there were serious concerns about motivation.
Eteri Tutberidze: Those who don't need anything will never have motivation. You can ask the girls about their motivation, but they won't tell you anything. It is clear that each of our girls wants to become an Olympic or world champion. But after all, we are not summing up the results of a sports career. The topic of motivation is more inflated by adults who are not related to sports.
It is hard for athletes without international competitions.
Eteri Tutberidze: So those athletes who have never had the opportunity to get to the Olympics—Elizaveta Tuktamysheva, for example—are not motivated? I don't think so.
You have an extensive show program; what surprises will there be for us?
Eteri Tutberidze: I was reading an interview with the team of "comrades-in-arms" on the show field. They say that they invest in all sorts of special effects, and this is the show. And Tutberidze's show is not interesting. Well, probably, our show can be called a holiday of sports then. We are summing up the season with our skating. We repeat good programs. Two shows were held (in Vladivostok and Khabarovsk – Ed.), Kamila Valieva skated her program In Memoriam, which she performed only at the Olympics. Anya Shcherbakova also skated her Olympic short program.
And how did Kamila skate?
Eteri Tutberidze: Wonderful! I had a flashback to the Olympics. I think it's moments like these that are so powerful. I would love to see Trusova in action, with her jumps and her skating. The viewer comes for this; they want to see their favorite athletes in action, doing exactly what they know how to do best in the world: skating.
So the sports component is more important?
Eteri Tutberidze: Of course. Athletes sometimes try new artistic images, and we can decide for ourselves whether they fit or not. Should it be used in a new program or not. Since our sports season is over and we go on vacation in May, we keep the athletes in shape with these shows. They must skate the program with jumps for the audience. And then they have a battle. There Kamila Valieva did both a quadruple toe loop and a triple axel. Moreover, Elizaveta Tuktamysheva also jumped a triple axel. That's interesting.
Why such a philosophy for the show?
Eteri Tutberidze: I don't want the special effects to interrupt the skating itself. We don't have a tour of cities. There is only one month after competitions, and this year there are 10 shows. We keep athletes in shape during this month. They themselves are interested in skating better for the viewer.
Are Akatieva and Petrosyan the opening of the past season?
Eteri Tutberidze: Depends for who. They have been winning competitions in which they take part for three years.
But now there have been victories at the Russian Nationals and the Grand Prix Final.
Eteri Tutberidze: This is the variability. They also switched places at the Russian Nationals and the Grand Prix Final. There is nothing special about that, it's a work process. If it was a qualifying round for the Olympics, it would probably be a shame that one of them came in fourth.
With Akatieva, we went to the Grand Prix Final with more difficult content. We tried it. If it were qualifiers, we would not have allowed ourselves to take such risks. Now we can try: put quads in the second half of the program, complicate the first part, and so on.
It seems that Akatieva and Petrosyan will have the same confrontation as Zagitova and Medvedeva had.
Eteri Tutberidze: You created "confrontation" between Zagitova and Medvedeva and then first convinced yourself of it, and then the girls. Each competes with herself. No one can perform the content of another girl. In training, they work on their own content, not on their opponent's content.
Will Akatieva and Petrosyan grow to the level of Zagitova and Medvedeva?
Eteri Tutberidze: We don't know. Probably heaven only knows.
Tell us about Kamila Valieva. Has he grown psychologically? matured?
Eteri Tutberidze: Kamila has always shown consistent skating. Last season, she showed herself to be stronger than she was in the Olympic year. She even said after one of the performances, "Oh, if I had these qualities then."
That is, she herself feels the growth?
Eteri Tutberidze: Well, before, she couldn't go and put together a complete program after an unsuccessful warm-up. Now she can.
Related topics: Adeliia Petrosian, Alina Zagitova, Elizaveta Tuktamysheva, Eteri Tutberidze, Evgenia Medvedeva, Sofia Akatieva