Boikova and Kozlovskii: "High-class athletes should be able to perform anywhere in the world, in any climatic and time zones"
Posted on 2021-09-30 • No comments yet
Interview with Aleksandra Boikova and Dmitrii Kozlovskii. About preparation for the main competitions of the season, new programs and motivation.
source: rsport.ria.ru dd. 27th September 2021, by Boris Khodorovskii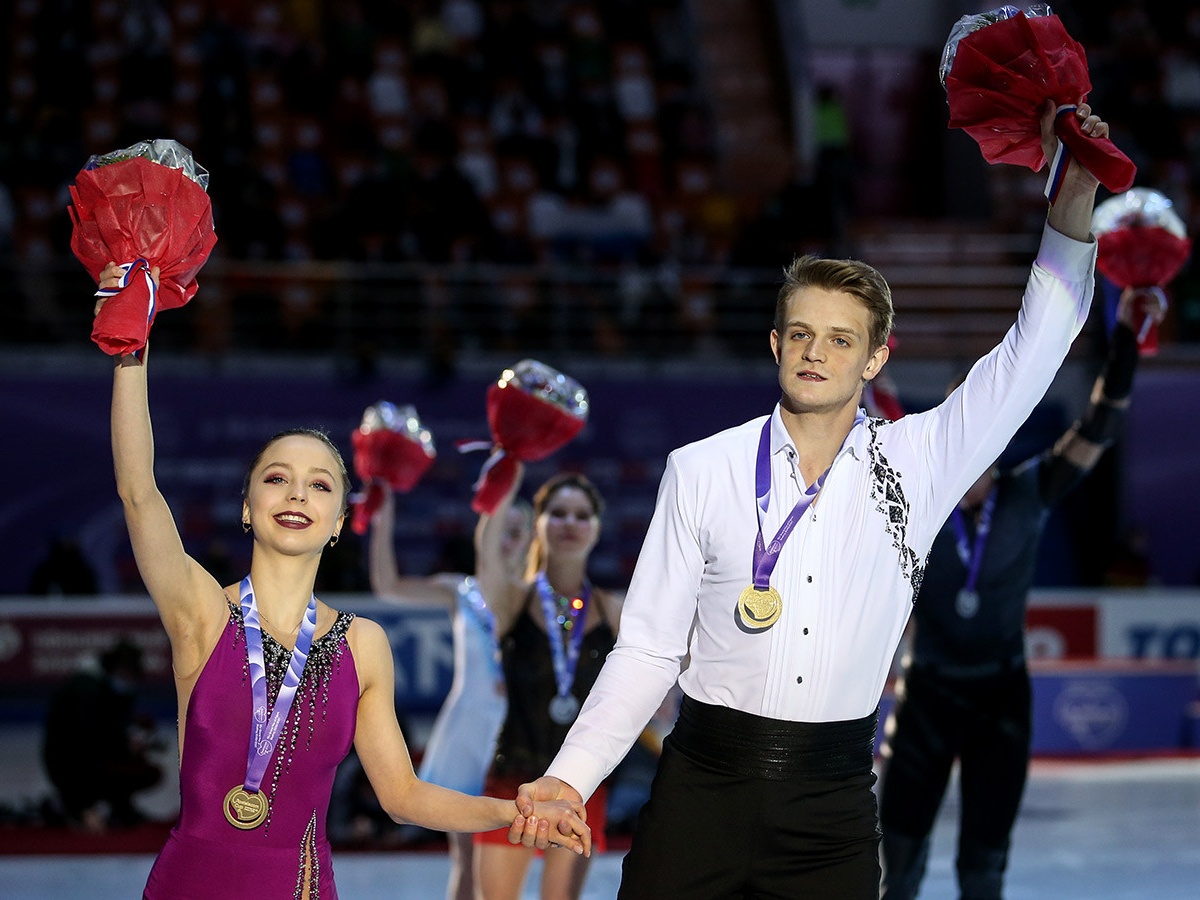 Are there any special feelings from the start of the Olympic season?
Dmitrii Kozlovskii: While it is difficult to talk about it, the season has not really begun yet. Test skates are not even competitions. In principle, preparation is the same as in previous seasons. We have always treated training and performances responsibly. Maybe new sensations will come during the season.
Aleksandra Boikova: For now, we are just working to get in good shape.
New programs were choreographed very quickly.
Dmitrii Kozlovskii: It only from the outside seems that everything was quick and easy. We have been working on the short program for a very long time. Yes, we started to work on the free program last summer, but due to the specifics of the coronavirus season, we decided to keep the old one about James Bond and his girlfriend for competitions. There was some kind of framework for the current free program, but we continue to improve the program even during the season.
Is the short program to the Swan Lake by Pyotr Ilyich Tchaikovsky a prelude to his First Concert, which has now replaced the national anthem for the Russian Olympians?
Aleksandra Boikova: We don't think about it. We have always liked classics, but in the Olympic season this is a win-win option. Tchaikovsky's music suits us very well.
"Malaguena" is chosen for the free program. Have you ever been to Malaga, where it was born, to feel the spirit of Andalusia?
Dmitrii Kozlovskii: I have never been to Spain yet.
Aleksandra Boikova: Unfortunately, me too. We felt the spirit of Andalusia when we watched Javier Fernandez's program. We will try to show it in our program as well.
Dmitrii Kozlovskii: Aleksandra and I absorbed information from various sources. We watched videos of Spanish dances and so on. We needed to feel these artistic images.
Aleksandra Boikova: We are working on choreographic material a lot. Ballerinas and dancers from the best Petersburg theaters come to our trainings.
Have you watched many versions of Swan Lake?
Aleksandra Boikova: There are no problems with this in St. Petersburg, where excellent ballet companies work. We also work a lot on the embodiment of classical images with the help of masters from the Mariinsky and Mikhailovsky theaters.
Did you pay more attention to general physical training in the Olympic season?
Dmitrii Kozlovskii: You need to work on the physical shape all season. The task of skaters and coaches is to approach the main competitions of the season in the best possible way. We have certain baselines. So far, we can say that a very high-quality training camp was held in Sochi, where a good foundation for functional training was laid.
Do you feel like experienced athletes who can regulate this process?
Dmitrii Kozlovskii: Certainly we have gained some experience. With the exception of the Olympic Games, we have participated in all major competitions.
Did you receive a lot of comments and advice from the specialists at the test skates in Chelyabinsk?
Dmitrii Kozlovskii: We've heard the recommendations of specialists and, as I said, we will work on improving our programs throughout the season.
Aleksandra Boikova: You will see something already at our next start at the Finlandia Trophy. Programs will change from competitions to competitions. We hope they will change for the better.
Are you satisfied with your Grand Prix assignments?
Aleksandra Boikova: It's good that these competitions will take place at all. We are very happy to perform in front of the audience in any country.
Dmitrii Kozlovskii: Of course, skating at home in front of your fans is another story. You always get a tremendous charge of emotions. But high-class athletes should be able to perform anywhere in the world, in any climatic and time zones.
Today there is a possibility that there will be no spectators at the Olympics. You have already experienced this at the 2021 World Championships in Stockholm, our Olympians faced this in Tokyo. Do you need a special attitude to perform in an empty arena?
Dmitrii Kozlovskii: Figure skating is a sport close to art. Our programs are small performances, and the audience, I am convinced of this, should be present. They are an integral part of the show. Only one cannot ignore the realities of life, and, as I said, athletes should be able to perform in any circumstances and concentrate on their performance. If necessary, we will create the atmosphere of the presence of the audience ourselves.
This year Dmitri got a bachelor's degree. Do you plan to continue your education, and what are Aleksandra's successes in the field of mastering journalism?
Dmitrii Kozlovskii: I continue to study to become a manager, but I am not yet ready to answer the question of where and when I will apply the knowledge I have acquired. Now all my thoughts are focused on figure skating.
Aleksandra Boikova: I also continue to study, but now figure skating is in the first place.
In one of the interviews, Alexandra named cooking cheese pancakes as a useful skill gained during the period of self-isolation. Can you boast of any new achievements in the field of cooking?
Aleksandra Boikova: When I have a free minute, I hurry to the stove. Mastered cheesecakes.
Dmitrii Kozlovskii: In general, Sasha cooks everything that is contraindicated for athletes. But we can allow it on holidays. In general, there is motivation to make sure that there are more holidays this season.
Related topics: Alexandra Boikova Dmitri Kozlovski