Maxim Trankov: Patience and overcoming. The secret of becoming a champion
Posted on 2020-05-20 • No comments yet
Interview with Maxim Trankov. About things that made a champion, ups and downs in the career and social networks.
by for Moscow skater magazine #4(56) 2019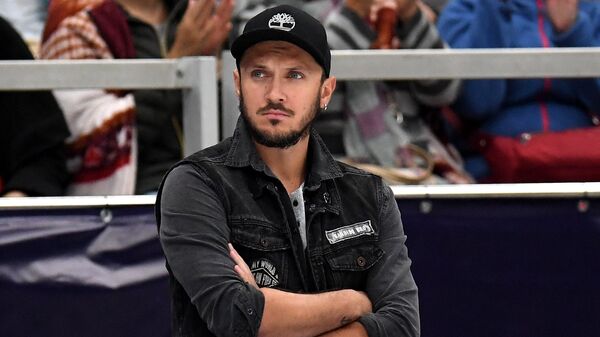 Maxim, can you formulate some rules or commandments following which the athlete will have a chance to become a champion?
Maxim Trankov: The main commandment is patience. There is much to endure in sports. And in sports of high achievements, even more needs to be overcomed. Therefore, one more commandment is overcoming. Take any example: the story of Alena Savchenko, Oleg Vasiliev, my story, the story of Elena Isinbayeva, Usain Bolt, and anyone who reached the top – everyone knew how to endure and overcome.
Today, the Chinese Sui Wenjing – Han Cong, who are going to their Olympic dream, shows us how to endure and overcome. Because of the injuries, she was in a wheelchair for several months, she had surgeries on both legs, she lost her eyesight, but every time she recovered and came back to the ice. That's all, the secret of becoming a champion. You overcome difficulties, some life circumstances, and if you don't break, then maybe you can become the first. And you can overcome only with the help of patience.
What personality traits should an athlete have to find the strength to endure and overcome?
Maxim Trankov: Each person is individual, each solves this problem in his own way. There are no recipes. For example, I never wanted to be an Olympic champion. I never dreamed about it, but I became one. Therefore, it is difficult for me to say what needs to be done to become one. For me, it was enough to pair with Tatiana Volosozhar to do this. Probably, also there's must be luck, to be in the right time in the right place. It often happens in sports when super-talented people do not become Olympic champions. Was Robin Szolkowy unworthy of becoming an Olympic champion? But Bruno Massot became one, who believed in the dream of Alena Savchenko, stood in a pair with her and won. This is destiny.
Fate, patience, overcoming … Honestly, I thought you would talk about talent, hard work, ambitions of an athletes. Are this things important?
Maxim Trankov: Talent is absolutely not important.
Maxim, you scare me with such statements.
Maxim Trankov: Talent is not the key to success. You can be born with skills for figure skating, but your parents will take you to swimming, or vice versa. First of all, you need to choose the right sport, as Michael Phelps did, a man born to swim. He simply has the whole anthropometry of his body designed to swimming like an amphibian — huge legs and arms, a large chest, enlarged lungs. Usain Bolt is just a machine. When you see him, you understand that he was born to run. These are people who really chose the right sport for themselves, but there not many of them. For example, Nathan Chen, it seems that figure skating was specially invented for him. And there is a talent like Yuzuru Hanyu, who develop himself and continues to develop. I saw him warming up. This is physical training. I would have already died, but for him it's just a warm-up. Talent is primarily self-development, self-education, self-criticism. And I don't consider talent as something important and decisive, because I saw thousands of talented guys who did not achieve anything at all.
They lacked hard work and ambition?
Maxim Trankov: Hard work is probably an important and determining thing in sports. Not without reason we have so many proverbs and sayings about work. Work is fundamental factor. Lazy never become champions. You can be an incredibly talented person, have health like a superhero, but because of your natural laziness you can't win a single competition. And you can be a clubfoot skater who, thanks to his perseverance, patience and hard work, becomes a champion.
This is called a "fighting character." In sports, we call such people "Chumbley." For example, Sergei Voronov, they knocked him down and he like the Phoenix bird, continues to skate, win medals. Also Alina Zagitova came to Tutberidze for the first time — they didn't take her, she came for the second time — they took her, then they kicked her out, the third time she came and – Bom! She is the most titled Russian figure skater. What is this if not perseverance, patience, overcoming?
Maxim, did you have such circumstances when you had to overcome something, show character, when something was achieved not thanks to, but despite of?
Maxim Trankov: Yes, constantly. When I skated in Perm, I was the worst athlete. From time to time I was kicked out of school because I did not like and did not want to skate. Valentina Fedorovna Tyukova took me to her pair skating group simply because of heigh, but nothing really changed: last places, no desire to train. I was the worst in the group, and the guys began to tease me harshly. Suddenly at some point I see Berezhnaya and Sikharulidze with my own eyes and fall in love with figure skating, telling myself that I will become like Anton, that I will win everything. I am starting to go towards this, doing more than coach wants from me. He says do ten times, I do fifteen.
No one understands what is happening, because it's usual for 13-14 year old to be lazy. Instead of ten circles around the stadium, run eight and feel like a hero. I lived on the fifth floor in a house without an elevator, and in order to develop jumping ability, I jumped up the stairs on one foot or the other. The guys in the group got even more angry because the coach puts me as an example. Psychologically, it got worse.
At the age of 15, I decided to leave for St. Petersburg, where I trained for three years, first in a private club with Lyudmila Smirnova, and then ended up in the Leningrad Region. During these three years, I finally matured and realized that enough to stand still. As a result, I made an attempt to get into the "Jubileiny" to the coaches who make champions. Lyudmila and Nikolai Velikov took me to their group, there were hungry for success guys from the regions, there were local St. Petersburg guys who did not need any guys from the regions. This whole society ruthlessly presses on you, to endure it, you have to fight, to become better than anyone else, otherwise others will take your place. Then you understand that you are 18 years old and you can no longer live on parents' money, that you have to earn yourself. Once, I heard from Alexei Nikolaevich Mishin a phrase that a hunting dog should be hungry.
So I was that hungry hunting dog. And when I won the Olympic Games, I just loved a woman who wanted to do it, and for my beloved woman, I am ready to do anything. My task was not to let her down at the most important moment. And what a happiness it was when I saw the eyes of my wife, when she won Olympic gold. Here I recall, and I have a goosebumps. It was the coolest thing in my life. This and when our daughter was born. Two events.
What was special about your training process that made it possible to achieve such a result?
Maxim Trankov: My coach Nina Mikhailovna Moser was special. She found an approach to me, found the keys. I have always been a difficult athlete and complex person, but I was lucky to find my coach. I believe that if not for her, then there would be nothing. Many people said that she took two prepared athletes and rode on us. This is nonsense. I was coached by Oleg Vasiliev, Tamara Moskvina, Arthur Dmitriev, the spouses Velikovs – and I did not win Olympic medals with them. Therefore, it's very important to find your mentor. Although, of course, every coach put a lot of knowledge into me. Each gave me a lot, each I has something to say thank you for. Now, when I help Tarasova and Morozov, I use a lot of this knowledge.
Did your career always go up?
Maxim Trankov: Of course not. There have always been swings. When I paired up with a good girl, I began to take some places at children's competitions. Then the girl left, I stayed with nothing, skated just to finish school and leave to show. Then in St. Petersburg for three years I was standing still and then invitation to the "Yubileiny". I was already nineteen years old, I had two years remaining in juniors, and over two years, Masha Mukhortova and I, with the guidance of Velikovs, won all the titles in juniors. Then, at the senior level, Maria and I trained for another five years with Oleg Vasiliev, with whom we once won the Russian Nationals, took a couple of medals in Europe and a couple of medals at the Grand Prix. That is, we did not took stars from the sky, were in the middle. And then I paired up with Tanya and in three years we won everything again. If we count, then I have been skating successfully at the high level for only five years in my life: two years in juniors and three years in seniors to win all the titles in pair skating.
If an athlete's career does not go up, if there is no quick success, where to find motivation to continue?
Maxim Trankov: The quick success can be harmful. Look at our young football players: they are stars, the best players, and then after some years they play in some kind of first division. Because success and fame are another test. I can tell you about this by my own example. We started the 2013/14 Olympic season with world records at every competitions. Everything was going fine. Then we lose the Grand Prix finals, somehow win European with the loss of the free program, and the next start is the Olympic Games. Here you have a success. Here you have overcoming. You must be able to live with this too.
Success and popularity not always bring positive feedback. How did you deal with the pressure on you from social networks?
Maxim Trankov: I determined my attitude to those people who write in social networks long ago. When someone says that this is a way of communication, then nothing like that! This is just a way to kill time and do nothing. There are many smart people who do not write, because they have something to do, for example, raising children or grandchildren, career growth, self-education, spiritual self-development. All this is much more interesting than sitting on the Internet and gossiping about the strangers. But each person chooses his own path. These chose the path of a cowardly anonymous insult. I can not judge them. I try to be kinder. But what really kills me is when our media immediately publish any nonsense that appears on social networks, without bothering to check the source.
If one of the "opinion leaders" published this stupidity, then why is it media's fault?
Maxim Trankov: Recently there was such a story: one skater spent about six months in social networks having a romantic texting with a hockey player. Both famous people. When they met, he nodded and walked by. She decided to find out what was the matter. It turned out that she had been communicating with the fake for six months, with the false account of this hockey player. And today such a story is not unique, this happens not only in Russia, but throughout the world. And when the level of "goodness, culture and education" of the population coincides with the level of "goodness, culture and education" of journalists, who are also part of this population, then this simply creates an explosive mixture of all the good that we see on the Internet.
Related topics: Tatiana Volosozhar Maxim Trankov