Maxim Staviski: "Papadakis is a cool skater who can blend with a partner like a chameleon"
Posted on 2021-01-25 • No comments yet
Interview with two-time world champion in ice dance Maxim Staviski. Maxim shared his opinion that in modern figure skating, too much attention is paid to the technical component, assessed the French pair Gabriella Papadakis – Guillaume Cizeron, told why he likes working with ice show participants rather than professional athletes, and admitted that he doesn't see much difference between leaders in ladies' single skating.
source: by Elena Vaitsekhovskay for russian.rt.com dd. 22d December 2020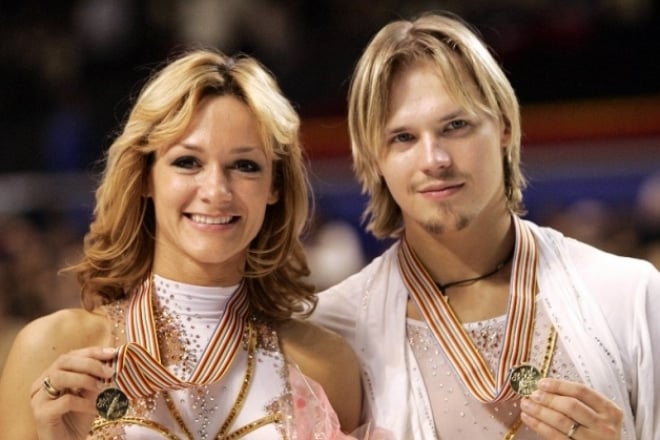 You worked in the coaching staff of Anjelika Krylova, but since summer you have completely focused on Ilia Averbukh's project "Ice Age". Does this mean that your work in sports has been stopped completely?
Maxim Staviski: No. We continue to work with Anjelika, I just asked for a vacation for a while. The project took a lot of time, attention and nerves. You come to the skating rink in the morning, the whole day there is a rotation of pairs, creating programs, working on them. And so on until late at night. We've created over a hundred programs. Sometimes I returned home in an unconscious state. It was simply impossible to combine this with any other work.
The "Ice Age" for you – is it a great creative interest or, above all, earnings?
Maxim Staviski: It's not about money at all. As Averbukh likes to say, we are all his team. And of course, when he organizes or proposes something, almost everyone takes it with priority. Still, Ilia is the person who, to a certain extent, gave us life after sports. Helped us not to get lost, he constantly gives work, and a very interesting one. But even when we had a big tour, I found time to work with athletes in between shows. First I came to Sasha Zhulin, this summer I was helping Anjelika quite actively, since all our performances were canceled due to the pandemic.
Krylova, like you, is a very creative person. Working with her side by side, do you feel the difference between the women's view of figure skating and the men's?
Maxim Staviski: I rather trained the male partners hard – I never knew how to close my eyes to their mistakes. In dancing, the role of a men is incredibly great, he must be a stable basis, a technical leader. Relatively speaking, the girl should feel like behind a stone wall with him. As we were told at one time: girl is a crystal vase, the partner is the mare lifter. If a man is unsteady, then a woman will not do a damn thing either in lifts or in skating.
I'll try to be an opponent and recall the Olympic champion of Salt Lake City Marina Anissina. Personally, I always had the feeling that she was carrying the male function in their pair with Gwendal Peizerat.
Maxim Staviski: I would say that Anissina was just brighter. Redhead, with her eyes burning. Another question is that Marina taught her partner a lot: when they teamed up, Gwendal absolutely did not match her in terms of skating level. But he improved very sharply and quickly. He did a lot of work while remaining in the shadows. After all, it was he who always led the pair. And let Marina to be bright.
What is the phenomenon of another French pair – Gabriella Papadakis and Guillaume Cizeron?
Maxim Staviski: When they won their first season, I was not really impressed with their free program, but I really liked it. There was some incredible fusion, cantilence, as Tatiana Tarasova likes to say. But then I looked carefully at all the positions, steps and realized that there was nothing there. When Papadakis – Cizeron appeared and began to win, if you remember, they were constantly compared with Tessa Virtue – Scott Moir. So, I want to say that the Canadians would have skated any program of the French pair no worse with a minimum amount of training. But Papadakis – Cizeron will never be able to repeat what Virtue and Moir did on the ice .
Are you talking about the complexity of the elements right now?
Maxim Staviski: Rather about the transitions between these elements.
Papadakis is a cool skater who can blend with a partner like a chameleon. But it is she who constantly adjusts to him, it is she who carries him throughout the dance, like that very crystal vase. In other words, in every possible way she helps Guillaume to show his best qualities. The partner is busy exclusively with demonstrating himself. And the French skate the same program. Just to a different music. It's a little strange for me.
Don't you think that now there is no need to come up with something original in terms of performances? Set of elements that bring the maximum points have long been known; in single skating, people perform the same steps from year to year, changing only music and costumes.
Maxim Staviski: Such a tendency is also seen in ice dance.
But you don't like it, right?
Maxim Staviski: The point is different. You can catch a certain wave and ride it for five to six years, as Papadakis – Cizeron do. But you can skate like that if you represent France, Russia or Canada. After all Albena (Denkova – ed) and I skated for Bulgaria. And if we had been doing the same thing for six years, we would have bored everyone in a year and would have forever remained outsiders. Therefore, we had to surprise every time. Look for and come up with new lifts, interesting choreography, memorable steps.
In ice dance, for example, there is a step showed by Christopher Dean. An absolutely elementary step, from the category of stroking. But it was remembered, caught an eye and everyone now knows: this is Dean's step. You need to constantly think how to interest the viewer. If you are the same from year to year, people will quickly get bored with you. And the judges too.
If you could influence the adoption of any changes in the rules, what would be the first change in ice dance?
Maxim Staviski: I would stop bothering people in lifts so much. The things that the dancers did before were really interesting. Both in terms of ideas and positions. Now there is a continuous acrobatic clowning from the series "hijack a car in 60 seconds." A girl took one position and immediately turned over to the second one, to the third. They twist the girls over their heads, over their legs, over their arms. Like in a circus. And, to be honest, no one can surprise anymore.
And figure skating is slowly turning into a show with given elements?
Maxim Staviski: The thing is that the show itself disappears. Because the task of just skating the program clean and making all the elements comes to the fore. Roughly speaking, many have given up on choreography. Even in the selection of music. "Let's take Carmen? Well, this "Carmen" has already been skated a billion times, take something else! Or do a program, as did Virtue – Moir in their time, so that everyone remembers it, so that everyone gasps.
It turns out that your sport is running into a dead end?
Maxim Staviski: As Igor Talkov sang: "Enemies sigh with relief, and friends say: "He's tired". Both are mistaken – this is a halt." We'll see. But I think figure skating will never play out. Everything comes in waves. Sometimes there is no one to look at at all, and then suddenly a whole pack of brilliant athletes appears who do such things on the ice that even we do not always understand how it can be done. Or maybe now is just such a period when the athlete does not have time to reveal.
Look, for example, at Sasha Enbert – what a splendid partner he has become in the Ace Age. He acts great, learns some new elements that are not peculiar to him. Why was not he revealed in sports like that? After all, he had a cool partner there.
Katya Bobrova, during her participation in the project, also began to perceive a lot of things in a different way. In skating, in choreography, in contact with a partner. Well, and Dima Soloviev seems to have realized only now what it means to control a girl. Because in a project you really have to follow and control every movement.
You talk about the project, and I catch myself thinking that now it is much more interesting for you than sports.
Maxim Staviski: Let me explain why. When you work with athletes, sometimes you have to endlessly repeat them elementary things: do not look down, do not lift their shoulders. You repeat this, like a fool, for a month, you persuade, swear, try to force, although you should not, and you cannot get rid of the feeling that your words do not cause any emotions in people. In our project, we have adults, accomplished people who do not seem to need anything. And suddenly it turns out that they need this. You make comments – they catch every word and try to fulfill something. This difference is annoying, of course.
Now there's a lot of disputes about the age of the skaters and the question of whether an athlete should strive for a long career at all, if you can win something and immediately go to the show.
Maxim Staviski: On the one hand, of course, it is better to leave the sport at the peak, as a winner. But if you became a winner at the age of 15, leaving is very disappointing. You just understand much later what exactly you have lost. Look at Zhenya Medvedeva. It can be seen that she did not skate. She just started a conscious life in figure skating, and it is clear that she wants more. To skate in sports, get this adrenaline, compete. This is the main thrill. Albena and I still miss the competitions very much. We are missing this adrenaline.
People who work in the field of show occasionally have the idea to hold something more athletic, as the two-time Olympic champion Dick Button held his professional championships for 25 years.
Maxim Staviski: Averbukh also held a professional competitions, in which many of us skated. He even invited Stephane Lambiel to compete with Alexei Yagudin. In my opinion, it was a fairly high quality experience. But it's difficult to talk about any prospects in this regard now. Everyone lives from competitions to competitions, waiting whether they will be canceled or not. But personally, I would like to participate in such competitions. Show that it's still there.
A short blitz for the current season: Yuzuru Hanyu or Nathan Chen?
Maxim Staviski: Let be both. I definitely don't want to choose. Let both progress, compete, jump, and let the judges compare them to each other. And we will look at it from the side and have fun.
Trusova or Valieva?
Maxim Staviski: I do not know. Girls, like all single skaters, has the same principle: If they jumped all their jumps – the program is a masterpiece, brilliant. If they fell somewhere – the program is no good. Although, in my opinion, all current single ladies are approximately the same. The one who jumps more and better will win.
Eteri Tutberidze or Alexei Mishin?
Maxim Staviski: These are different figures. As one of the journalists said at one time, comparing Mishin and Tarasova, if Alexei Nikolaevich is an excellent cook, then Tatiana Anatolievna is an excellent waiter. It's the same here: Tutberidze is not a person who teaches athletes to jump. But she is a great leader. Albeit peculiar.
What exactly?
Maxim Staviski: In her approach to the process. She's tough, sometimes too tough. In Europe, perhaps, she would not have been accepted at all. But she gives results. All her girls are constantly striving to win and win. For example, I respect Tutberidze very much – precisely as a manager. It is very important when a person can find ice, choreographers, specialists who are able to teach jumps, unite with a single goal …
Do you think Evgeni Plushenko is capable of becoming a specialist of this level?
Maxim Staviski: According to his potential – he can. It can be seen that he really wants this. Zhenya has always been a very hard-working guy. When he has a desire to achieve something, he achieves. Therefore, if he wants to become a specialist of this level, he will become one. The main thing is not to be disturbed. Plus, Plushenko worked with Mishin for many years. Knows how the process is built, how to train jumps. It seems to me that he will succeed. Why not?
Related topics: Eteri Tutberidze, Evgeni Plushenko, Gabriella Papadakis Guillaume Cizeron, Tessa Virtue Scott Moir