Brian Orser: Tarasova doesn't coach Medvedeva but I'll continue to consult with the legend
Posted on 2019-02-04 • No comments yet
Interview with Brian Orser at European Championships 2019.
by Ekaterina Bespalova for sport-express.ru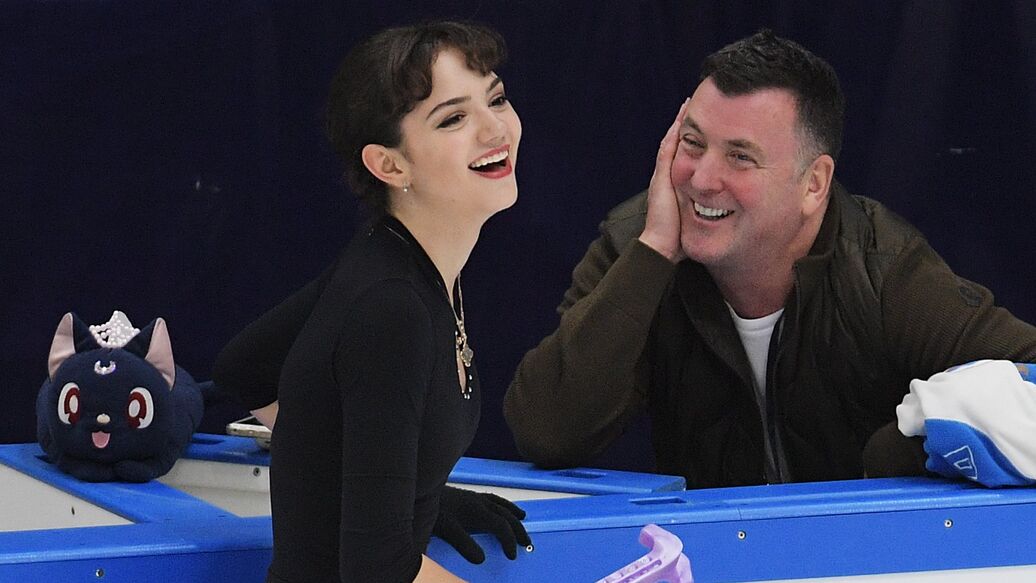 "Don't ask too many questions about Evgenia Medvedeva, ok? After all, I came to this competitions with Javi," Order asked before the interview.
There was an information that in Canada Medvedeva has little time for trainings on the ice, that's why her programs are not worked out enough. How much time is actually for ice trainings?
– Each of my skaters spends 2-3 hours on the ice, depending on how the preparation builts at a particular moment of the season, then rest, massage and something else. Every day is different, but I try to work on the ice for at least two hours a day.
Do you have time to pay attention personally to everyone?
– All skate in groups of 12-15 people, in one group I will work with Evgenia, in the other – with Yuzuru, but sometimes I understand that someone needs to personal approach and adjust something. Although each group has its own plan, if we need to do a short program, we can work on it for 8 minutes, then on separate pieces of programs and jumps. After an especially hard training day, I can say to skaters: "Tomorrow take the day off, recover, see you the day after tomorrow."
Are you often mad at your skaters?
– I get angry sometimes, but something very serious must happen (laughs). For example, when I start working with young athletes, at first everything turns out and everyone is happy, but then, when I see their potential, and they're lazy instead of working, I start to get angry: "Let's go, go!"
At the Russian Nationals in Saransk, many noticed that Tatiana Tarasova spent the entire practice before the free skate with you. What did she tell you?
– She didn't give me any instructions. I admire Tarasova very much, she has special magic. She just came to support us. Someone thinks that we almost coach Medvedeva together? No, no! When we meet personally, like at the test skates in Moscow, I ask her for advice. For example, about music we chose, or I can ask to share her impressions about the programs. And I will continue to consult with Tarasova, because she is a legend of figure skating, and I cannot know everything. I managed to achieve success as a coach just because I'm not afraid to ask great people and listen to them.
After the failed short program at the Russian Nationals, fans and specialists were shocked. And you?
– It was a disappointment. I knew how she trained before. What happened to her? Maybe nerves let her down, but I don't know the answer to this question. After all, she skated the free program very cool. But what I really remember after this competition is the love of her fans. I was amazed by the huge support after the unsuccessful short program. So many people love her! This is also pressure, but it has always been like this with Javier and with Yuzuru, who is being showered by Winnie the Poohs wherever he goes. If you are a champion, then you shouldn't pay attention to anything, you go to the ice and and give a cool performance.
Many were very surprised when after the national championship Medvedeva didn't return to Canada, but for a while skated in CSKA.
– She needed to check her back and be under the medical supervision for a while. At the same time, Evgenia also needed to train somewhere. I contacted Tarasova and Elena Buyanova, I trust them very much. I have a normal working relationship with the Russian Federation of figure skating, I also communicate with many Russian coaches and I understand that many of them are truly great.
And in Russia it was rumored that Zhenya had no money to continue training in Canada …
– Oh, no, no, I can not speak about Evgenia's finances, this is personal.
How is another Russian figure skater, 16 year old Ekaterina Kurakova, who will represent Poland and also joined your group?
– She's fine, Kurakova had trained with us for several months, then went to the national championships in Poland and some shows. She plans to return to Canada in February to start working on new programs, draw up a working plan and start the preparation for the new season. Ekaterina is a talented girl. Quad jumps? She works on them and on the triple axel.
Did you follow the ladies competitions in Minsk? Was you surprize by the Sofia Samodurova's victory and Alina Zagitova's second place?
– No, I didn't watch the competitions or practices, because I was focused on Fernandez and enjoyed the fact that I have only one athlete. But I saw the results, I can say this: nothing surprises me in figure skating anymore. Every skater has bad days, and even the greatest ones have to experience disappointments sometimes. But this is figure skating and you always need to find the strength to go on.
It's hard for Medvedeva and Zagitova to perform after the Olympics. Maybe they should have skipped this season?
– It depends on the athlete. Olympics are tremendous pressure, plus a lot of emotions are spent. Everyone copes with this in their own way, look how hard it's for Gabrielle Daleman! For me, the post-Olympic season is a time to take a breath and start a new page of professional life. In general, for skaters rest is just as important as trainings.
Did you offer Medvedeva to skip the season?
– She had time to rest after the Olympic Games, although Evgenia also was on a rehab after a back injury, Yuzuru had the same thing. Possible participation in the World Championships? I understand that after the European Championships there will be some replacements in the Russian team. But so far we have no official information, so we will just train. Even if Medvedeva get to this competitions, but not everything goes smoothly there, she will still have to go through the transition from skating of a girl to skating of an adult girl. An adult figure skater cannot win all competitions without exception, think of the careers of Carolina Kostner, Yuna Kim, Mao Asada, Miki Ando.
What did you feel taking Javi to his last competition?
– That Saturday was special for me because we have worked together for eight seasons. From the moment he won the European title for the first time to the present day. Yes, when he won the European Championships it was something incredible: both for him and for Spain! But even when he became the best in Europe for the fifth time and now for the seventh, for me it is as exciting as it was for the very first time.
What can you say about Russian guys?
– Alexander Samarin skated amazingly! For him and Kovtun and Kolyada all the main points of their careers are ahead. Mikhail, in my opinion, is a unique talent, he has a great skating skills! But I don't know what is happening in their training. Going to Minsk with Fernandez, I thought that there would be three Russian guys and it wouldn't be as easy to win as Javi thinks.
After all, Fernandez has been really training for just three weeks.
– Yes. I knew that throughout the whole season he was skating in the show, didn't do any quadruple jumps, or difficult combinations, not even triple axels, but simply enjoyed this experience. But when he returned to Canada, he began to work very hard, and did everything in Minsk to put his soul in each of the programs.
By the way, you are also very emotional during the performances of your skaters …
– I'm always very nervous, because I know how they skate in training and how much efforts they invest. And here, when Javi skated almost without preparation, how could I be calm? But there is no time to rest, in Monday I will train Yuzuru, Evgenia and my other skaters. I need to prepare Stephen Gogolev for the Junior World Championships.
How is Hanyu doing?
– He is skating better now, but he constantly consults with doctors and physiotherapists. His goal is to prepare for the World Championships, and I'm sure he will succeed. How can he not perform in his native Japan, where he has so many fans?
Related topics: interview