Alexei Tikhonov: "In ice dance if someone doesn't give a way to someone, this's done on purpose. They have such a history that everyone must show their importance."
Posted on 2022-02-05 • No comments yet
World champion in pair skating Alexei Tikhonov summed up the results of the first day of the team event for the Russian team. Talked about where it is safest to make a substitution without a threat to gold, whether the American dancer was right not to give way to the Russian duet, and why Kondratiuk has become the mvp of the team event.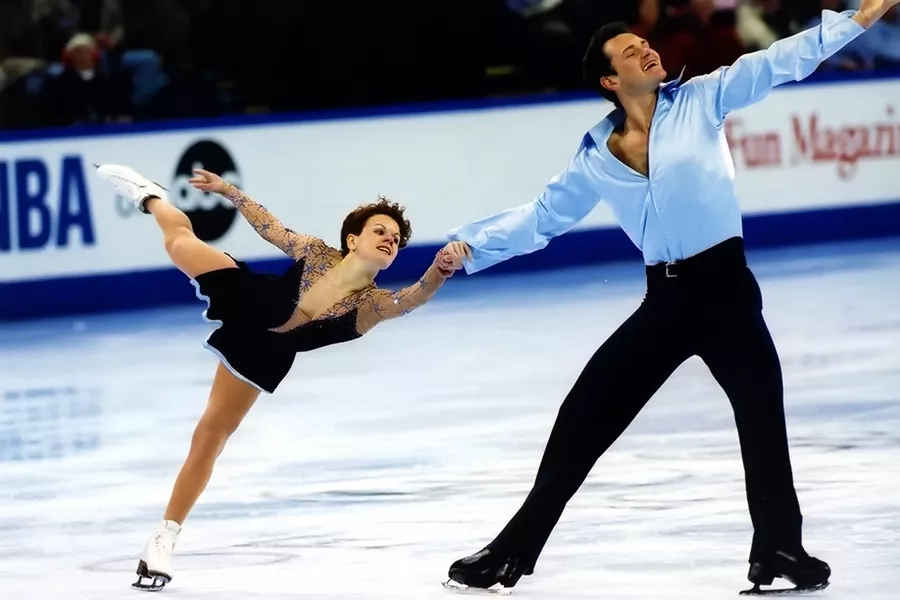 source: matchtv.ru dd. 5th February 2022 by Anastasiia Panina
Were you expecting more in the pairs short program? At least in terms of sores.
Alexei Tikhonov: In fact, Sasha and Nastya were wonderful. It is always difficult to skate the last, but they have done it very often in previous competitions. I like the way they get ready and concentrate. It was just a fantastic jump, a wonderful landing from a flip throw. They were a little out of sync on the spin, but Aleksandr just has such long legs that it is much harder for him to spin than for the same Chinese.
At the same time, our guys did everything very good. And they skated not only on control, but also with emotions. And it seems to me that the scores were held back a little. But since the Chinese skated well at home, this was no surprise. If we were at home, Mishina / Galliamov would be the first. However, we are in China, the judges gave this opportunity to the hosts. They are waiting for clean skating, but competition will decide everything.
As we can see from the training, the Chinese team replaced the pair for the free program, as I understand it, there will be Chen Peng / Jin Yang. It is their right to give them the opportunity to "touch" the ice. And Sui Wenjing/Han Cong was given such a score, they were allowed to score a world record, which… I will say this, which Sui/Han were allowed to touch. But let's see, everything will be decided in individual competitions.
I liked the skates yesterday. They were equal. If we were at home, I would give preference to Nastya and Sasha, but this happened here.
However, is the main hero of the day, probably still Mark Kondratiuk?
Alexei Tikhonov: Yes, Mark. Because he did such a warm-up… Such, you know, that some worries get into the souls of Russian fans (laughs). But he is a "plus-start", as we say. He comes and gathers himself together. Although at the Olympics, of course, there is no completely relaxed state.
Is he? Even in terms of psychology? Burnouts, relatively speaking.
Alexei Tikhonov: Well, in my opinion, the Italians Nicole Della Monica / Matteo Guarise had a burnout yesterday. It's just… I don't even know. "Well, skate, please – but no, we don't want to." I think it was a mistake for the Italian team to put this particular pair in the short program, because they have another one – Rebecca Gilardi / Filippo Ambrosini.
As for Mark, it's too early for him to have burn out. He is so focused. Fighting. He is a warrior, despite the fact that he is still quite a young guy, and I like that about him. He will still fight very, very well.
Well, we are waiting for our girls to perform, of course. They're doing quad jump shootouts around here, which is great.
With girls, we must take the maximum points no doubts. But it seems that even taking this into consideration, the situation in the team event standings is very shaky.
Alexei Tikhonov: We'll see. Anastasia Gubanova will skate for Georgia, and she can help us a lot. Depends on how the Americans will skate. But the situation is interesting, it's true. And if we win in this situation, this medal will be much more valuable than if we won it one-way street, as in Sochi. When no one competes with anyone, everyone is on their own. Although this also shows what a high level we have.
Why Nikita did a mistake? It seems that even the debutants performed well, and he's the most experienced, the captain, the best dancer – and suddenly such an pity mistake.
Alexei Tikhonov: It's sport. In fact, the Americans skated very well before them, even I was amazed yesterday, although I'm not as well versed in ice dancing as specialists, coaches and athletes themselves. When Vika and Nikita went on the ice, they were very beautiful, confident and obviously went to win. I don't know what happened. He likes to "play" with twizzles sometimes, and here a mistake in the step sequence block. It is a fairly simple movement for dancers of this level. I think he got emotional. When Nikita starts to "give emotions", it is very important not to lose control. It is better to ask Nikita about the reasons for this mistake. I think they will get together and do everything in the free program, because they are great, we are cheering for them and they are an amazing dance pair.
Did you see the incident at the warm up? When ours started to make a sequence, and Zachary Donohue did not give the way and actually crashed into Vika.
Alexei Tikhonov: I haven't seen this moment, unfortunately, I can not comment on it. In general, it's scary to watch the warm up of the dancers, because they have 5 pairs, they skate at great speed, each duet has its own pattern, if this is not a rhythm dance. However, they must calculate it all, and if someone does not give a way to someone, I am afraid that this is done on purpose. But they, like in ballroom dancing, have such a history that everyone must show their importance.
That the ice is "yours". Correct?
Alexei Tikhonov: Yes. But it seems to me that a respectful attitude towards the competitor should be valued more. Skate the program and prove it. And in this way – God forbid, but there can be some injuries. I think that life, including sports, will put everything in its place.
How safe is it for us to make a change in pair skating? Or would it be better to let Mishina-Galliamov skate in the free program?
Alexei Tikhonov: I think it'd be right to let them skate. They have good frre program, they love it, they skate it well. They have time to recover and peak again before the individual competitions.
And where is it more logical to make a substitution? Ice dance is clearly in a difficult situation.
Alexei Tikhonov: Vika and Nikita, of course, need to skate a free dance. The girls probably need a substitution. Let's see how the girls will skate a short program, and then the coaching staff will figure it out. In pairs, I would also leave everything as it is, also I would let Mark skate in the free program. It turns out that there will be one replacement.
So is it safe to do only one substitution?
Alexei Tikhonov: In my opinion, yes. Although other pairs can skate a free program – the same Tarasova / Morozov skated great in training, I liked it.
Maxim Maxaim Trankov has said recently on the TV, that they have not convinced the federation. They will not be given the opportunity to perform. Is there a clear decision that Tarasova / Morozov will definitely not perform in the team event?
Alexei Tikhonov: I do not know. I am here, I do not communicate with the federation yet. I communicate with Maxim, who says "they refused us." In principle, they were able to skate a short program, it was logical, they have a gorgeous short program. In my opinion, the best short in the world this season. The free program just needs to be skated clean. Then it will be the best too. Let's see, everything can be in this sport. We will prepare for everything.
Related topics: Alexei Tikhonov, Anastasiia Mishina Alexander Galliamov, Evgenia Tarasova Vladimir Morozov, Madison Hubbell Zachary Donohue, Mark Kondratyuk, Victoria Sinitsina Nikita Katsalapov, Wenjing Sui Cong Han