Nina Mozer: We need to attract viewers, we need to create interest. The time has come to make some changes
Posted on 2020-02-27 • No comments yet
Another interview with Nina Mozer. About changes in rules and figure skating, Olympics and age eligibility.
by sovsport.ru dd. 25th February 2020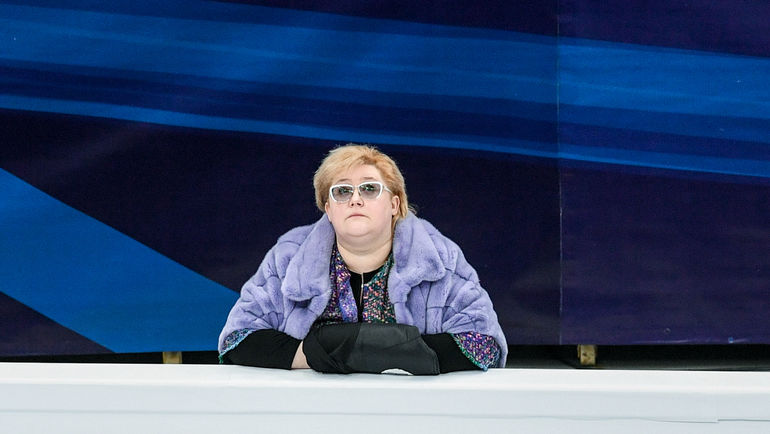 Recent news: ISU has offered a new scoring system. There will be no short and free programs, but technical and artistic ones – equal in duration.
– The presidents of the federations discussed this issue with representatives of the ISU leadership, but so far only as proposal. There is both a positive side and a negative side. Someone believes that the most important thing is jumping part, these are the elements that are necessary. But today there are no criteria yet how to evaluate an artistic program.
In 1980, there were one rules, they were changed. I think the time has come to make changes again. Because we need to attract viewers, we need to create interest.
The current system is so complicated that in many countries people have stopped practicing figure skating as a professional sport. People do not cope with the requirements of the current rules. If in our country sport has always been very important, as well as in China, and in another six or seven countries, then the rest have no chance to ever get into prize winners with such rules. What happens next? Sponsors do not want to work with such federations, and the state does not want to invest in the development of figure skating. Why, if there will be no medals? There will be six countries, and then the abyss. Now the European Championships is weaker than Russian Nationals!
Do you support rule changes?
– I'm a gambling person, and I'm interested in everything new. You see, everyone does the same thing, the same elements. All this is monotonous and boring. The other day we had a performance of my children's group. All five pairs did the same side by side spin. Because this is the easiest way to get level four. And even at the senior level, rarely is anyone trying to experiment. They make elements of the fourth level, but without imagination. They know that judges will give this element level four. So many choose the simpler way not to lose points.
Now you don't work with athletes directly, you're more a consultant, right?
– This is true. I used to live on the rink, spending 12 hours at the board. At some point, I realized that I was getting tired of such a rhythm and this monotony. Now I combine. And I can say that I have not lost interest in coaching. I am looking forward to the 2026 Olympics in Milan. I'm looking at potential candidates. Because all the guys who work with me will definitely prepare skaters for the Games in Milan. We will create a team like the one that was preparing skaters for the Sochi Olympics. And I can assure you that it will be a worthy team.
But the Games in Milan are not coming soon. How will you participate in the preparations for the Beijing Olympics?
– Last year, a month before Worlds, I fully joined the preparation of two pairs: Natalia Zabijako / Alexander Enbert and Evgenia Tarasova / Vladimir Morozov. We worked in the same mode as before the Olympics in Sochi. And the result was very good – bronze and silver. I didn't leave anywhere. Perhaps before the Beijing Olympics I will work the same way.
If you are already thinking about Milan, then I have such a question: how likely is it that at the 2026 Games a pair will perform a quadruple jump or triple axel?
– With the current rules, this is absolutely unnecessary risk. After all, all the pairs stopped making quadruple throws and twists. You need to spend a lot of effort on training them, there is a serious risk of getting a big minus, when the gain in points is small.
In the Olympic year, Zhenya Tarasova and Volodya Morozov did a combination of triple twist and triple jump. And there were no problems with that. But after a quad twist, it was difficult to make a triple jump. Therefore, my answer is: I do not believe in quadruple jumps in Milan.
Look who is jumping quadruples now – three Russian girls, an American and a Japanese. Only five people in the world. And these are all unique talents. But let's look at them in two years. Will they jump quadruple when they turn into adult girls? And in single skating it is still possible, but in pairs it is difficult for me to imagine.
After the Games in Pyeongchang, Maxim Trankov said about his coaching work: "This is rather a tall order."
– Maxim is trying hard and he is growing in terms of coaching. We've talked recently, he perceives coaching differently now. Even last year, before the Worlds in Japan, Maxim said: "I don't want to." Now he again had a desire to stand at the board, work on the ice. He helps Tarasova and Morozov. But in order to work fruitfully, it's necessary to leave all other projects that Maxim has now. The coach should give all of himself to the guys and literally live on the rink.
This is a huge work that no one sees. Our coaching work is adequately paid only in the game sports. I was preparing three pairs for Pyeongchang and my salary at that time was $ 600.
But to prepare for such competitions as the Olympics, you can't do without outside help.
– Of course. Now the work of an invited specialist costs 6-8 thousand per hour (100-120 USD). The services of a choreographer, skating skills specialist cost $ 800 a day. And the help of these people is needed. However, some of our leaders do not understand this. One once said: "Why are you inviting them?"
And what did you answer?
– Then let's not plan medals at major world competitions! If we just want to participate, we can do without specialists.
You called ridiculous salary for a coach who prepares athletes for the Olympics.
– I just remember that I got money and counted how many dollars it turns out, it turned out – two hundred. When we were preparing for the Games in Sochi, everything was very good, at the highest level. They took care of us, we did not need anything. But then this black period came.
Do you mean the doping story?
– All this was made up. I know many people who work in winter sports. In cyclic sports, the recovery process is very important. To ride 150-200 kilometers every day a cyclist must fully recover after training.
Of course, you can't answer for everyone, maybe someone uses illegal drugs. But I can say that preparing for the Sochi Olympics, no one needed to do this. All Olympians were so provided with everything. And what a moral upsurge we had. Like during the Great Patriotic War – everyone was ready to die, but to win for their homeland!
Then all this was passed on to the fans. But now, after six years, you feel cheated.
– No need to look for the guilty ones and feel guilty, sport is a moment and everyone is trying to make this moment bright and happy. I don't know where is the truth in this story, but it isn't completely clear yet.
My opinion is that medicine is developed at a higher level abroad. I'll say so vaguely and I won't develop this idea anymore. After all, the athlete must receive full medical care during the competitions. And in figure skating according to the regulations, the team can bring only one doctor and one massage therapist to the Worlds and European Championships. If the team has five skaters, doctors can handle it. But the Russian always has a very large team, and they have only two specialists. One should always be in the hotel – to help athletes who are not currently performing. The second is at the rink, because anything can happen. And how can one massage therapist in the hotel massage 15-18 people in the evening? I have repeatedly raised this issue before the international federation. Everyone seems agree: yes, we need to change something, but nothing changes.
Good when all the conditions were created for us during the preparations for the Sochi Olympics. And then before the Pyeongchang, we fought with windmills. So I tell everyone: I had two Olympics – gold one and black one. And when I hear that we could performed without a flag and anthem again, I reply that I have already gone through this. In Pyeongchang, in the Olympic Village, you could see this contrast between our delegation and the rest. The foreigners were all in such a bright, beautiful clothes, and ours were in all gray. It was so painful for me to see all this. These memories are still with me.
You once said that you wanted to step aside from coaching because of the hype. Do you mean the hype that has risen around figure skating after the Games in Sochi?
– I didn't mean that. The popularity of the sport is very good. I had something else in mind: conflicts became public. And they write about it with great pleasure. Why do we need all this dirt?
This is the flip side of popularity.
– I don't like that. Therefore, I do not give interviews. Express one thought, but on paper it all looks different. And you will immediately become an outcast or an enemy.
In the summer, the ISU Congress will be held. They want to raise the age of athletes who can take part in senior competitions to 17 years. Is it a right decision?
– When Tara Lipinski, Sarah Hughes won at the age of 15-16 and represented the USA, no one had any questions. Now the question has arose and we began to say that this is against Russia. We see some kind of conspiracy everywhere. But no one came up with the simple idea that people come to see the competitions of the strongest skaters in the world, and see children skate. Still, I want some kind of harmony. Our sport is called "figure skating". But I can say that in the current season you can see a big progress of our girls precisely in terms of figure skating. It has now become interesting to look at them.
So, you support this idea.
– Now I will say "yes", and in a year I'll think: "Why did I say that?" I have no answer to this question. There are children who at the age of 14 look like mature people. But it also happens the other way.
Related topics: Nina Mozer