Alexei Krasnozhon: "I'm ending my career after the Olympics, I want to devote the next 12 months to skating and close this door in my life."
Posted on 2021-01-21 • 1 comment
Interview with Alexei Krasnozhon for Russian media. About short program at the US Nationals, competitions without audience, decision to end his career after Olympics, age minimum, Trump and other things.
source: by Konstantin Lesik for sport24.ru dd. 20th January 2021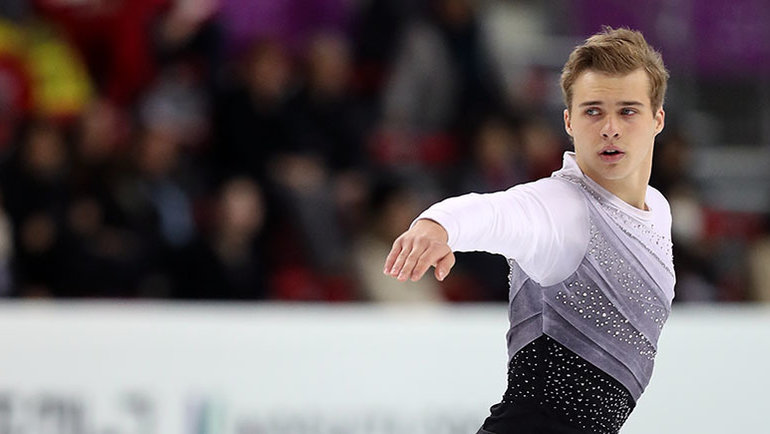 What can you say about your performance at the US Nationals?
Alexei Krasnozhon: I will call it unsuccessful. But it's good that in the free program I did well and proved to myself that I am a fighter and never give up, no matter how hard it is.
What happened in the short program?
Alexei Krasnozhon: I was preparing perfectly, I was ready physically and mentally … But in the short one I lose out everything. Fell on a triple axel and got lost. After the skate, I sat in the room for two hours in shock, in a stupor. Then walked around the room, setting myself up for the free program.
And how did you manage to set yourself up?
Alexei Krasnozhon: I just looked in the mirror and said that I'm a man. I accepted the fact that everything is lost. That I fell three times and now there is nothing more to lose. But in no way will I lose heart. And the next day I skated for myself. I was ready and had to prove to myself that I had not worked in vain. Came on the ice and did not give myself a slack. Everything happens, but, as Vysotsky said, "It's not over yet."
Of course, it's still a shame. I knew that I could have been in the top five, but turned out 11th place. How can you skate a clean free program and fall three times in a short? But in the free program, I really enjoyed it. And that's cool.
The US Nationals was held with empty stands. How do you like the surroundings of the competitions?
Alexei Krasnozhon: The atmosphere is cool. There were no spectators, but it was safe. Sure it was unusual to perform, but given that there is a pandemic, it is better to perform without spectators and in a "bubble" than not to perform at all. Everyone has already used to the harsh realities of the pandemic, so it was great. Hopefully things will get better soon.
Competitions with spectators are held in Russia, in America – without. In your opinion what option is right?
Alexei Krasnozhon: I'll say right away that this is my opinion, and this does not mean that I am right. But it seems to me that it's better without spectators. It is better not to endanger athletes, coaches and fans. After all, covid affects everyone in different ways. And there is nothing more valuable in this world than human life.
What are your plans now?
Alexei Krasnozhon: Train, analyze mistakes. I am ending my career after the Olympics, there are 12 months left, I want to make a plan with the coaching staff so that in a year I know that I gave everything.
Why are you ending your career?
Alexei Krasnozhon: I have zero chances to qualify for the Olympics. The point is that I will not get citizenship on time. And without it you can't get to the Games. World Championships and Four Continents – yes. Games – no. I want to devote the next 12 months to the skating rink and close this door in my life.
It is clear that I will not become an Olympic champion. I moved here because of sports, but it helped me in other aspects, I got a green card. I think that I took everything I could from skating. The results could have been better, but we only one life. I am already 20 years old – it's time to think how I can use the opportunities that America gives.
Besides, I'm so big … My body type is not for figure skating. And I'm huge, dammit. My height is 179 cm. Not like Makar Ignatov, but still, this is a lot for a single skater.
Last year I got a green card and decided to move to Boston with friends. There we decided that we would skate till the Olympics and that's all. Now I skate for pleasure, I enjoy the fact that I am young and can do that.
Do you feel any negative affect of figure skating on your body?
Alexei Krasnozhon: When I was 13, I hurt my back very badly. This was one of the impetus for moving to the United States. Then there was a leg injury. My parents are afraid for my health. I can feel my bones starting to crunch. I don't want to ruin my body. And we must face the truth – I have not an Olympic champion body type. I don't want to stay in sport for another 4 years and leave on a low note.
What will you do next? Will you stay in America?
Alexei Krasnozhon: Since September I start to study as a local student, before that I attended classes as a foreigner. We're choosing a university with my parents, applied to 11 institutions. I will not work at full capacity, and after the end of my career I will focus on education. After that, I set the task of getting into one of the best law schools in America.
Now I constantly communicate in two languages. I have a very interesting migration history. You can write a book about my move and all the adventures with documents. I would like to help the guys who do not get maximum development in Russia. I'm not the best skater, but I moved to America and was able to win the junior Grand Prix Final. In Russia I would not have gotten to the international level. And many talented guys don't get the proper development.
I would like to become a migration lawyer, I have a project to create a website that will help Russian children get an education in America. It just seems like it's hard. In fact, it's very easy. I have a lot of Russian friends in the USA who helped me here. And I want to help others in the same way.
Have you watched competitions that take place in Russia?
Alexei Krasnozhon: Yes, I watched everything. I'm a big fan of figure skating. On the one hand, it's cool that so many competitions are taking place. On the other hand, it's a little sad.
Why sad?
Alexei Krasnozhon: I grew up in a family of doctors. Dad is an oncologist, mom is an endocrinologist. And in our family, human life has always been in the first place. The coronavirus affects everyone differently. My friend has a very healthy father – he doesn't drink, doesn't smoke, and he is muscular. But because of the virus, he was forced to stay in the hospital. You look at such examples and you understand that anyone can die from covid.
Yes, we cannot prevent the spread of the virus 100%. But people at public events pull off a mask, and after that dirt flies towards Russia. Although all you have to do is just to wear your mask properly. Well, is it difficult? This is shown all over the world. It all looks very wrong.
Then we are criticized in social networks for non-observance of the mask regime and the banquet for skaters.
Alexei Krasnozhon: It's funny to watch all this. Such bullshit happens, and then everyone gets covid. Such careless attitude is frustrating.
In terms of results in Russian competitions, did anything surprise you?
Alexei Krasnozhon: I was very impressed by Anna Shcherbakova. And in general, everyone skated great, so many quads.
The main impression is Mikhail Kolyada! After he switched to Alexei Mishin, he had some special energy on the ice. You watch competitions in Russia: there is Kolyada, and there are all the others. He seems to fly across the ice. He has brilliant programs. This is the real transformation of the skater. I saw him jumping quadruple salchow and lutz – just wow.
If there was a book about figure skating "How to Skate", there would be Kolyada – these lines, board height jumps, beautiful landings. And his free skate costume. It seems to be so simple – an ordinary open shirt, but it's really a thrill. I have no words.
Can he compete with Chen?
Alexei Krasnozhon: It's necessary to look at the technique, it depends on Misha and Alexei Nikolaevich. He also has a toe loop, salchow, lutz. But Nathan is a figure skating phenomenon. Every time I perform with him and every time I'm shocked with his capabilities. This is a different level of figure skating. He jumps quads like I jump triples.
Disputes about the age minimum is one of the main topics of this season. Do you have an opinion on this?
Alexei Krasnozhon: Yes, there is an opinion. And they'll hate me for it. But I believe there is a difference between ladies's skating and girly skating. Elizaveta Tuktamysheva goes on the ice – this is a real woman. Carolina Kostner is a woman.
In no case do I want to offend young girls, they have the most difficult jumps, beautiful programs, transitions. Who am I to criticize them? And Eteri Tutberidze is a brilliant coach who achieves stunning results.
But sports must be fair. It's hard for girls to go through growing up and look at younger ones who make the elements better. Since figure skating is called ladies', then women should skate there.
How do you feel about the latest events in America?
Alexei Krasnozhon: With the elections, everything is simple and clear. Trump has lost. And that's all. For me, America is one of the most honest countries in the world.
Last year, I drove from Texas to Boston, half the country. Looked at how people live. In the USA, many people hang posters on their homes – who they support in the elections. And many people supported Biden. Therefore, I think that everything was fair. It's good that Biden won – most Americans prefer him. Now everyone believes in him. I hope he can unite the country.
Related topics: Alexei Krasnozhon
One response to "Alexei Krasnozhon: "I'm ending my career after the Olympics, I want to devote the next 12 months to skating and close this door in my life.""