Alexandra Trusova: To do something better than others, it is necessary to do it more than others
Posted on 2019-02-11 • No comments yet
Interview with Alexandra Trusova.
by Tatiana Badalova for ryazan.kp.ru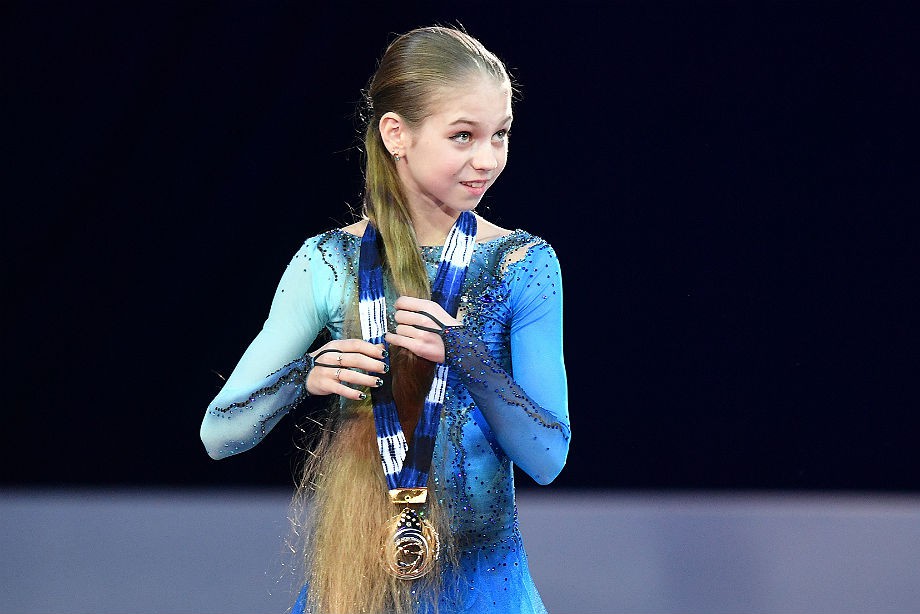 Alexandra, congratulations on your victory at the Russian Junior Nationals! Now, when some time has passed, can you assess your performance? 
– Of course, I'm happy that I won. Because this is a very important competitions, qualifying for the Junior Worlds. After the short program, I was upset because I fell. It is difficult to say was more upsetting: 7 place or the fact that I fell. But then I tried to forget about it. I'm very pleased that I was able to focus and skate the free program clean.
The support of the fans helped a lot. I say it every time after competitions, but this is because every time I'm really very impressed with such support.
When you compete, they always announce: "Alexandra Trusova, Moscow." But you are from Ryazan. Wouldn't you like your hometown to be the companion of your success? 
– In many competitions, including international ones, they say that I come from Ryazan. Ryazan is my native and beloved city. But I moved to Moscow at 9 years old when I didn't have any sports merits. I train and study in Moscow, school Sambo 70. For me, as for all athletes, there are very good conditions, aimed at a good result. Therefore, I don't see anything special that I'm announced as "Alexander Trusova, Moscow". It is a fact: I live and train in Moscow and I'm a member of Moscow figure skating team.
And what is competition for you? With whom do you compete more, with other athletes or with yourself? At the Russian Nationals you lacked 0.06 point to win. Do you think your competitor was stronger or did you lose?
 – For me, competition is very important, it gives motivation to work further. At competitions, the situation is different: I have to skate clean what I've skated in practice. Therefore, I always compete only with myself. So there is no difference how many points I lacked to win. At the Russian Nationals, I made a mistake and lost to myself. But I think that second place at the Russian Nationals is a good result.
What did your parents and coach say to you after the announcement the results? 
– And what can coaches say? They always have a very constructive conversation with their skaters. We analyze the mistakes together. My parents just love me. I'm always the best for them.
Whose opinion do you always listen to?
 – Of course, I listen to the opinion of my coaches, teachers, doctors, the opinion of my loved ones and relatives who are always there are especially important for me.
What is your relationship with other athletes? Have you found any friends among them?
 – I try to have a good relationship with everyone. As for friends, I don't have much. I have older cousins and a cousin who is my age. These are people whom I can ask for advice, chat about everything. It's interesting with them and I know for sure that I can always rely on them. They are my friends. I also have younger brothers. They are still small, and I just love them very much.
Many people want to make friends with you now. Do you know how to understand whether they are interested in the friendship of a girl Sasha or a successful athlete Trusova?
 – Because of trainings and study I don't have much opportunities to make new friends. And people who surround me are either not less known than I'm, or they don't care how popular I'm. Therefore, it is easier for me in this regard.
In your case, to be not like everyone else is it a gift from above or is it the result of hard work?
 – What do you mean to be not like everyone else? To be better than others?
Exactly. 
– I think in order to be better than others in something, it is necessary to do it more than others.
Are you training a quad flip or loop?
– Yes, I'm already training quad flip, loop – not yet.
When are you going to include it in the program?
– I haven't thought about it yet. Need to try. Important competitions are ahead. Now every mistake can cost a lot.
You have already visited many countries. Which did you like the most?
– I liked Australia with its unusual animals. In Canada, there's very beautiful nature. In Japan and Armenia, above all I liked people. They are special. In Japan, they love figure skating, and this love is felt in everything. In Armenia, people are very sociable, open, ready to help even a stranger. In general, I love to travel. I like to visit new places. Each country is interesting in its own way.
If you are invited to move to another country and represent it, what will you say?
– It's a great honor to represent Russian. I would like always skate for Russia.
What are your plans for 2019?
– Train and study! In the near future – serious preparation for the World Championship. We have a month, we will work.
Related topics: Alexandra Trusova, interview