"Your questions worry me. Who are you? This is an excellent adequate fight, I'm sure the guys skated well" Nikita Katsalapov answered the correspondent's question about gap in points with Stepanova-Bukin
Posted on 2022-01-15 • 2 comments
Nikita Katsalapov and Ivan Bukin about results in the rhythm dance at the European Championships and competition between the pairs.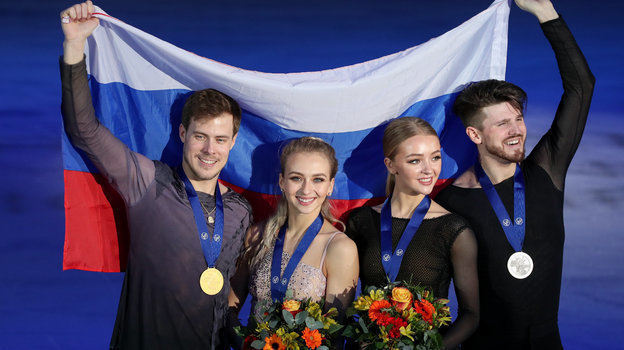 source: sports.ru by Maia Bagryantseva
Ivan Bukin: We have only the most positive feelings. We are glad that we got our best, we worked hard and we almost succeeded today.
The difference in points with Sinitsina and Katsalapov? It seems to me that every team is working and everyone is moving forward. Everyone is moving towards their goal. Competition is a great motivator. Everyone tries his best.
Sport-Express journalist Dmitri Kuznetsov asked Katsalapov about the fact that the gap in points between the duets was reduced to a point.
Nikita Katsalapov: Your questions worry me. Who are you? This is an excellent adequate fight, I'm sure that the guys skated well, I haven't seen their performance yet, We also worked, the path is not easy, nevertheless we are moving up. This is the first day of the competitions, it's a great intrigue, in my opinion, everything is great.
Related topics: Alexandra Stepanova Ivan Bukin, European Championships, Victoria Sinitsina Nikita Katsalapov
2 Responses to ""Your questions worry me. Who are you? This is an excellent adequate fight, I'm sure the guys skated well" Nikita Katsalapov answered the correspondent's question about gap in points with Stepanova-Bukin"