"Yagudin doesn't know how to skate. Let him sit and comment." Evgeni Plushenko about a possible rivalry with Alexei Yagudin at the show program competitions
Posted on 2022-10-04 • No comments yet
The old good drama Plushenko vs Yagudin unexpectedly with us again.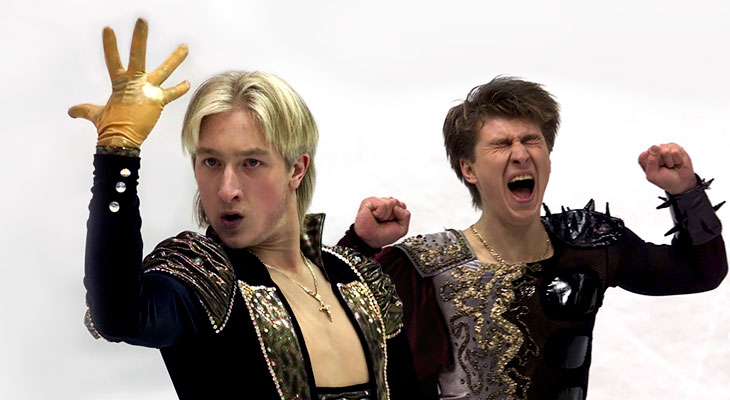 Evgeni Plushenko spoke about a possible rivalry with Alexei Yagudin at the show program competition, which will be held on March 18-19 in Moscow. And of course this provoked comments by Tarasova and Rudkovskaya.
The Figure Skating Federation (FFKR) is planning a show program competitions in March next year. Do you have a desire to take part?
Evgeni Plushenko: It all comes down to budget.
The question is – will the FFKR have enough money for you?
Evgeni Plushenko: Yes, I speak openly. And why do I need it? I have my own shows, I'm a wealthy person. I have my own school, my ice arena in Moscow. Why do I need it? Just make someone feel good? I don't mind, I can skate.
To give your fans a chance to see you.
Evgeni Plushenko: They see me at my shows. I had a tour of the country "Union of Champions". I plan to travel with it in the future. I had the shows "Swan Lake", "The Nutcracker", the third fairy tale "Cinderella", now we are doing "The Snow Maiden".
But you can revive the legendary battle with Alexei Yagudin.
Evgeni Plushenko: For what? He doesn't know how to skate. Let him sit and comment.
source: matchtv.ru
Tatiana Tarasova commented on the words of Evgeni Plushenko about Alexei Yagudin.
Tatiana Tarasova: Yagudin can't skate? What? Plushenko knows where he can stick his opinion! Idiot! Just an idiot
source: sport-express
Evgeni Plushenko responded to criticism of Tatiana Tarasova.
Evgeni Plushenko: Well, well, well. God, I don't even want to comment on this haha.
source: sport24
Yana Rudkovskaya reacted to Tatiana Tarasova's criticism of her husband Evgeni Plushenko.
Yana Rudkovskaya: I don't comment on such things, because I have a lot of respect respect for Tatiana Tarasova
Related topics: Alexei Yagudin, Evgeni Plushenko, Tatiana Tarasova, Yana Rudkovskaya