"We see a very good perspective for ourselves here" Tarasova and Morozov about transfer the group of Eteri Tutberidze
Posted on 2021-05-14 • No comments yet
Evgenia Tarasova and Vladimir Morozov about their transfer to Eteri Tutberidze's group.
source: Channel 1, text version sports.ru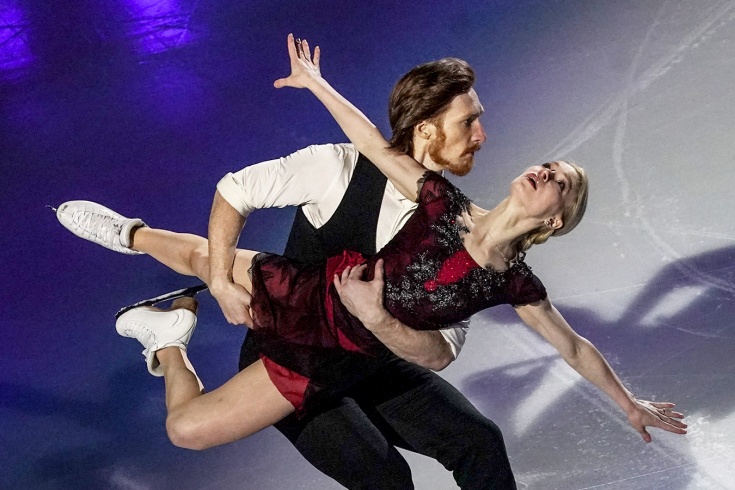 Vladimir Morozov: We were invited to the show even before the Worlds, on a tour to a small number of cities. We have already skated our old exhibitions programs so many times, skated them for two seasons. In Stockholm we decided that Danya Gleickengauz will choreograph us an exhibition program.
The only thing is that we do not have our own ice in Moscow, in fact we have nowhere to train. This season, we skated wherever it was possible, went somewhere. There was no stable site for training. And it so happened that we choreographed a program here. In Moscow, in "Chrustalny".
We did an exhibition program and asked to skate here before the show, train, because it is also difficult to do shows from a scratch. And plus we had discussions with Maxim (Trankov), how else, where to skate. Because this is a real problem. I don't know how the thought came to ask Eteri Georgievna to join her group … She helped us as a coach, as a head coach. She gave us ice and the opportunity to prepare in Moscow, train. We came up to her together, she wasn't prepared, I guess. But she said that she wanted to help.
Therefore, some discussions began on how to do this, how it is possible. Until now, this is dragging on, a lot is being decided with ice, preparation and plans. At that time it was probably a venture. But it's a deliberate choice. We really like how she approaches training, how she trains athletes and how everything is arranged and organized here. Therefore, we see a very good perspective for ourselves here.
She will help us in those moments where we have problems, failures. And, I think, this is the minimum. I hope that we will get a very good result, because this team always works for one hundred percent result. Here you have to give yourself on maximum.
We got to know her (Tutberidze) only from the best side. Someone says that "she communicates not that way." When you see it live, is generally not so. All these are not true what they say, all these rumors – you do not need to listen.
Evgenia Tarasova: I agree that there were some rumors. But, seeing how she communicates during shows, how she takes care of her girls. According to the stories it's one thing, but you see and feel something completely different.
Related topics: Eteri Tutberidze, Evgenia Tarasova Vladimir Morozov