"We can argue with Tutberidze. Then I blame myself: "Damn it, why did I flare up, why? It was possible to remain silent, why was it necessary to heat up the situation?" Interview with Sergei Dudakov
Posted on 2023-03-11 • 1 comment
Interview with Sergei Dudakov. About his sport career, path to coaching and success of team Tutberidze.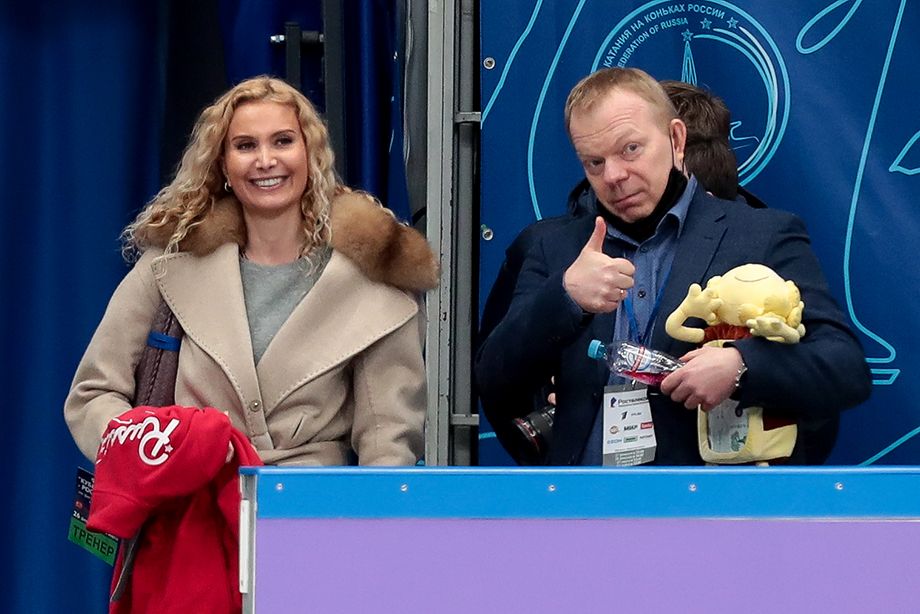 source: sports.ru, interview was taken by Maxim Trankov
Why do you rarely give interviews?
Sergei Dudakov: Because I don't like giving interviews.
Because you are more of a man of deeds than words?
Sergei Dudakov: Well, most likely, yes. It's better to work than to give interviews.
Let's start from childhood. Who brought you to the rink?
Sergei Dudakov: Parents, of course. It was probably 1975, December. Why not hockey? My mother probably had stronger arguments. Figure skating was very fashionable at that time. In May of 1976, Marina Georgievna Kudryavtseva selected children for her group of basic training.
You had success in juniors, but it can't be said that you became a superstar.
Sergei Dudakov: Well, in seniors, I was rather an average skater—6th or 7th place. But as a junior, I won the USSR Nationals in 1984. And then, back in the junior period, I went to the 1986 Worlds and was selected as the third number of the national team.
Why didn't you move further than the junior team?
Sergei Dudakov: Well, I analyzed this time. Probably now, as a coach, I can say that there was not enough internal discipline. Patience. I burned out in some moments.
But you have realized yourself in your students, and still there is a sense of satisfaction.
Sergei Dudakov: No, you always want to move forward. But these are not only my students; they are our common students. Eteri Georgievna's (Tutberidze), Daniil Markovich's (Gleikhengauz). Well, and mine.
And when did you decide to quit sports?
Sergei Dudakov: In 1991, a decision and understanding came. I realized that counting on getting into the national team, being selected in the top three …
Who was in the top three then?
Sergei Dudakov: Good question. Urmanov, Oleg Tataurov, Dimka Gromov. Everyone is now a coach.
You didn't immediately become a coach, did you?
Sergei Dudakov: Yes. The next question was: what to do next? I thought it was necessary since I know how to skate… I was 21 then. The decision came that if I couldn't do it seriously, I needed to move on. I decided to try myself in the show. An invitation came, I worked in England for two years, then in Germany for three years.
You, a Soviet child, moved directly to the Anglo-Saxons. Still, there must be some contrast.
Sergei Dudakov: There isn't much contrast. The contrast was in the contract system, because all your actions are spelled out in the contract. For a Russian person, this was unusual. Late for rehearsal – pay a fine.
When you skated in the show, did you know that you would come to coaching?
Sergei Dudakov: No, I didn't think so then.
There was also a ship.
Sergei Dudakov: Yes, this is the final moment of my work in the show.
For me, this is strange—you enter the ship, and you live there in a cabin. You can't walk everywhere, can you?
Sergei Dudakov: Yes, the cabin was two by two. There were permits; the participants of the ice show had the status of officers. And we could walk.
Could you go to a bar?
Sergei Dudakov: We could and did.  
And for how long did you stay on the ship? 
Sergei Dudakov: Contract for six months. Two weeks of rehearsals and a six-month contract It was interesting; everything was interesting. Caribbeans, new islands. Very exotic places; beautiful sea; perfectly clear water. The ship has a draft of 9 meters; it is in the port, and you see the bottom; you see the fish. Amazing beauty.
Such an insider question from me. I know that you are afraid of flying on a plane.
Sergei Dudakov: There is such a thing. But I can say that this year I fly much better.
How was it on the ship then?
Sergei Dudakov: Fine. No worries; everything is calm. I love water. It calms me down.
And why did you decide to return from this beauty to the cold Moscow of those times?
Sergei Dudakov: There is always time to make decisions. I realized that it's not mine. Yes, it's cool; yes, it's interesting, especially in the first two weeks, and then it becomes boring and dreary. I wanted to go home; I was bored all the time.
When the contract ended, you returned to Moscow and went… where?
Sergei Dudakov: To "Khrustalny"!
How many years have you been in Khrustalny?
Sergei Dudakov: Well. Wait, I had a break. In 2022, I came to Khrustalny, I had health groups; these are kids who take their first steps on the ice.
Do you remember your first salary?
Sergei Dudakov: Of course, I remember. It was small.
How much did you lose when you finished skating in the show? Was there a big difference?
Sergei Dudakov: The first time, yes.
And you never regretted?
Sergei Dudakov: The time has already come. I was 31; how long can this go on? I will not skate all my life and look on equal terms with colleagues who are 18–19 years old. It's better to leave on time.
Returning to Khrustalny, have you ever been bored working with small children?
Sergei Dudakov: These were my first steps as a teacher, as a coach—I was interested. Then a year has passed, the children were growing and improving. It can be seen that the children are progressing; they did not know how to stand, and now they skate. You look, and it seems to work well.
There are always three groups and three coaches on the ice. And you look: how are things going there, yeah, but what about mine? That is, you compare and see what turns out. And you keep trying.
What was the hardest thing for you?
Sergei Dudakov: When children take their first steps, they absorb with their eyes. They must understand it visually, see it. I started with how I studied myself.
In your opinion, at what age should children now be brought to the skating rink?
Sergei Dudakov: At the age of 4. There are also children at the age of 3 who are amazingly developed; they understand, they talk with the coach, and they move well. Everything is relative, individually.
How can you help an athlete overcome their fear of quadruple jumps?
Sergei Dudakov: There is no motivation; we are leading to it, not only me. We all participate in this process—both Eteri Georgievna and Daniil Markovich. We look: visually, the athlete enters the jump he has a margin and a good rotation speed. When an athlete has a margin, if they make the bending tighter and keep it a little longer, then they will be able to land it. At least 3.5 rotations.
From this, we can build. That they enter the jump correctly and catch the vertical axis. Without any fallout in one direction or another. Then we say to the athlete, "Yes, you did great; you are ready; let's try." And that's all.
But when an athlete tries for the first time, we are all very worried.
Let's go back a little, to the time when you were training children at Khrustalny. How did senior figure skating appear in your life? How did Eteri Georgievna appear in your life?
Sergei Dudakov: In 2011, she called and said that she needed an assistant, a second coach. I decided to try, and I agreed.
And why did she call you?
Sergei Dudakov: You should ask her about that. I never asked.
And you agreed without hesitation? I won't even ask if you ever regretted it or not…
Sergei Dudakov: During that telephone conversation, I did not immediately say, "I agree." I understood that it was a responsibility. I knew that at that moment Eteri Georgievna had good athletes: Polina Shelepen and Yulia Lipnitskaya. I knew that they were good, serious athletes, and I understood the responsibility. Then a conversation took place a week later, and she gave me time to think. And I agreed.
Is any skater can be taught a triple jump?
Sergei Dudakov: No, not any.
Are there skaters who can't be taught to jump?
Sergei Dudakov: Yes, there are. Well, up to a certain point, someone stops at doubles. Someone cannot go further than triples.
What do you think is missing in the first place to master a multi-rotational jump?
Sergei Dudakov: A complex of reasons. Someone lacks courage; someone lacks physical strength; someone lacks coordination. Psychology: someone is afraid and cannot overcome this fear.
Do you see the future possibility in a child to jump multi-rotational jumps? And were there moments when you were wrong—you didn't believe in someone, but they started jumping with another coach?
Sergei Dudakov: No, there were none.
That is, if you saw and said, "They won't jump," then they really won't.
Sergei Dudakov: Everything is relative. Of course, you see a reserve, a certain talent. But there are a lot of components: diligence, physical data. Someone will achieve it with the amount of work required. Someone lacks discipline; well, lazy, there are such athletes.
We can say, "This is a talented child; we can try to learn difficult things with them." And then only time will tell.
And does it happens that you see thet no chance it gonna work out? But the child says, "No, I will do it," and goes and tries.
Sergei Dudakov: Yes, it happens when you see that complex things won't work out.
What is your responsibility to the athlete? You cannot dissuade them, but you must save them.
Sergei Dudakov: Of course, health comes first. Skater comes up and says, "Can I try a quadruple?" Of course, we say right away, "You are not ready yet; you need to work in the gym to raise the height of the jump."
Can an adult be taught to jump? Double toe loop, for example.
Sergei Dudakov: It's popular now. I know that there are adults who jump doubles, work on doubles.
Where are we going in figure skating? Do you think that quintuple jumps are the future?
Sergei Dudakov: Let's look at Ilia Malinin; he blew up the world of figure skating. He performed a quadruple axel, and with a margin. On his example, you can try.
Three of your girls come on the ice, and everyone claims a gold medal. How does the heart not break?
Sergei Dudakov: It torns apart, to be honest. Yes, three girls, all were prepared very well. You worry about each; each has advantages: someone is stronger in one thing, someone in another.
If we take Anya Shcherbakova, this is an athlete who can give the maximum at the right place and at the right time. She always gives her maximum, this is character. It has always been so, both in juniors and in the special program.
Sasha Trusova, it seems to me, uncompromisingly goes forward; she is always on the attack. She goes to do her best. She goes without looking back, and that's it.
And is this uncompromising behavior also a problem for coaches?
Sergei Dudakov: We talked with Sasha, "Sasha, let's probably make the content that is optimal for today, what others do. So not to make a lot of small mistakes, which ultimately will not allow you to score more."
Kamila Valieva was generally in shape that season. In perfect shape. But it happened the way it happened. She didn't cope psychologically. If we take individual competitions at the Olympic Games.
They are all our children. Like children in a family—let's say three or five children.
Are there favorites in the family?
Sergei Dudakov: No, well, you always wish your children—and I treat them like my own children—success. There is no such thing as "this one is better" or "this one is a little worse". No.
But very often, fans and journalists speculate on this topic: someone is loved more, someone is loved less.
Sergei Dudakov: No, this is just speculation. There is no such thing. They are all our students and all our athletes. They just go on the ice and compete with each other.
How do you relieve stress when an athlete fails? Are you sleeping badly? Are you going to a bar?
Sergei Dudakov: I can go to a bar; yes, why not? Analysis, analysis is going on. In any case, I don't lose heart.
If I am at a competition in another city and Eteri Georgievna or Daniil Markovich are here in Moscow, then we decide what to do. Of course, there is discussion. After a training day, even after a warm-up, if the athlete is not the first to go in the warm-up, what content will we go with if something goes wrong.
And who has the final say?
Sergei Dudakov: Eteri Georgievna. She listens very carefully to everyone and makes a decision.
Is it easier for you to be second, for example? When someone makes a decision for you.
Sergei Dudakov: I would not say that it is easier; I do my job. I do not relieve myself of responsibility, but in any case, the decision is up to Eteri Georgievna.
Eteri Georgievna has most of the fame and popularity of your team. Do you have jealousy? All three of you work, but Eteri is the coolest.
Sergei Dudakov: Absolutely not. I take this as a team success. We are a team; that's the main thing. I say this both to myself and to everyone else.
What is the chemistry of your team? After all, you have been working together for many years, the three of you in the same boat…
Sergei Dudakov: There are no secrets. We just know that we can trust and rely on each other 100%. And not only at the rink.
Can you argue?
Sergei Dudakov: We can. Then I blame myself: "Damn it, why did I flare up, why? It was possible to remain silent, why was it necessary to heat up the situation?" But I think that in a dispute, something is born.
Do you consider yourself a contradictory person? With your outward calmness, you have a lot of passion. It seems to me that if it weren't for this passion, there wouldn't have been such results.
Sergei Dudakov: Hard to tell.
But you are standing behind the boards, and you, speaking in the youth language, have pokerface.
Sergei Dudakov: I skate together with an athlete; I know every step, every transition.
How do you manage to put on a mask of calmness?
Sergei Dudakov: I don't know. Inside, yes, it's happening… If something doesn't work out for an athlete… Maybe it doesn't need to be said to give out secrets. You skate with them, "Come on, do it, you will succeed" – there is a message.
But you are just as reserved when an athlete comes off the ice. I never saw you have a reaction, except for kissing skate guards.
Sergei Dudakov: Time must pass to analyze the skating. With the exception of obvious mistakes: fall or something else. You need to do an analysis and calmly talk to the athlete in a working mode.
Do you love your job?
Sergei Dudakov: Yes. Although sometimes it happens…
When you want to quit?
Sergei Dudakov: Well, it's like an emotional outburst: that's it, tired, tired. But no, of course not.
Do you have dreams as a coach? What goals do you set for yourself? Learn the quintuple with your skater? Or win 10-15 World Championships?
Sergei Dudakov: No, there are no such goals. I work with the thought and desire for children to succeed in sports.
If there was a hypothetical possibility, would you like to coach an athlete like Ilia Malinin?
Sergei Dudakov: You can try, yes. But we need to raise such athletes ourselves.
Is there a difference in working with girls and boys?
Sergei Dudakov: I can say on the example of our group. Girls are more disciplined. They open up earlier than boys – from 12 to 16 year old is the peak. For boys, this window appears a little later.
And before that, you still need to grow up and not quit skating.
Sergei Dudakov: Well, yes, apparently. Seeing the successes of girls nearby, do not fall apart, do not give up.
Related topics: Sergei Dudakov
One response to ""We can argue with Tutberidze. Then I blame myself: "Damn it, why did I flare up, why? It was possible to remain silent, why was it necessary to heat up the situation?" Interview with Sergei Dudakov"