Victoria Sinitsina and Nikita Katsalapov: We want to be leaders without help of any superpowers
Posted on 2019-11-13 • No comments yet
Interview with Victoria Sinitsina and Nikita Katsalapov about their victory at the Grand Prix in China and plans for the season.
by Vladislav Zhukov for tass.ru dd. November 12th, 2019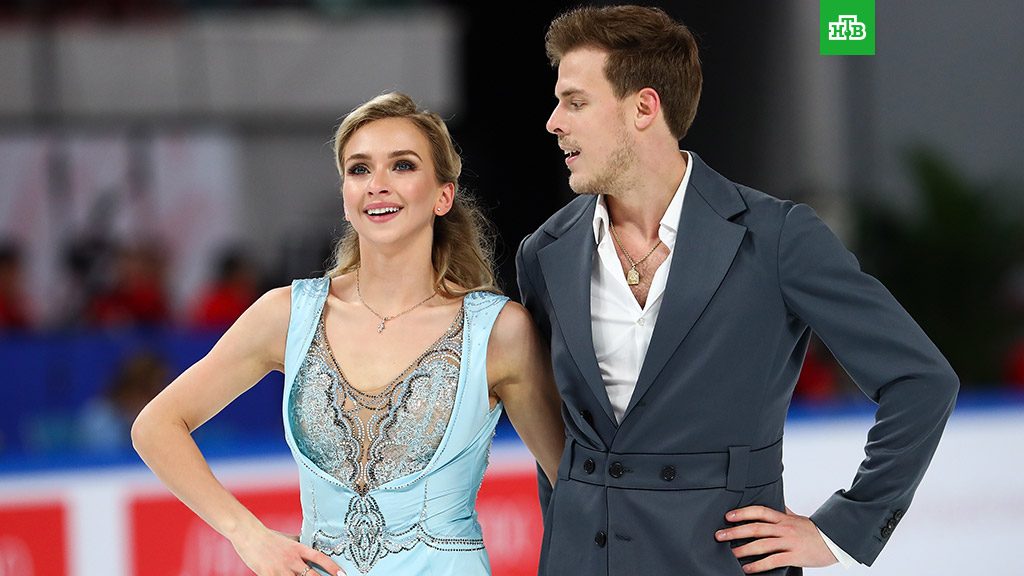 You have been at the top for a long time, but this is your first victory at the Grand Prix. What do you feel?
Nikita: We are very happy. This means that everything we do is going in the right direction. We are very pleased with this seasons' short dance, it's so light, positive, with good elements. And already with a fairly high quality, but we continue to work on it. We feel that we lacked a little bit for complete self-satisfaction, for a good start of the Grand Prix series.
For that, it was necessary to skate the free program the way we wanted. But we are not upset, on the contrary, we're angry in a good, sporty way.
After the silver medal at last year's World Championships, they began to perceive you slightly differently. Now you are not just one of the best, but candidates for leadership. Do not feel additional pressure in this regard?
Victoria: Actually, there is no specific pressure. But, of course, we do not want to lose ground. We intend to keep them and improve.
Along with authority comes the recognition from the judges. What do you think about judging of your programs? Have not the judges become more supportive?
Nikita: You know, perhaps somewhere on the subconscious level, we understand that yes, that's how it is. But we will never count on it, because it is just stupid. It's necessary to skate, and I think that on leadership positions it is necessary to skate so that everyone else would like to repeat something, watch and reach for the leaders. How the French did and continue to do (Gabriella Papadakis and Guillaume Cizeron – ed.).
We are developing, last year we had a great tango, and this year we also have very cool, but not yet completely "polished" short program. And we want to skate in such a way to be leaders without help of any superpowers and anything else.
The performance of the free program in China you called heavy. Why exactly this wording and why did it happen?
Nikita: If you take into account my personal feelings, then I had some kind of heaviness in my legs. This has not happened in any training since the beginning of the season. I can't say that we didn't have enough physical strength or anything else, we had perfect mindset, everything worked out well.
Maybe it was acclimatization … I don't know, but I will never make excuses because of acclimatization or lack of sleep. We came to the competition, which means that we are supermotivated and super ready. And that was true.
At the same time, the rhythm dance, as it seemed, was skated in one breath …
Nikita: With the mood, very easy and energetic.
You said that this year the free program took more time. Why?
Victoria: It's longer, more difficult.
Nikita: Well, there were minor health problems. A rather serious injury happened, but there were no serious consequences.
Victoria: Yes, so we had to delay this process a bit.
There's an opinion that this year your free program looks less successful than the short one. Do you agree with this? And why did that happen?
Nikita: Well, it just didn't work out to skate it as planned, that's all. We agreed with this opinion, taking into account how we performed at previous competitions. But it should look a little different, and this is exactly what we lacked. But we will not oppose anyone's opinion …
Victoria: We will just improve it.
Nikita: Yes, we'll just show it in the way it should look.
Tell us what are your goals and tasks for this season.
Victoria: Actually, we are moving gradually, from competition to competition. And we don't like to look ahead a lot. Therefore, now we are focused on the next Grand Prix, which will be literally in a week, there we will give all we have. And then we'll see.
Many experts agree that you actually have only one real rivals – Papadakis and Cizeron. What do you think about this?
Nikita: We ourselves are our main rivals. Of course, we want to win, but for this we still need to work well. And I hope that by the main starts of the season we will be in the shape which will allow us to compete with any competitor. But there are actually more of them, not just the French …
Victoria: There are a lot of them.
Nikita: All the guys skate very cool and improve.
What do you think are their strengths?
Nikita: First, of course, this is their own style. And soft skating of the partner.
Victoria: Some kind of special choreography.
This season, the French surprise with their programs. Have you seen them? What do you think?
Nikita: Honestly I can say that I watched just a little of our competitors' programs on YouTube. But I saw Guillaume and Gabriela's short dance. The only thing I can say is that only they can skate such (laughs).
Is it principal for you to beat them in a face-to-face duel?
Nikita: Yes, of course, but how could it be otherwise? They are current leaders, all the rest are lagging behind. And everyone's goal is to become the best. This is a true sporting principle.
That would be especially good on the eve of the Beijing Olympics …
Nikita: Well, there's still time. As Vika said, we are moving gradually. This is a too long time gap …
Nevertheless, each of you already had the Olympics, however, as a duet, you have not performed at the Olympics yet. Do you think about the upcoming Games?
Nikita: We dream about them.
Victoria: Yes, we really want to.
Nikita: This is such a popular sporting view – you should see your corridor, your goal and go towards it, no matter what. We have no differences in this regard. This is our goal, our cherished dream. We think about it, but very fondly. We cannot talk much about this – not that we are afraid of something, we simply treat it with great trembling.
Well, that is, we do not talk about Olympic gold yet?
Nikita: Well, this is maximum, of course. It is very cool.
Related topics: Cup of China, Victoria Sinitsina Nikita Katsalapov