Vadim Naumov: "The ladies' competition in Las Vegas was a sad sight"
Posted on 2021-01-28 • 1 comment
Former Russian figure skater and now American coach Vadim Naumov (1994 World champion in pair with his wife Evgenia Shishkova) commented on the US Nationals results, where his son Maxim took fifth place.
source: by Boris Khodorovsky for rsport.ria.ru dd.22d January 2021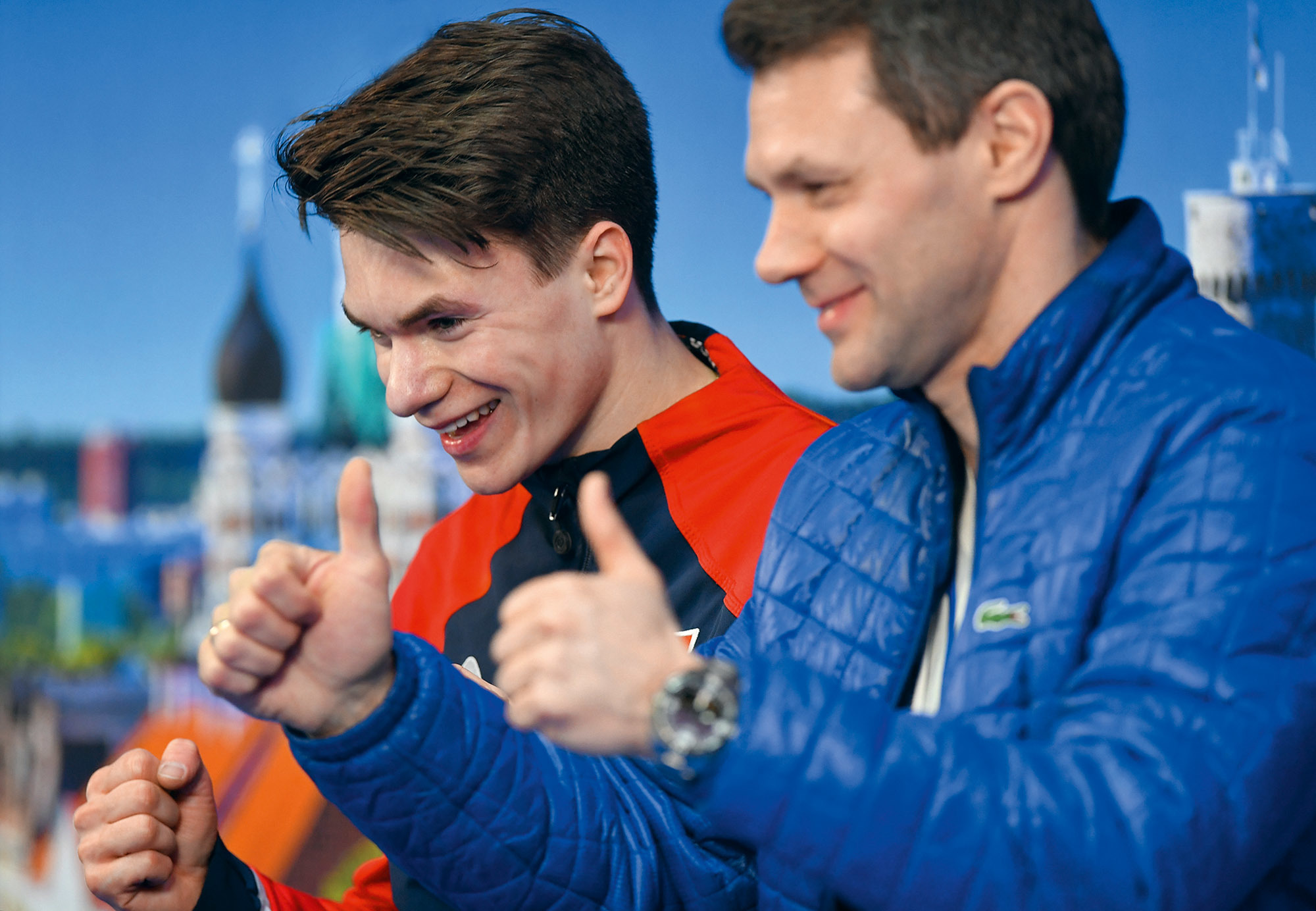 The competitions in Las Vegas were held without spectators, who were replaced by cardboard figures in the stands, and instead of a standing ovation there was a recording of applause. How did this atmosphere affect the skaters' performances?
Vadim Naumov: American skaters competed for the second time in such unusual conditions. They tested it at Skate America Grand Prix stage in Las Vegas. The skaters were focused on their performances. The cardboard figures even helped in some way, covering the empty chairs. Although it must be admitted that the lack of communication between athletes and their fans affected. The US Nationals were usually comparable to the World championships: huge arenas, a large number of people, communication on the sidelines. In the current realities, everything resembled a get-together.
Usually, the selection for the national championship in the United States is carried out according to a three-stage system: first, 52 competitions in the states, then three competitions on a territorial basis. How was it now?
Vadim Naumov: Everything was completely different. All regional competitions were canceled at the last moment. Taking into account the current realities in the United States, they initially planned to hold competitions akin to the Russian Cup: eight competitions in different states, only two of which were counted for a potential participant of the national championships. One of them was to take place in Boston at the rink where we work. They were also canceled ten days before the start.
How were the participants of the US Nationals selected?
Vadim Naumov: They held online competitions. It was necessary to send a record of the free program in a costume to the federation. You could record a video at any time. For Maxim, this was not the best option. He always gets energy from the audience. The performance was not very successful, but we sent the video and got an invitation to Las Vegas.
Skaters come to the Russian Nationals at the expense of the regions they represent. Who pays for skaters and coaches to travel to the US Nationals?
Vadim Naumov: All at your own expense. Skaters pay either out of their pocket or, if they're lucky, find sponsors. Coaches are usually paid by athletes. The costs, frankly speaking, are high. The organizers rent good hotels, and in Las Vegas they had to live in the "Bubble" and pay for three meals a day, which was unnecessary.
Among the participants I counted seven figure skaters with roots from the former USSR, three single skaters, three partners in ice dance and pair skater Misha Mitrofanov. Were there many coaches who communicated with each other in Russian?
Vadim Naumov: Not as much as usual. In general, due to the coronavirus, many athletes and their coaches were unable to come to the US Nationals. There were many coaches of the Soviet school. Of course, the focus was on Rafael Arutyunyan, Nathan Chen's coach. Letov also represented our school in Boston. During the ice dancers' competition, Alexei Kiliakov was at the board, who at one time performed in a duet with Eteri Tutberidze. Unfortunately, Igor Shpilband did not come. Someone in his group tested positive. I will also name Yulia Lautova, who, although she skated for Austria, trained in Moscow.
How do you assess the fifth place of Maxim Naumov? And why didn't he do quadruple jumps?
Vadim Naumov: The son's final result is, of course, an advance. We understood perfectly well that it was unrealistic to fight for prizes with the current content. It was not possible to complicate it by including quadruple jumps, primarily because of the injuries. He had to perform with the old content. At the same time, the judges made it clear that the guy has prospects.
In one of the interviews, Alexei Krasnozhon, who trains in your club, said that due to the lack of prospects to get into the American national team, he is going to end his career in a year and focus on education.
Vadim Naumov: Alexei is really training in our club, but with Letov. Krasnozhon was well prepared for the US Nationals, he recently updated his short program. By the way he trains, it doesn't feel like the guy is going to say goodbye to figure skating. Quite the opposite.
In Russia, Chen, who performed a quadruple lutz in the short program and a combination with a quadruple flip in the second half, caused a great resonance. At the same time, some "experts" who watched the video taken from an incomprehensible angle, started talking about underrotations and the wrong edge …
Vadim Naumov: Nathan is a unique skater that I always look at with admiration. He is one of the few who performs quadruple jumps easily and naturally. Many, before performing a complex element, skate across the entire rink, while Chen's quads are so organically fitted into the program that they are taken for granted. He jumps cleanly from the toe picks, the blade does not fall on the ice upon landing, like it happens with some girls from Russia (with all due respect to them).
Nathan's lutz and flip are real toe picks jumps. His salchow is not two-footed, as some do, he jumps it from one feet, as it should be. Chen showed the highest technical level. Although he skated the free program, let's say, without shine. He understood that he had no competitors. Yuzuru Hanyu was missed!
Jason Brown tried a quadruple jump at the US Nationals, but even Brian Orser did not teach him how to jump it. Can a mature athlete in this age learn a quadruple toe loop?
Vadim Naumov: In training, Jason landed even two quads. Brown isn't very consistent, but he is already close to the goal. In Las Vegas, the quadruple attempt was almost successful. He also began to perform the rest of the jumps technically correct. Brown continues to progress under Orser's guidance.
Are his components really good enough to level out content lag?
Vadim Naumov: Jason worked on the artistic component for many years and today he is close to perfection. In his programs, the elements are well place in accordance with the music, every nuance is shown. And all this at a good speed! In my opinion, Brown beats even Chen in components.
None of the girls who performed in Las Vegas dared to include either quadruple jumps or triple axel in their programs …
Vadim Naumov: This is alarming for the leaders of the American federation. The ladies' competition in Las Vegas was a sad sight, we talked about it with Arutyunyanon at the backstage. You will not find in the whole country, from Florida to California, worthy rivals for Russian girls! Although in training, Amber Glenn tries to perform a triple axel. It does not stable and at competitions she did not risk to put it in the program.
At last year's World Junior Championships in Tallinn, Alysa Liu competed with Tutberidze's skaters, and even performed quadruple jumps.
Vadim Naumov: By the beginning of the season, Alysa had grown a lot and had obvious problems with shape. In Las Vegas, she already looked very decent, improved in skating, but did not got the jumps back.
Experts consider the American team as the main competitor to Russian figure skaters in the Olympic team event. The weak link in the US national team in recent years has been pairs.
Vadim Naumov: Now the level has grown. Many associate this with the master classes held by Nina Mozer. She even came to last year's US Nationals. Unfortunately, the number of pairs at the national championship has decreased, although some did not come to Las Vegas due to positive tests in their clubs. Nevertheless, I am sure that in a few years, Alexa Scimeca and Brandon Frazier, who have become champions, will be able to decently represent the United States at the World Championships and the Olympics. She started to skate in our group and became a pair skater in our group. She performed for a long time with her husband, who ended his career due to injury and did not mind that his wife continuing her career with a new partner.
Related topics: US Nationals
One response to "Vadim Naumov: "The ladies' competition in Las Vegas was a sad sight""