US and Canadian Nationals 2017: ice dance review
Posted on 2017-01-23 • 7 comments
It was a crazy weekends. Two sleepless nights (8 hours time difference with Kansas, 7 with Ottawa) of jumping from link to link, bouncing between US and Canada, trying to watch as much as possible. So these two National Championships are actually merged into one for me) That's why I will do one review for both. Ice dance is on the agenda.
Let's start from US.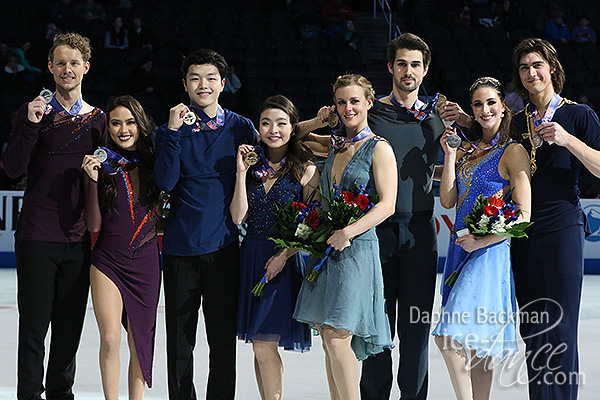 photo by Daphne Backman, ice-dance.com
I think all the top teams should be very unpleased and disappointed with the results. Except Pogrebinsky / Benoit.
When you are not a medal contender you should be ready to use every chance you got. That's exactly what this team did. It was a brave decision to move to seniors, but they took the risk and made a statement. Well done!
I'm looking forward to see the further development of this team. I really hope that Igor Shзilband will find a good choreographer for his group because dances are still the main weakness of his teams. Same story with Elliana and Alex. They're beautiful, they have some great elements but their dances are something that we have already seen for so many times starting with 2008. Come on, they deserve something more impressive. Maybe they should think of possibility to do their dances with someone else? They will need impressive and strong dances to keep their positions going into the next Olympic cycle.
What the heck is happened with Hawayek / Baker?! This season they had everything to be solid No.4 of US national team! Great, memorable dances (I think their hip-hop is one of the best), they eventually become a priority for their coach, they had an impressive performance at NHK Trophy…….and than this sh** happened! Ok, everyone can fall. Such things happen, but that wasn't like usual accidental fall. They were too nervous in both dances, so you could say for sure that something is really wrong. Oh I'm start to worry about this team………young generation is coming.
Hubbell and Donohue had a chance to become a US No 2 duo this season, Chock and Bates gave many reason for US figure skating federation to start thinking about the switch. But, honey, you can't be No.2 with such short dance! Even with elements being level 4 it's still a disaster. Yeah the audience may like the music…..No, forget this…..   Disaster, disaster, disaster. And judges do agree with me, what they show with PCS. I mean international judges. I love their free dance, it touches me every time. But this is the problem with Dubreuil/Lauzon's dances, one mistake and the impression of endless flying is ruined……..
Yes, I'm more "team Shibutani" but I think that Chock and Bates' short dance was the best. It was emotional, powerful and passionate performance. They skated with lots of freedom, what unfortunately I can't say about the Shibs. I may not like their FD, I still think that the middle part is not really worked out, but they skated completely in accordance with the lyrics  "This is our last dance….". They really skated like for the last time in their lifes. Pity,  this still wasn't enough to win.  Oh, and I prefer the black dress……
The Shibutanies were expected to win. They were favorite to win and I don't think they've expected such small difference in scores) Well, that's what happens when you're playing safe and your rival delivers a performance of his life. Who said that it can't happen again, let's say at Worlds? Playing safe it's a good strategy when your competitors make mistakes, but it's not a strategy of champions. I like this short dance, it's very well choreographed, but I wish they skated it with more speed and freedom. The second part of the free dance is gorgeous, but I think it starts too late, when the first part needs to be emphasised somehow.
So I wish they put aside playing safe strategy and take a risk, otherwise at this moment I can see the outcome when Shibutani place out of the podium at Worlds.
Moving to Canada
photo by Danielle Earl Photography
First of all a wake up call for Canadian ice dance. After 2018 and retirement of Virtue/Moir and Weaver/Poje you are staying only with Gilles/Poirier and no solid junior teams to come. So, try your best and find a good partner for Mackenzie Bent!
First of all I want to say that Piper Gilles is a hero that she was able to compete in such state. Their SD always make me smile, so much positive energy! So, I'd put them second after the short. They for sure won the tango battle of 2016-2017 season. It's one of my favorite free dances of the season. But this time there was no feeling that they're dancing just for each other forgetting about the judges and audience, feeling that captivated me so much in France. Maybe Piper's state affected. Well, I hope to see this dance skated to its full potential at Worlds!
Nikolai Morozov may be not the best technician in the World, his choreography doesn't amaze with freshness and sophistication but one thing he knows for sure. He knows the strengths of his athletes and how to present them. This worked perfectly with Weaver and Poje. They took their strongest sides and presented them in the most beautiful way. I'm glad they took a hip-hop and surprised us, when almost everyone was sure that they will do a classic swing. It also seems to me that their twizzles improved. I also happy to see that in the FD they returned to their luxury style! If there's a girl in figure skating who can present the royal dresses than it is Kaitlyn Weaver! Go Kaitlyn! There're too much night gowns with ombre effect in ice dance now, someone needs to look like a queen.
And Virtue and Moir…..I don't even know whether it's necessary to say something) Dizzyingly gorgeous! Ah, actually there's one thing to say…..these vocals in their FD……they need to go….
The battle at Worlds promises to be more than just exciting!
Related topics: Elliana Pogrebinsky Alex Benoit, ice dance, Kaitlin Hawayek Jean-Luc Baker, Kaitlyn Weaver Andrew Poje, Madison Chock Evan Bates, Madison Hubbell Zachary Donohue, Maia Shibutani Alex Shibutani, National Championship, Piper Gilles Paul Poirier, Team Canada, Team USA, Tessa Virtue Scott Moir
7 Responses to "US and Canadian Nationals 2017: ice dance review"