"Unlike Lipnitskaya and Zagitova in the post-Olympic seasons, Trusova wants to skate and this outweigh all the obvious disadvantages." Elena Vaitsekhovskaya about Alexandra Trusova
Posted on 2022-11-01 • 5 comments
Journalist Elena Vaitsekhovskaya about the performance of Alexandra Trusova at the second stage of the Russian Grand Prix in Sochi.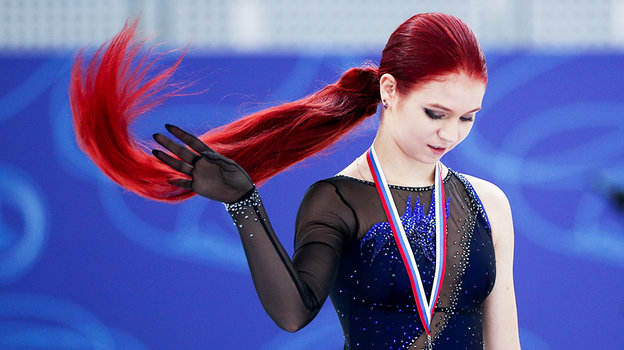 source: telegram
Elena Vaitsekhovskaya: The trend is to pity about Trusova, lamenting that she is far from being as good as a year ago (here's the news!). But it seems to me that there are a lot of moments in Sasha's current sports life that outweigh all the obvious disadvantages.
She wants to skate, which neither Yulia Lipnitskaya nor Alina Zagitova experienced in the post-Olympic seasons. She has not lost the ability to jump, and even the quad lutz that she failed in Sochi does not look critical.
It is quite obvious that Sasha is able to return all her jumps – the safety margin accumulated before the Olympics was too big. Yes, a little more weight compared to last season interferes, but this, again, is not critical at all.
The current specific season is a blessing for Sasha, because it allows her to get away from Olympic stories, injuries, to have time to enjoy outfits, programs and new relationships, without fear of being thrown out of life just because there are already two, three girls for your place, four, five contenders with whom you are compared daily, and not in your favor.
For those who don't know, this destroys the nervous system of an adult athlete more than any defeat and any competitive tension.
And there is absolutely no need to feel sorry for Sasha. She has everything to return triumphantly. Everything. And this makes Trusova personally for me much more interesting than the babies of the "new wave".
Can she fail? Maybe. But Sasha is trying, and for this she has special respect.
Related topics: Alexandra Trusova
5 Responses to ""Unlike Lipnitskaya and Zagitova in the post-Olympic seasons, Trusova wants to skate and this outweigh all the obvious disadvantages." Elena Vaitsekhovskaya about Alexandra Trusova"