'Trusova was called a sports ballerina, which I really liked' Evgeni Plushenko about test skates
Posted on 2020-09-15 • 2 comments
Evgeni Plushenko commented on the performance of Alena Kostornaia and Alexandra Trusova at the Russian test skates 2020.
About trainings
Evgeni Plushenko: They train separately. Alena occupies one ice, Sasha occupies another. They train in completely different groups. I have fulfilled these conditions, of course.
The main thing for me is that my athletes feel comfortable. If they are more comfortable and calmer like that, then I have the opportunity to make all the conditions for them. In general, I create all the conditions.
by sports.ru
About Alena Kostornaia
Evgeni Plushenko: Alena did not withdraw from the test skates, we planned to skate only the short program and did not prepare to perform in the free. We have only recently started working together, it takes time.
The short program is ready, the free one is being completed. If we all remember, Alena came to me just a month ago. Came in zero shape, so we started from the very beginning.
We're getting ready and moving on, to the competitions. Everything is according to plan. Just the free program is "raw" so far.
Evgeni Plushenko: It is unrealistic to prepare and show both programs in such a short time that Alena came to us.
Shae-Lynn Bourne will do the free program for Alena via Skype, remotely. It was my idea to try with Shae-Lynn, I immediately called her. We know each other for a long time, she agreed with pleasure.
Of course, Shae-Lynn would have come to us, choreographed and worked in Moscow, but because of the pandemic it did not work out, we had to start it remotely. I think when all restrictions are lifted, we will invite Shae-Lynn to Moscow.
by fsrussia.ru
Evgeni Plushenko: We begin to restore the triple axel after the test skates, this was the original plan. Alena had health problems, she had an injury. We do not hide that she skated in the short program on painkillers, but it was important for us to perform at the test skates, to see, to communicate with the audience, the federation.
Alena, as a great professional, said that she will definitely skate. Yesterday she had some roughness, she skates better, she is a professional in her field. But now we are working on it, everything has just been putted. We need to prepare, she has the fourth-fifth stage.
by tass.ru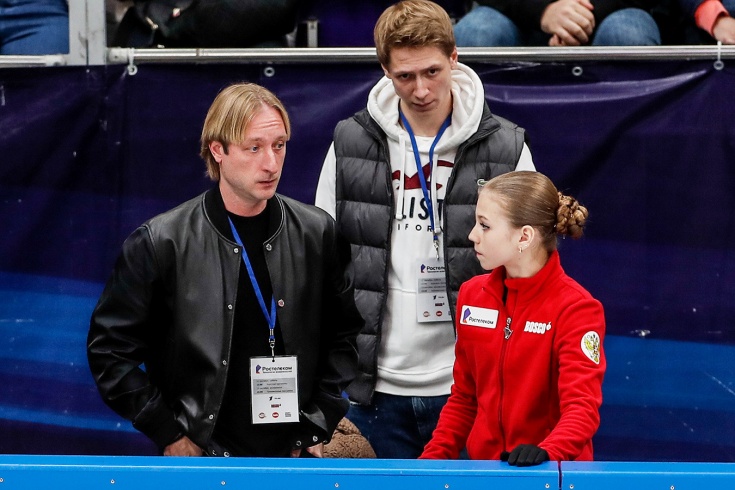 About Alexandra Trusova
Evgeni Plushenko: Sasha skated well, although there are drawbacks, but we know them, we discussed it with the judges, we will improve. It was very important for me that the judges highly appreciated the interpretation of the artistic image, the choreography.
Sasha really began to skate much better, and she no longer has an image of a machine, not "run and run" – she has both transitions and choreography, she was called a sports ballerina, which I really liked.
The idea that we had was embodied, but we do not stop there. She has a triple axel, we will definitely put it into the short program.
by tass.ru
Evgeni Plushenko: Now the main thing is to work and work hard. The girls are ready, motivated.
We experience everything together in training, we know the program: where are the difficult moments, where to add energy. We skate together.
by sports.ru
Related topics: Alena Kostornaia, Alexandra Trusova, Evgeni Plushenko, test skates
2 Responses to "'Trusova was called a sports ballerina, which I really liked' Evgeni Plushenko about test skates"