"They kill figure skating. All this is directed against our amazingly successful team and especially against the girls." Russian coaches about ISU decisions
Posted on 2022-06-08 • No comments yet
The International Skating Union (ISU) has extended the suspension of Russian athletes from international competitions and adopted the proposal of gradual raising the age minimum.
The age minimum will be increased gradually – next season the age will remain the same (15 years), in the 2023/24 season it will rise to 16 years, and in the 2024/25 season to 17.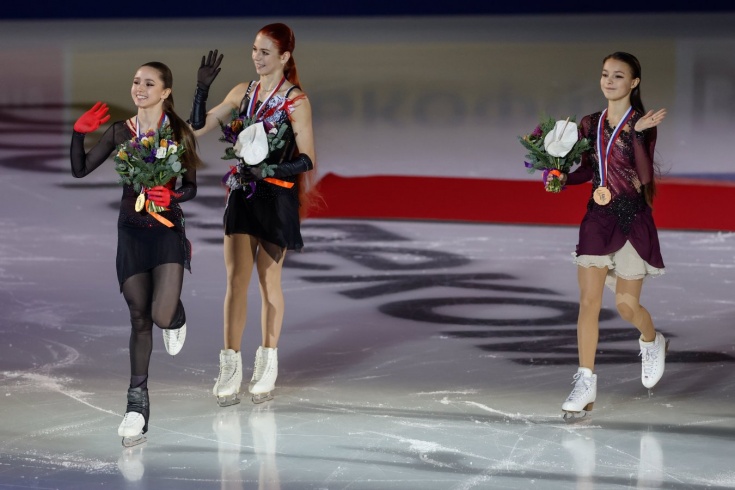 Busy day for Russian sports platforms, calling every Russian coach, functionary or former athlete to comment on the news.
Tatiana Tarasova: These two years… If someone wants so… They see that we have a huge number of girls and boys in our country, they want to block it. Therefore, all this is started. But you can block only by removing from the competition.
source: matchtv.ru
Inna Goncharenko: We have a very high level of coaching staff in the country, so new rules will be adopted, there will be new work in accordance with these rules. We will definitely adapt to this and will try to win according to the new rules.
Whether it affects our athletes or not, everything is individual, an athlete is a person with his own problems, you can't speak in general terms.
source: matchtv.ru
Natalia Bestemianova: There is an example of Sonya Samodelkina. If she were six months older, she could qualify for the Olympics. But did this prevent her from developing?
She competed at senior competitions in Russia. But if there was an opportunity to participate in the junior world championships, she would go.
How can this interfere? It can't. If a person is aimed at great achievements, a year earlier or later, she will come to a result.
And this process is gradual. Children will be prepared to move to seniors at the age of 17. That's all.
source: sport-express.ru
Elena Tchaikovskaya: They kill figure skating. All this is directed against our amazingly successful team and especially against the girls. Although these girls, who are now "at their feet", will be able to win everything by 2024, if we are still allowed to compete. But they haven't done that yet either. But it's ok, we are strong, we have withstood various difficulties and we will go through this and will make a statement.
The World Championship lost insanely a lot due to our suspension, and for the first time I did not watch it to the end, I was not interested – standard programs, performances, sets of elements. Nothing new, no discoveries, except for the wonderful Ilyusha Malinin, whose mother successfully performed in our time, competed at the world championships. There is no one in seniors at all, there is nothing to talk about in ice dance.
source: tass.ru
Alexander Zhulin: I don't care about raising the age minimum. Who cares? Where can we perform?
The biggest question now is when will we finally be able to perform? Nothing else matters.
We will still beat everyone, no matter what they come up with. This is so understandable. The ISU can make whatever decisions they want. We have talented kids of all ages. Russian girls will be the best in any case and will continue to take first place as soon as we get back the right to perform.
source: sport24.ru
Tatiana Navka: Of course, it's all because of our girls. If there were 15-year-old champions in America, girls who would win all the competitions, this issue would not even be considered.
This is both good and bad at the same time. On the one hand, this removes the possibility of injuries and does not hurt the child's psyche, and on the other hand, it takes away the girls' chance to become Olympic champions.
source: sport-express.ru
Irina Rodnina: Everything is possible. Russian figure skaters won medals in theirs almost 30 years. Why do we forget Masha Butyrskaya? Our first world champion.
Why are you so focused on these 15 years? What is this, a disaster? This is a disaster only for children who, after 15 years, do not know what to do.
It seems to me that this will bring a little more health in terms of athletes and these completely unnecessary conversations.
source: RT
Alexei Zheleznyakov: Time will tell if this is good or bad, but figure skating will roll back. A few girls can perform ultra-c elements, this is no longer so spectacular for the fans, there will be more emphasis on choreographic components.
On the one hand, there are some advantages, but there are a lot of disadvantages, I have a mixed feelings. I understand that Tutberidze is like a bone in the throat of an international federation, the decision is partly aimed at this in order to stop the strength of the Russians. I doubt very much that it will help them.
I traveled a lot around the world and saw how various European schools work: there is no competent work and system, this will not give them any impetus. Take Anna Shcherbakova, who does ultra-c and became an Olympic champion at 18.
The sports entertainment that the fans are waiting for will go away. It will become more of a show or than a sporting event.
source: metaratings
Sambo-70 president Renat Laishev: How can I comment on this? If this decision had been made even before all the championship titles, starting with Lipnitskaya, then this would be understandable. And we win gold and prizes places for three Olympics in a row! At the European Championships, all our girls won medals! So it's a cheap, cynical, open-mouthed attack.
We will not fight with skill, so we will use other methods against Russia. Today it is clear and understandable to everyone that this is a political performance, but not a sports one! There is nothing sporting left in this organization!
ISU can no longer be called sports figures. Sport always goes beyond politics, but they were able to prove otherwise.
source: sport24.ru
Representatives of pair skating also shared their opinions.
Nina Mozer: The situation is twofold, unclear. I understand that the situation was mainly about single skaters, pair and synchronized skaters were automatically hit, for them this is a bad story.
source: matchtv.ru
Member of the technical committee of the International Skating Union (ISU) and former pair skater Fedor Klimov
"Pair skating having not its best times in terms of popularity. In the last two years, the number of skaters who could compete there has decreased.
There are fewer pairs participanting in the competitions, small federations often have one or two pairs. Raising the age limit will not help improve this situation."
source: matchtv.ru
Related topics: Alexander Zhulin, Alexei Zheleznyakov, Inna Goncharenko, Irina Rodnina, Ksenia Stolbova Fedor Klimov, Nina Mozer, Renat Laishev, Tatiana Navka, Tatiana Tarasova