"The problem was more related to weight and body imbalance, which made it difficult for Karina to execute elements." Georgian pair skater Luka Berulava about splitting up and creating a new partnership
Posted on 2023-06-22 • No comments yet
Interview with Georgian pair skater Luka Berulava. About splitting up with Karina Safina, new partnership, Olympic experience and plans for the future.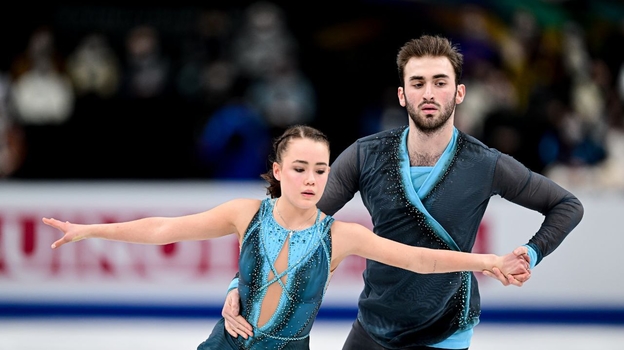 source: MatchTV dd. 19th June 2023 by Marina Tchernysheva-Melnik
Despite being only 20 years old, Luka Berulava has already participated in two Olympics, won medals in junior Grand Prix events, and became the junior world champion. He started his journey in pair skating at the age of 14 in Nina Mozer's school, during the period of active preparation of three top pairs for the Olympics in Korea. Soon after, Luka, who was born in Moscow, moved to Perm for training in Pavel Sliusarenko's group, and later he was offered to become a member of the Georgian national team.
His most successful (to date) career performances were with Karina Safina, but the pair split up in the spring of 2023. This happened after an extremely unsuccessful previous season in contrast to the bright Olympic one. Recently, it became known that Luka would skate with his teammate and recent competitor Anastasia Metelkina.
In an interview with Match TV, the Russian-Georgian figure skater shared:
about the reasons for the drastic changes in his career;
about past successes and failures;
about the training atmosphere in tandem with Eteri Tutberidze's group.
To understand the reasons for the drastic changes in your career, it's logical to look back. You and Karina had a successful Olympic season, especially considering it was the debut season for your pair. How did you prepare for the following season?
Luka Berulava: First, we went to the Japanese show 'Fantasy on Ice,' where we were invited after the World Championships. We worked there for over a month, until the end of June, and everything was great. Then we returned to Perm, made new programs, and started working on them. But somehow, after the show, our training sessions didn't go well at all: no progress and nothing resembling the quality of the previous season.
Was it a technical struggle or more of a psychological one?
Luka Berulava: I can only speak for myself: a year ago, I was highly motivated. Even in Japan, I thought every day that I would come back and work hard to make the next season even better. I wanted to achieve new results. Karina had some extra weight, but I can't say what was inside her.
Considering the issues at the Grand Prix in France, withdrawal from the event in Finland, and the European Championships, were there health problems?
Luka Berulava: I want to be honest with you about this. Many people accuse me of supposedly leaving Karina because of an injury. However, during the Olympic season, there were many more injuries, and each of them was more severe than the recent ones. But that didn't prevent Karina from performing admirably. Last season, there were no serious injuries. The problem was more related to weight and body imbalance, which made it difficult for Karina to execute elements.
I hope that she will recover and that her life will improve soon. I only wish the best for my former partner – there is no personal negativity in our parting. I just don't want to skate for a very long time. Until 28 years old maximum. I was waiting the whole season for the process to come together and for us to get in shape… But towards the end, it demoralized me. I simply didn't know what to do.
When did your partnership with Karina end?
Luka Berulava: Right after the World Championships, where we placed 19th.
Whose initiative was it to team up with Anastasia Metelkina?
Luka Berulava: It was first suggested to me before the New Year. But at that time, I put the idea aside because I wanted to give Karina and me some time. I hoped for recovery and progress. Then I postponed the decision for a long time and believed until the last moment that everything would work out for our pair. But after the disastrous World Championships, I realized that drastic changes were needed, and soon the coaches organized tryouts with Anastasia.
How long ago did she split up with Daniil Parkman?
Luka Berulava: It was around the end of December. I don't know the reason for Daniil's departure, and I didn't even ask.
How quickly did you and Anastasia realize that you were a good match on the ice?
Luka Berulava: During the tryouts, everything clicked quickly and harmoniously. Within the first two days, we put together jumps and two throw triples, and today we worked on a triple twist — the final element for a complete set in pair skating. So, as of today, Nastya and I have prepared all the elements; we just need to put them into one program. I often hear from "sofa" experts that "Berulava wants only a partner who weighs 30-40 kg!" But Nastya weighs almost the same as Karina, but the work is completely different.
What are your plans for the season as a pair?
Luka Berulava: We are currently at a training camp in Novogorsk. The short program is ready, and now we will work on the free skate and then practice both programs. We will most likely start the season at the junior level. The International Skating Union is unlikely to give us senior Grand Prix events because our combined ranking will not be enough. So, we will participate in junior Grand Prix events, then challengers, where we can earn that ranking. And we will continue to combine the junior level with senior competitions. Hopefully, overall, we will earn the opportunity to qualify for the main senior competitions of the season.
You have been competing for Georgia since 2019. How did the transition to this country go, considering that you were born and live in Russia and train with Russian coaches?
Luka Berulava: The offer to skate for Georgia came when the Russian Junior Championships were taking place in Perm. The president of our federation, Mariam Giorgobiani, approached Pavel Sergeyevich (our coach). As far as I know, Tamara Nikolaevna Moskvina helped her in this matter. Then the choice was up to me. I have many relatives in Georgia, I have a Georgian surname, and I speak Georgian. It is a culture that is very close to me, so I happily joined the national team. But at the same time, I am grateful to Russia for raising me as an athlete and as a person.
You had a rather unique case of moving to a new coaching staff: from the capital to Perm. Usually, skaters from the regions strive to go to Moscow or St. Petersburg for career advancement, but in your case, it was the opposite. Weren't you afraid?
Luka Berulava: Yes, I was born and lived in Moscow until I was 15. I started doing pairs at Nina Mikhailovna Mozer's school under the guidance of Stanislav Morozov. I didn't have a partner initially — I was just studying pair elements and the atmosphere of this discipline. After a year, there was an opportunity to train with Pavel Sergeyevich, where Alina Butaeva had just arrived. We started to skate in a pair, so it was obvious that the move was worth it.
At first, I was afraid of the fact of changing cities. I didn't understand how things were organized there, how to live without family. But now I can say that Perm is a great city. I feel very comfortable there because there are all the necessary conditions, and nothing distracts from training. It takes me five minutes to get from home to the rink (while in Moscow, it can take 2-3 hours). I am fully focused on my work, and it bears fruit. So, strong coaches also work in the regions, and success in figure skating can be achieved there. At least, the sports results confirm that.
Despite your young age, you have already participated in two Olympics: the Youth Olympic Games (in Lausanne) and the senior Olympics (in Beijing). What are your impressions?
Luka Berulava: The Youth Olympic Games were the first competitions in my life that truly stayed in my heart. From the entire junior period, I don't remember much that makes me say "Wow!", but in Lausanne, everything was excellent: both in terms of atmosphere and results. After all, we won the individual bronze and team gold, and we were awarded by Patrick Chan himself!
Before the 2022 Olympic Games, I was incredibly nervous at first. But once we started skating, everything went away. In the end, it was the only competition where I didn't worry about anything. Karina and I were very well-prepared, and due to our experience, we showed everything we could. The task from our coaches and the federation was to make it into the top ten. We performed cleanly in both the team event and the individual event. At that moment, we showed our maximum, so the competition went in the best possible way for us. Especially with the strong support and eternal positivity from our teammates.
I also liked China itself, but the only thing that I definitely didn't like was food. I remember how Sasha Galliamov and I were constantly searching for a place to eat delicious food, but we didn't find one (laughs).
In the European and World Championships in the Olympic season, you and Karina finished in the most frustrating fourth place. What do you think was missing to reach the podium?
Luka Berulava: Let's go in order. At the European Championships, all the medals were won by top athletes of recent years. They have experience and titles, so it's logical: the leaders fought for the top places among themselves, and we couldn't jump "above our heads." Fourth place after the strongest competitors was a great result for us; we were working towards it. As for the post-Olympic World Championships, we could have fought for a medal, but we made a mistake on a jump. Although we were still satisfied with the result.
In 2021, your coach Pavel Sliusarenko joined with Eteri Tutberidze's group. Have you had many joint training sessions?
Luka Berulava: Of course, in the Olympic season, we often visited 'Khrustalny' and trained there on the same ice with Eteri Georgievna's group. I received valuable advice from these coaches and gained tremendous experience in skating skills. They choreographed both of our programs last season, and Maxim Trankov was among our coaches at the Olympic Games. Currently, both groups are training together in Novogorsk.
As far as I know, Aleksandra Boikova and Dmitrii Kozlovskii now skate on the same ice with you.
Luka Berulava: Yes, we all train under Pavel Sergeevich guidance. I'm very happy about it; I see it as an opportunity to learn from more experienced athletes and, consequently, make myself stronger.
What have you learned from Evgenia Tarasova and Vladimir Morozov as senior teammates?
Luka Berulava: The main thing that I really admire about them is their smooth lines. They are the only pair that has kept perfectly straight lines. It looks very aesthetic in our discipline. I strive for that as well.
In the Georgian national team, there is a strong team forming across all disciplines of figure skating. Do you plan to compete for the team medal at the 2026 Olympics?
Luka Berulava: Everyone dreams of achieving that medal. We are gradually moving toward this goal, and I hope that we will achieve it in the near future. The medal will come!
Current news: Morisi Kvitelashvili has recently announced that he is ending his career.
Luka Berulava: Just yesterday we were playing football and celebrating this event. Our veteran ran around the field for 6 hours and held up great! In general, it's always fun with Morisi; some adventures happen. We have been friends for a long time, lived together at different competitions, and we still keep in touch. He is a very pleasant person.
Related topics: Karina Safina Luka Berulava