The main goal was to reveal Medvedeva's character, to show people her new world
Posted on 2019-10-30 • No comments yet
Shae-Lynn Bourne and Evgenia Medvedeva told about their collaboration in a video interview for Russian Channel 1. Here's translations of some parts.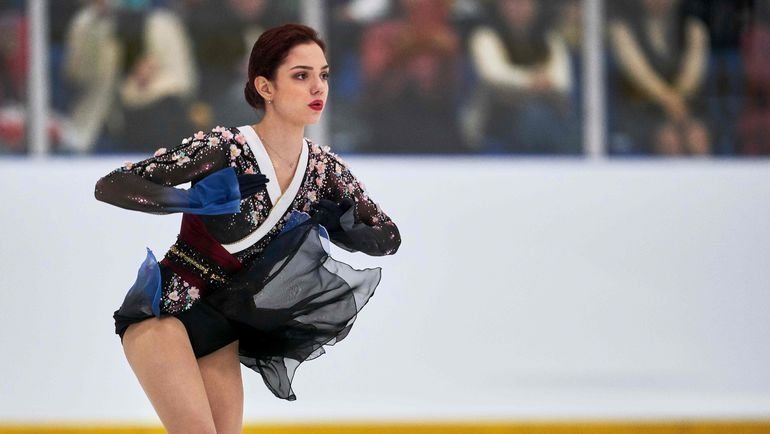 Shae-Lynn: This is the first time I've been working with Evgenia and the first time I created a program for her. We chose the music from the Memoirs of a Geisha, I know that she dreamed of skating to it – this is very important. She feels this music well, seeks to show us her feelings, her understanding, she is worried about literally every piece. It helps in work.
At the same time, she is bold, easily agrees to try something new, and in my choreography there are many new and unfamiliar movements for her. I like that she is ready to challenge herself.
Evgenia is a true fan of Japan and Japanese culture. Me too. I have been there many times, every year I come there to work in show. I like their attitude to life, I feel a taste for living there, my family too. Of course, we already had an idea of this culture, but I'm always on the lookout – I want to learn more and more: about choreography, what role the geisha played, the backstory. All this helps to transfer history to the ice.
If you love your job, you always try to challenge yourself. It's not just about technique, but also about artistry, expressiveness. There is always something you want to say to the world. And the more you believe in what you are doing, the greater response you get.
I really want Zhenya to skate from the heart, showing her character. Just to say "jump here" is not about me, it's definitely not what they come to me for. During work, we really do a lot of unusual things, but I want everything to happen with pleasure, as they say when time passes quickly. This is my style. My main goal was to reveal Zhenya's character, to show people her new world.
Evgenia is very easy and very hardworking. She knows what she wants. Just one observation: during training, I noticed that she was tired and asked: "Do you need 10 minutes to take a break?" She exhaled and said with relief: "Oh, thanks."
She has a drive, she is very devoted, continues to work, even when she is sick or tired. And that is great. I like her spontaneity, her openness. It is a pleasure to work with her.
Evgenia: The theme of "Memoirs of a geisha" is special for me, because I have being thinking about this music for a very long time. I was growing up to this music and didn't take it before, because I knew that I was still too young to show this artistic image correctly – the way I want. But now, after the past season, and by age I grew up, matured and realized that the time has come.
I needed a certain choreographer, a certain dressmaker, certain pieces of music. And everything turned out as I expected.
The working process was very exciting, sometimes fun, because in many moments I felt that I really didn't know how to skate. I had to learn to feel my body in a new way.
It was a difficult work, because for five days Shae-Lynn and I worked one-on-one for three hours without a break, then I rented the ice myself and worked on the program for about two hours, then worked about one and a half or two hours outside the ice. In general, it turned out 8 hours of continuous work per day. It was exhausting.
In addition, it was a cold arena for me, and in the cold I work very poorly. I can not stand the lack of sleep and cold arenas. We also started to work early in the morning: for me, 8 in the morning is early, for me even 10 hours is early sometimes. Lack of sleep, cold … it was difficult, but very interesting, fun, this is a very good experience for me.
text versions of the interview on sports.ru:
part with Shae-Lynn and part with Evgenia
Related topics: Evgenia Medvedeva