"The home environment helped the Chinese today, but in any case, this is the greatest pair, they deserve to be Olympic champions." Russian coaches about pairs competition at the Beijing Olympics
Posted on 2022-02-20 • No comments yet
Russian coaches about pairs competition at the Beijing Olympic Games 2022.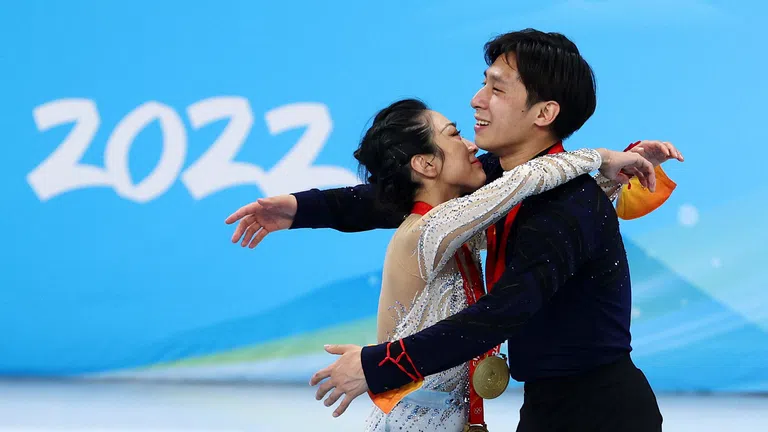 Inna Goncharenko: I really hoped that the podium would be Russian, but the Chinese pair is very strong, with the highest rating and titles. It should also be taken into account that the competitions are held in China and it is difficult purely psychologically.
I would like to praise all our pairs. Everyone fought, everyone wanted to take the gold. Speaking by numbers, it seems that the gap between the first and second place is small, but in reality there is a huge difference, because, unfortunately, there is only one Olympic gold.
The fight was on equals and such performances are always interesting and exciting. When there is a strong opponent, it's great, it's competition.
Congratulations to everyone, because the performances were just great. I would give everyone gold, but alas, you see how the judges distributed the places.
source: Metaratings.ru
Tatiana Navka: Two medals in pair skating at the Olympic Games – it's wonderful, wonderful! Of course, we were all waiting for gold today and saw that the difference was very small, all our pairs skated flawlessly. I congratulate Maxim Trankov, the team of Eteri Tutberidze, Tamara Nikolaevna Moskvina and all our athletes.
I'm sure if the competitions was held in any other country, then, probably, the Chinese would have loose more points because of the mistake they made. The home environment helped the Chinese today, but in any case, this is the greatest pair, they deserve to be Olympic champions.
source: Metaratings.ru
Irina Rodnina: I am very pleased and happy for Tarasova and Morozov. I always said that I like this pair more than the others: how they are matched together, how they look … They had a hard search of themselves.
Exactly four years ago, at the Olympic debut, they either broke down, or they were always the second number in the national team, and then they suddenly turned out to be the first. In Beijing, they have two wonderful programs. They coped with the elements and with the emotions. Really beautiful pair – we can't deny it.
I am also very happy for the St. Petersburg guys. We must understand that they have risen so high – third and fourth place. They have everything ahead. Yes, there were small mistakes, but these are the mistakes that do not spoil the overall impression.
Skating at the Olympics is a powerful backlog for the next four years. The most important thing is not to miss it.
I am very impressed by the Chinese. No matter what we say that there was no one element… This is exactly the mistake that did not spoil the overall impression. Well, they just skate brilliantly. Both throws and lifts are good. Most importantly, a program where every movement speaks in their favor.
I'm used to the fact that pair skating is always the first to start and finish the Olympics. It is clear that in China everything was done for their favorites.
If we talk about figure skating, then the Chinese had pairs as their main hope. The pairs competitions was very successful: although there are fewer of them, it is harder, not so many countries are represented.
source: championat.com
Alexei Tikhonov, former figure skater and coach of the Russian pair Evgenia Tarasova – Vladimir Morozov, commented on their silver medal at the Beijing Olympics.
Alexei Tikhonov: Finishing your sports career with Olympic gold is much louder and more pleasant than with silver. But for me, this silver has a relation to gold. It was very difficult for them to get out of their skating. Something was missing, something was wrong.
In the morning I thought it would be gold. Zhenya and Vova did the last three lifts not at such a high speed as in training. Emotions and intensity at the Olympics matter. The Chinese, despite the mistake, were faster.
It turns out that everything is fair?
Alexei Tikhonov: If I judged, I would arrange it like this. At home, not only the walls help, but also the judges. They deserve it with their skating. They have been doing this for the country for 15 years, for the judges.
Vova and Zhenya also deserve it. Today's result is incredibly high. It is silver with a golden sheen. Congratulations to them! I believed that two clean skates would happen at the Olympics.
The coaching staff brought them to the peak of shape …
Alexei Tikhonov: Yes, sure. Everything is fair. Nastya and Sasha were a little uptight.
Are Tarasova and Morozov ending their careers?
Alexei Tikhonov: I do not know. The key is their opinion. I would like them to continue skating. Will they, that is the question. The amount of work is something inhuman.
If Maria Petrova and I trained so much at our time, we would be invincible. If only we sirvived till the competitions. The world does not stand still. It takes a lot of work to be so clean.
source: sport-express.ru
Alexander Zhulin: It's a shame that Tarasova and Morozov did not make it. Mishina and Galliamov were clearly tired after the team event, it is clear that they did not have enough strength. Tarasova and Morozov gave a performance of their lives, amazing elements, throws, twists.
But for me, the Chinese are the first. Whatever a patriot I may be, but I'm not a bastard. They understand that they are skating, and our pairs lack this a little bit. Lack this awareness. The Chinese deserve it, they are great.
Excellent work of Russian coaches! Tamara Nikolaevna Moskvina, Eteri Georgievna Tutberidze. I congratulate! Eteri Georgievna generally resuscitated the pair. I congratulate everyone from the bottom of my heart. An excellent job has been done.
But the Chinese are the Chinese, unfortunately. They showed such emotions. Apparently, it was the skating of their lives.
source: championat.com. sport-express.ru
Tatiana Tarasova: This silver is equal to gold! Guys are great. They have outdone themselves. Both we and they deserved the first place, but for some reason the gold went to the Chinese.
This can be understood, they performed brilliantly in their homeland, what could be better?
Congratulations to the Chinese skaters, and ours too. Well done everyone, great performance! We focused on beauty, they – on perfect cleanliness.
source: sport-express.ru
Related topics: Anastasiia Mishina Alexander Galliamov, Evgenia Tarasova Vladimir Morozov, Olympic Games, Wenjing Sui Cong Han