"The emotions of 20-year-old athletes can differ from those of an 80-year-old coach." Tamara Moskvina about Boikova/Kozlovskii switching to Tutberidze
Posted on 2023-08-08 • No comments yet
Tamara Moskvina about Boikova/Kozlovskii leaving her group and switching to Eteri Tutberidze; "Barbie" and "Oppenheimer" and start of the season.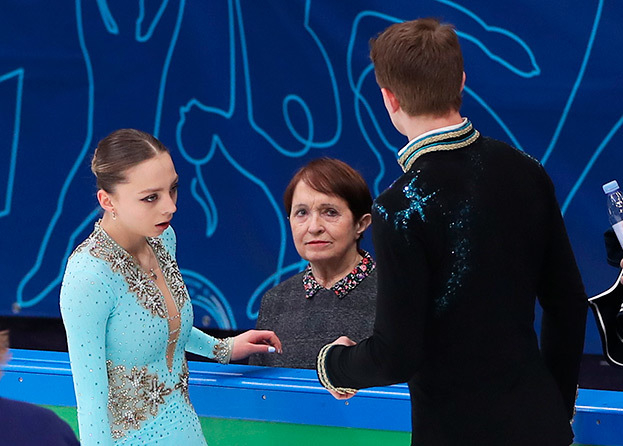 source: Sport-Express dd. 6th August by Dmitri Kuznetsov
Russian national champions Aleksandra Boikova and Dmitrii Kozlovskii have switched from Tamara Moskvina to Eteri Tutberidze, although there are rumors that under different circumstances, they might have been interested in trying themselves overseas. Moskvina still has one top pair – Anastasia Mishina and Aleksandr Galliamov, who showcased a dynamic program set to "Ode to Joy" during a masterclass at the "Igora" resort on August 5th.
During the training session, Moskvina invited journalists to the rinkside and gave an interview to "Sport-Express," occasionally whistling to the skaters and offering valuable advice.
Tamara Nikolaevna, how long can a skater and their coach maintain strained relations?
Tamara Moskvina: I have no idea; I haven't experienced strained relations.
How would you characterize your relationship with Aleksandra Boikova?
Tamara Moskvina: As the relationship between a coach and a student. What strain are you referring to?
The only public incident was the thrown accreditation, perhaps.
Tamara Moskvina: Yes, that happened, so what? But there are countless cases like that. Not just with me, but in general, with other coaches. After a tough start, young athletes, they don't know how to hide their feelings. Do you think such things happen constantly during training? She's a well-mannered person, studying at the Russian Presidential Academy of National Economy and Public Administration, with a good family background.
I started off bluntly but let's at least consider your point of view, how did this break up happen?
Tamara Moskvina: Dima and Sasha came up to me and said, "Tamara Nikolaevna, we need to talk to you." I can't recall if it was the day before or the morning of the training session. And for the rest — everything went as Sasha described. We talked about it. I told them that we had been expecting this for a while. And I told that it's understandable, it's your right, and Artur Minchuk and I wish you well.
You mentioned "for a while" — indeed, that feeling was prevalent. Is this a result of internal competition?
Tamara Moskvina: No one reports on relationships and feelings. You've worked somewhere else before "Sport-Express," haven't you? And now, if you were offered an interesting job, wouldn't you leave? What's the big deal? It's perfectly normal. We don't have slaves and slaveholders. We've successfully worked with the kids for seven years. Suc-cess-ful-ly! When I say "we," I mean Artur Minchuk and all the other specialists who helped us. It's clear that the emotions of 20-year-old athletes can differ from those of an 80-year-old coach. But as long as our interaction was successful and the athletes were satisfied, our team was alive and developing.
Lastly, what was your emotion when you heard those words from them?
Tamara Moskvina: (Extends her hand for me to feel her pulse.)
Does it rarely change?
Tamara Moskvina: I've learned to react to all situations calmly — whether they're internal, on the ice, or somewhere distant. Right now, we're at the masterclass at the "Igora" resort, they will be performing new programs, which is also a responsible task. But I know how to do it (maintain composure. — Ed. "Sport-Express"), I know how to train for it, how to communicate with you, other journalists, athletes of different characters, levels, ages. With everyone differently. So, I'm already prepared in advance for such situations.
About slavery. There's a law being prepared about financial compensation for athletes switching to foreign teams. What do you think about the idea?
Tamara Moskvina: Very simply — when or if this law is passed, I will read it and express my opinion. But what's there to say now? You know, there are so many ideas around. In politics, art, sports, nature, and space! Responding to every idea is an ill-considered waste of time.
How about art then? Are you for "Barbie" or "Oppenheimer"?
Tamara Moskvina: Well, I've heard about that… But I haven't watched either of those movies! I don't want to talk about Oppenheimer, you're getting me involved in political implications. (Smiles.) And as for the Barbie doll, I know about it, of course. We even had a gala number called "Barbie Girl." If there are people, kids, who are fascinated by this character, and if it serves as a role model for them, they should be interested in the movie.
Soviet dolls were cooler, weren't they?
Tamara Moskvina: Both Soviet dolls and other toys from all over the world have the right to exist. They educate and entertain children. Why are you fixated on Barbie? Some people are into this doll, while others are into different characters.
How is your mood generally before the season?
Tamara Moskvina: It's always good. Why should it be bad?
Well, for example, because it's the second year without international competitions.
Tamara Moskvina: We have our own competitions. Like the event at "Igora." We strive to make it interesting for the audience and beneficial for everyone. Here, we have the opportunity to gather spectators for free and test their reactions. Who else will gather so many people for me?
In Moscow, nobody does that, it has to be admitted.
Tamara Moskvina: Everyone does things for money, yes. But here, people from neighboring towns or even those who came from St. Petersburg are present. For the athletes, it's a chance to show what they have prepared at the moment, and for "Igora," it's a way to attract children who will later come to skate at this rink. That's why we also conduct a half-hour masterclass for anyone interested who signs up. It's a free way of giving back from the athletes.
Tamara Nikolaevna, you've experienced many eras. When will we live well?
Tamara Moskvina: Well, we are living well. If you are not living well, it's because you think you are not living well.
Related topics: Alexandra Boikova Dmitri Kozlovski, Tamara Moskvina