Tamara Moskvina: I could try to coach single skaters, but I'm not so ambitious. I do what I do well
Posted on 2019-11-28 • No comments yet
Interview with Tamara Moskvina. About Boikova – Kozlovski, her champion pairs, quads in ladies single skating and Eteri Tutberidze.
by Alexander Kovokin for sportsdaily.ru dd. November 26th, 2019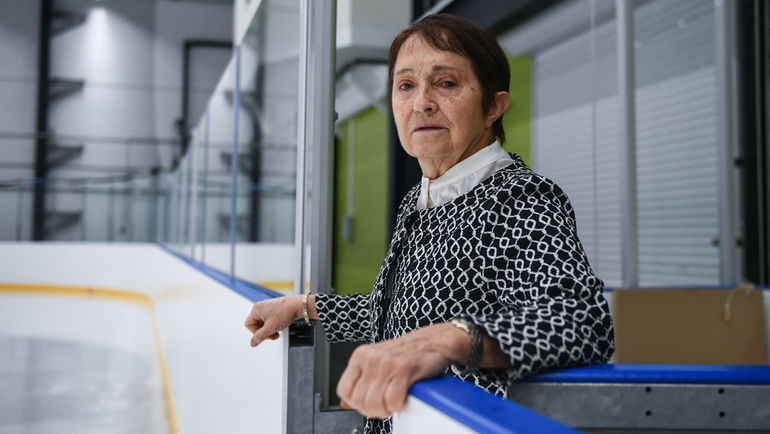 Yuko Kavaguti in a recent interview called the current pair skating boring. Isn't it offensive to hear this from a former student?
– Life has taught us not to be offended by anyone. Someone is bored, but someone is not. There are a lot of requirements in the current rules. When you follow all of them, there is no time for any special creativity. But the skill of the coach is to spice a standard short program.
What you can't forgive your athletes? When can you kick them out from practice?
– I am a liberal coach. Everything can be forgiven, of course, if it's not too serious. I need to find such an approach to athletes, so that in spite of their mood, state of health, some domestic difficulties, I will have an interesting training with them. My motto is: achieve the result no matter what. Let it be smaller than I planned, but there still will be a progress.
Have you ever wanted to work with single skaters?
– In our school there is Peter Gumennik, the finalist of the junior Grand Prix. I worked with him. I also come to training of our single skaters and help them with some moments. But I didn't work with them on an ongoing basis. If you are a good sculptor, do you need to design apartments?
Probably not.
– Of course, I could try, but I'm not so ambitious. I do what I do well.
How many times a week do Alexandra and Dmitri train?
– Mostly six days a week. Twice a day. On the ice they can spend from two to three hours.
Will you go with them to Turin?
– I will not just go with them, I will go as a coach of this pair. (Artur Minchuk also works with the guys – ed.)
What goal did you set for them? Gold at the Beijing Olympics?
– We did not gather in the office, did not sit at a table with a pen and ink and did not write: the goal of our joint work is Olympic gold. We learn new elements, make preparation plans. Our goal is to show good skating and perform at the main competitions which are Olympic Games. This is the dream of every athlete. And place they will take there will depend on the mass of terms.
What is easier: to find a boy for a pair or a girl?
– Everything is difficult. They both should jump, match emotionally, match in height and weight ratios, age.
What should be the maximum difference?
– Better 3-4 years. But there is no rule.
Do you see the need for increasing age eligibility so that figure skating does not become "childish," as they say now?
– While it is not childish. Look at Dima and Alexandra. There's no such thing in pair skating. Liza Tuktamysheva gives the impression of a pretty girl, pretty like a doll. She is so tiny. Alina Zagitova became a girl who is nice to look at. It will be the same with other little girls. They will become beautiful young women, and then brides and attractive women.
And the main thing is to win Worlds and Olympics by that time?
– Winning is not the main goal in life. Why do spectators come to the arena to watch these girls? If it were not interesting, there would be no one.
Along with this, Irina Slutskaya says that Alexandra Trusova's skating is only stroking and jumping.
– So many men, so many minds. I had athlets who won the Olympic Games, but other specialists did not like my pairs. So what?! Someone admires: "Look at these young girls, how they are not afraid to rotate. How brave they are! I want my child to be the same." And others say: "Look at the girls who have already matured: Medvedeva, Zagitova, Tuktamysheva. This is such a graceful female skating."
When you watch how Alexandra Trusova and Anna Shcherbakova skate, do you feel pity for these girls, that they make such complex elements, or respect for their plowing, which brought them on the top?
– Pity? Never. A person gathers stadiums, the international skating union organizes competitions. What pity? You also use the word "plowing". What is plowing? This is when the peasant breathes a sigh, renews his sledge, and makes his way (Aleksandr Pushkin – ed.). Or when he plowed the land. There is no such thing for a long time. Now in figure skating there is intellectual, highly organized work. Do Alexandra and Dmitri plow? They enjoy skating.
Of course not. Now they are actively discussing quadruple jumps. Can they harm health?
– There are no studies on this subject. You have a smartphone in your hands. Have you done any research on how it affects all of your body organs?
I heard that not very good.
– But you still use it. And children who jump quads, tried and it is easy for them.
But won't Trusova have problems in a couple of years?
– At such a height above the ice level (for clarity, Tamara Nikolaevna also shows how low it is) such a little body spins at high speed … When I was a single skater, two-time USSR champion, my most difficult jump was double lutz. And I had an ankle sprain twice. On the double lutz! Now, probably, nobody is even jump it.
But there was a proposal to separate jumps and skating. Score them separately.
– Let's separate your profession. Someone will shoot, and someone will talk.
So you're against it?
– Of course, I'm against it. In pair skating, two people can make elements in parallel, separately, one after another, to a different music, at different speeds – this gives an opportunity for creativity.
What is the coach thinking about when his skaters perform? Is he mentally skating with them?
– I don't skate. I say to myself: "All my work is done. I am not a hypnotist, I can not influence the skaters from afar. Tamara, stay calm. Do not pretend to be an actor who dances with his students. Feel your pulse. It must be small." I must make sure that my state of health does not depend on any jump or lift. I'm watching how the audience reacts to this element, whether the leadership is interested in my students.
Do you even have time to pay attention to this?
– Of course! When athletes skate, you have to see everything in order to analyze later. And some take a handful of pills, swallow them and stand or hold on to the board. During the performance, my biggest pulse is 72 beats per minute.
When the scores are announced, does the pulse rise?
– No, then you portray happiness, hug.
You had a period when you lived and worked in America. Speed skater Dmitry Bochkarev spent 15 years abroad and called this time a "lifelong exile". Were you comfortable in America?
– Yes, I was there from 1999 to 2003. Then in Russia there were difficulties: they didn't fill the rinks, there was no gasoline. Therefore, we decided to organize the preparation of future Olympic champions Elena Berezhnaya and Anton Sikharulidze at the expense of the Americans.
Why did the Americans agree?
– The Olympic champions Kazakova-Dmitriev, their coaches Igor Moskvin and Tamara Moskvina, came to their skating rink. We also worked with the American pair Kyoko Ina – John Zimmerman.
Let's say right away that Igor Moskvin is your spouse.
– We are married since 1964. Celebrated the 50th anniversary of our marriage. Received an award from the city. We have two daughters, two granddaughters and a grandson.
Wow.
– Igor Borisovich and I prepared Olympic champions in America. Both pairs were invited to performances where they could earn a living.
What did you fail to accept from the American mentality?
– I was fine. I lived in another country and had to fulfill it requirements.
Have you ever been invited to work in Moscow?
– Yes. When I just finished performing in pair skating.
Why did you refuse?
– We always had excellent conditions in the Yubileiny Sports Palace. Why move to Moscow and work in CSKA, where it is full of people, leadership, some responsibilities?!
Don't you miss the "Yubileiny" and Mishin?
– I don't miss Mishin (laughs). We see each other at competitions. I do miss "Yubileiny". The city organized the "Star Ice" school there, but according to the laws of Petersburg it cannot be named after us. A person must be dead for 30 years, only then a budget institution can be given his name.
Fortunately, your school doesn't need that.
– Once I was stopped by a traffic policeman: "Fill Europrotocol". He says to another driver: "You see, it says driver 1. You filling this. Driver 2 is a granny." But I know how to fill the protocol. So I wait while the policeman explains him. And here I think: "But who is "granny"?! So I pretended to be independent, said that I didn't need to be explain how to fill the protocol, but this story had an effect. Now I'm granny Tamara on Grandma's street. Come to visit. I have a good coffee machine.
Sure!
– I want to show you something: here we have an elevator. I was told: "This elevator is especially for you when you are over 80." This is a joke (laughs).
Let's get serious again. Before the 1998 Games in Nagano, you had two great pairs: Oksana Kazakova / Artur Dmitriev and young Elena Berezhnaya / Arthur Sikharulidze. How to deal with jealousy?
– I tried to give everyone sufficient attention and make sure that every pair won the Olympics. There were no special kindred feelings for anyone. No one was my son or daughter. It was profitable for me to create healthy competition in my team so that each pair motivates the other. I had pairs: Mishkutenok-Dmitriev and Bechke-Petrov.
Gold and silver at the 1992 Olympics in Albertville.
– They trained at the same time in my group.
And there were no scandals at all?
– What do you mean by scandals?
When someone shouts and leaves practice.
– It's not customary in my group to shout. Nobody shouts at school lessons. Or in a theater on stage.
Berezhnaya and Sikharulidze won the European Championships a month before the Olympics, but Kazakova and Dmitriev won in Nagano. Did experience played a role?
– Berezhnaya and Sikharulidze made one mistake, and the judges saw everything.
Kazakova admitted that in Nagano she was afraid to go on a free program. You came to the locker room and forced her.
– I don't remember her being afraid. Oksana always needed a psychological …
Kick?
– No! What is wrong with your vocabulary?! Kicks, plowing. She worried more than it was necessary for self-control. Then I found a way for her. I had a small frame with a portrait of Oksana's husband. When I put it on the board, she saw his peaceful face and calmed down.
So we learned the secret of victory in Nagano.
– Tatiana Tarasova and Elena Tchaikovsky later told me: "Listen, Moskvina, are you crazy? Started to put icons."
Why didn't you dissuade Oksana Kazakova from ending her career after the Nagano Olympics? She was only 22 years old. You could find her another partner instead of Artur Dmitriev.
– Usually we proceed from the desire of athletes. If they want our advice, then we give it to them. I did not take part in Oksana's decision to finish her amateur career. Artur Dmitriev and Oksana Kazakova performed well in professional shows. The whole world admired their mastery. They made a right decision to skate for pleasure, and not prepare… For what? Another medal?
Is it hard to get the Olympic champion to start over?
– It's hard to make someone do something. If a person wants, it's easy. Why do we, coaches, need to force someone?
Alina Zagitova won all major competitions and stayed. So she wants to perform further?
– Let me ask you. You had a contest for the best article. You won it. All congratulated you. And then they say: listen, why are you sitting here, let's finish?
And how will I earn money?
– You think what you will do. So Zagitova likes to skate. For her, medal isn't the main thing, but a performance. The process itself. That's why she brings joy for an audience. She is a producer of joy.
But athletes are fighting for medals.
– Sometimes they ask me: "You probably was sad that your skaters took second or third place?" And I answered: "Tell me, please, what place does your company takes in St. Petersburg?" Suppose they say to me: "Third." – "And in Russia?" – "Tenth." "And in the world?" They begin to laugh. And I say: "And my students take the second or third place in the world." Why on earth should they leave? People spent a lot of time, strength, sacrificed something.
Sounds logical.
– Let they have one gold medal, and the rest will be silver. Look at the list of participants. Many did not have any medals at all.
If Zagitova no longer wins a single medal, then nothing bad will happen?
– Nothing bad!
When a person became an Olympic champion, there is probably a different expectations from him. He was on a pedestal and hardly wants to go down from it.
– Once I ran a hundred meters in 15 seconds, but now I can't. And what?! End of life?
Of course not. Let's better recall the Salt Lake City Olympics. Is Elena Berezhnaya's injury the worst thing you saw in figure skating?
– We are not analyzing injuries. This did not happen before my eyes. At that moment, Elena Berezhnaya was training in Riga with Oleg Shlyakhov, and I was in Petersburg.
You admitted that when Elena came to the rink, you said to yourself: "Tamara, you will go to jail." Was everything so serious?
– It was not like that. I told myself: "Tamara, come on, watch Lena. Organize everything for her to be safe on the ice. Otherwise, you will go to jail." Therefore, we conducted all examinations at the Institute of the brain, all treatment. Doctors gave admission. Otherwise, she could not even go to training. The doctor said: "In order for Elena to recover sooner, she needs to be brought into a familiar environment."
What did he mean?
– Lena came to the skating rink, laid her foot on the board, watched how children skate, did some warm up.
At the Olympics in Salt Lake City, a terrible scandal happened – two pairs were presented with gold medals: Berezhnaya / Sikharulidze and Jamie Sale / David Pelletier. At first, Canadians had silver, but they protested. While the proceedings were ongoing, were you not afraid that they would take the gold from your pair?
– Before and during the Salt Lake City Olympics, there were many scandals. Including political. Therefore, the ISU and the IOC were interested in extinguishing this scandal. I, the President of the Russian Figure Skating Federation Valentin Piseev and the head of our delegation, Valentin Matvienko, were invited to the meetings with the IOC President Jacques Rogge. We discussed the repeated medals ceremony to make it as fair as possible.
Isn't it humiliating? Lena and Anton have already received their gold medals. Why should they go there again and listen to the Canadian anthem?
– What is so humiliating? This ceremony was broadcast on all television channels. Lena and Anton stood on a gold pedestal. Representatives of the country's leadership told us: "You are members of the IOC. And follow its rules here." Having won, we made this concession.
Yuko Kawaguti / Alexander Smirnov – your most unlucky pair? They had so many injuries. Have you ever regretted taking Yuko?
– No, I was interested in working with them. They are two-time European champions.
If not for injuries, could have they achieved more?
– They had a mismatch of characters, so there was no fruitful cooperation.
I heard that Yuko Kawaguti's mother sent you parcels with woolen socks.
– There were no socks. She usually sent woolen sweaters and delicious Japanese cookies. They consider it a great delicacy.
Yuko was ready to continue skating, but Smirnov refused. He had a family to feed. Can't figure skating give this?
– You can earn only when you are in the top of the best skaters in the world. If not, it is difficult to support a family with a child on a salary.
Your athletes won two Grand Prix and probably will receive good prizes.
– From this amount you need to deduct the tax of the country where the competition was held. Almost everywhere they are higher than in Russia. In America, for example, 30%. Next, you need to deduct the deductions of the federation, who organizes athletes' trainings, payment for coaches, trips, tickets, visas, costumes and so on. Plus, this result was still being prepared by coaches, choreographers … And in pairs and ice dance, the prize money is divided into two.
You admitted that you are never ashamed about watching other coaches work. Did you see something interesting in the work of Eteri Tutberidze?
– I see that she organized a competitive environment. Not only in the training process, but also in selection process. There are a lot of people who want to work with her.
The conveyor of champions.
– Not a conveyor, but a huge stream of human potential.
But only a few stays, many are thrown out.
– They are thrown out! They just leave this level. Here is an example. Ten students graduated from the university and entered some kind of research organization. One came up with something clever, while the others only shift the pieces of paper.
On the other hand, the 2015 World champion Elizaveta Tuktamysheva is still competing, and Julia Lipnitskaya has already finished her career. We do not know what will happen next with the other Tutberidze's skaters.
– When you bring your child to the first grade, and after the fourth he goes to another school, you do not say: "Tragedy! Ah, people are thrown out!" This is a natural process. Two people graduated from high school. One went to university, and the other become a plumber. So what?! Each has its own path. The same in figure skating.
Have you ever talked with Eteri Georgievna?
– We cannot be called friends. We had to communicate. I came to her at competition: "Eteri, your girl is performing. Wouldn't it be better for her to change her ponytail?" Her hair was tied in a ponytail. Eteri answered me why this is not possible. I would not want to say that.
Was it obscene language?
– No, of course not! It wasn't her who decided what hairstyle the girl skated with.
Were you comfortable talking to her?
– Of course! Normal coach. She works with children, she has a team of people. I can also become serious now: "Why are you bothering me? I have no time. Sorry, let's finish the interview."
Alexei Mishin compared relations with Tutberidze with Montague and Capulet.
– You can come up with any sort of things. Eteri just chose this style for herself, maybe at home she's funny. That's a guess. I have not been with her in any company.
Related topics: Alexandra Boikova Dmitri Kozlovski, Alina Zagitova, Eteri Tutberidze, Tamara Moskvina