Stephane Lambiel: I'm driven by passion for figure skating. If my skaters share it, then their level doesn't matter
Posted on 2019-11-29 • No comments yet
Interview with Stephan Lambiel at the Rostelecom Cup 2019. About coaching, Shoma Uno and development of figure skating.
by russian.rt.com dd. November 23d, 2019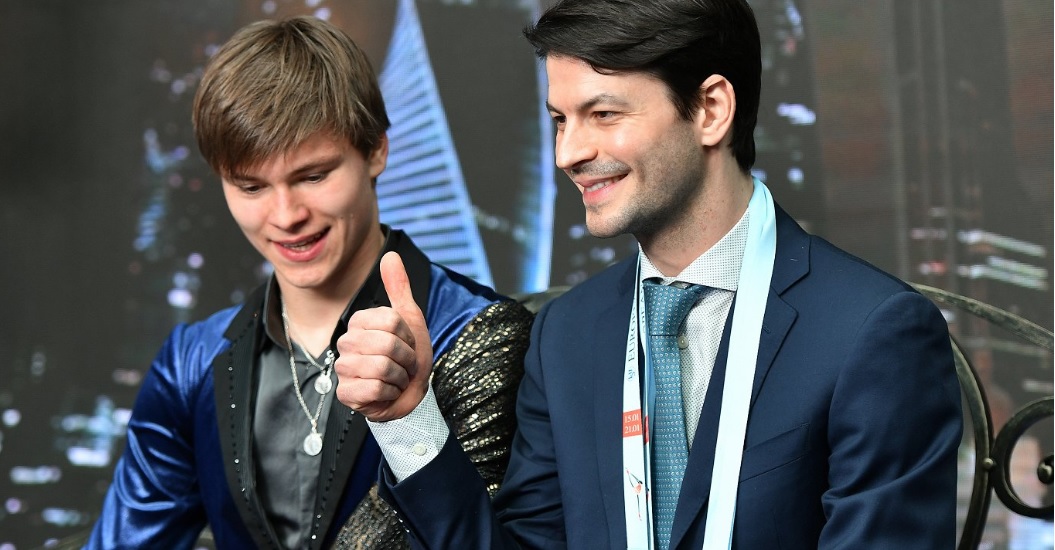 How many athletes did you bring to the Grand Prix in Moscow?
– Here I work with three skaters: Deniss Vasiljevs, Shoma Uno and Yuna Shiraiwa.
What can you say about cooperation with Uno?
– After the French Grand Prix, he came to me, because he did not want to go to Japan, and settled not far from my ice rink. Then we came here. We have many years' experience of cooperation, accumulated during a large number of shows. I was his choreographer, and in some show numbers I was even his partner. We had a good relationship, which is why I offered him my services.
So, it was not a surprise for you when he asked you to help?
– Shoma has visited my school for several days back in September. He knows my methods, and I think he really likes the atmosphere in my groups, so this has become quite a comfortable option for him.
Uno doesn't speak English. How do you communicate with him, find a common language?
– We work a lot at the level of images, and I try to show the necessary movements myself. In addition, he knows some words, for example, terms indicating directions. So he understands my instructions like "left" or "right". That's how we communicate – with the help of a small number of words, but mainly through various kinds of visualization, through images.
Not many coaches has the opportunity to work with the Olympic silver medalist. Is it possible to say that it is a special honor for you to supervise this athlete?
– I like coaching in any form. I am driven by passion for figure skating. If my skaters share it, then their initial level doesn't matter.
Over the years, you have been known rather as a choreographer.
And now you've become a coach. Is there a big difference between these activities? Which one is closer to you?
– These are two very different activities. The responsibility of the choreographer is very short-term: you work with the skater for about a week, develop a program for him, and then he returns to his usual routine and continues to prepare with a coach who realizes long-term goals. I have been engaged in coaching for more than five years and enjoy the process very much. I like to develop plans and share my values ​​with the skaters, team, colleagues, with whom we try to provide everything necessary for mew champion to appear.
Why are you coaching so few skaters so far?
– I have just as many athletes as I need for a comfortable life. There's enough work.
Who is an example for you in the coaching field? Whom would you ask for advice?
– Many coaches support me. These are those with whom I have worked myself: Mie Hamada, Gislain Briand, Brian Orser, a ballet and modern dance teacher, a Pilates coach, as well as specialists involved in off-ice training. I like to surround myself with people who have deep knowledge in special areas, so that then I can create optimal conditions for my skaters to develop.
You also continue to perform. When do you have time to train?
– Usually every day I have one hour for myself and spend it not only on the ice, but also in the gym. After all, it is possible to improve, including psychologically, by doing active off-ice training, practicing the movements that you then perform on the ice.
How do you feel about current trends in figure skating? Quad jumps were rare in your time.
– But they were still performed. I remember, back in 2002, the Olympic Salt Lake City medalist Timothy Goebel included three quadruple jumps in his programs. So this practice has been around for a long time. Figure skating is undergoing remarkable progress. I am a staunch supporter of evolution. And I myself want to conquer new frontiers, work at the limit. Therefore, I admire every skater who strives to the same.
But I don't think quadruple jumps are so unique. I remember the Czechoslovak skater Josef Sabowczyk performed them back in the 80s. And Brian Orser, too. This is not something new at all … But actually quite old.(Laughs) Yes, it looks very impressive. But, in addition to quadruple rotations in the air, there are many other ways of interpretation.
For example?
– Through music, through the main character. For me, figure skating is like art … Like the book you are going to write. When you skate, you write a certain story for which you are responsible. And if you want to focus on the quadruples in your story – well, so be it. But skaters need to create a full-fledged story, where every detail, every little shade is worked out. I am attracted to this sport because of its excellent aesthetics. Yes, progress is important, but you can achieve it in many different ways.
What do you think about the quad jumps in ladies skating? Is this a great advantage for those who have them?
– With fair judging, they should not play such a big role. And even if this is really a kind of advantage, if you can do both quadruple jumps and transitions, and everything else, what's wrong with that? I would not define the progress' limits.
Could you name your favorite skaters? Who has the most balanced programs now?
– There are many. The other day I saw Mariah Bell training. She skated like under the spotlights. Stunning sight. It seemed that every cell of her body in its place. Her skating looks both dynamic and natural. I watched her practice with great pleasure and got a lot of impressions. In her case, we can talk about various technical and artistic elements. In general, I love the combination of precision, including technical, and grace. Many skaters have it.
In 2015, in an interview for one of the TV channels, you said that you were going to learn Russian.
– Yes, from time to time I ask Denis to teach me some words, but at my age it is quite difficult, I am not 20 years old. In addition, workloads interfere with full-time lessons.
What are your associations with Moscow? Perhaps your victory at the 2005 Championship?
– Perhaps it associates with figure skating. I admire the Russian school of figure skating.
Is your school open for Russian skaters?
– Of course! I have already worked with Mikhail Kolyada, Elizaveta Tuktamysheva, Alexander Petrov. Alexei Mishin helped me to train skaters. I have a great respect to him. He is a wonderful person and a great master of figure skating.
Related topics: Shoma Uno, Stephane Lambiel