Stanislava Konstantinova: "I was bringing results, but at the first recession the federation preferred to forget about me."
Posted on 2021-04-27 • No comments yet
Interview with Stanislava Konstantinova. About plans to fight for her sports career, difficult financial situation of the skaters who are not members of the national team and the attitude towards Evgeni Plushenko.
source: sport-express.ru dd. 26th April 2021 by Dmitri Kuznetsov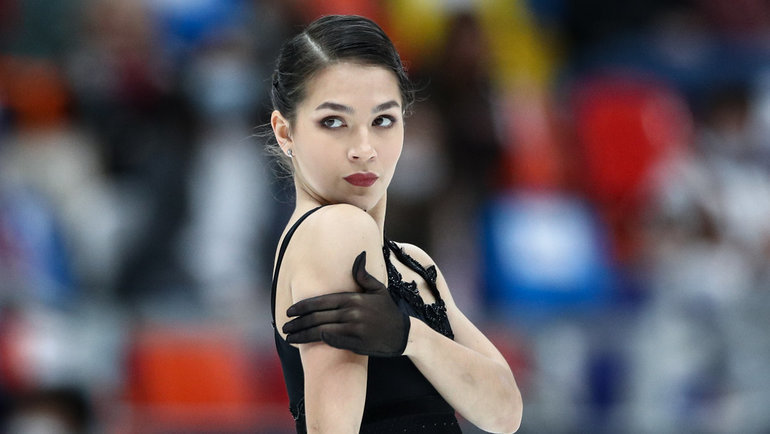 For most of the Russian figure the offseason has started after the World Team Trophy, but not for all. Local competitions continued in St. Petersburg, and last week Stanislava Konstantinova took part in one of them. Polina Sviridenko won it with an impressive result of 204.98 points, Konstantinova remained fifth – 177.62.
Stanislava, how are you feeling after the competitions in St. Petersburg?
Stanislava Konstantinova: Well, I feel ok. It was part of the preparation for the next season. I don't know yet if this is the last competitions of the season. As Victoria Evgenievna [Butsaeva] decides. I completely trusted her, said "Do with me what you want." She told me what to do and I am slowly walking this path.
And what do you need to do?
Stanislava Konstantinova: Do not rush, do not wait for great results right away, because it's stupid. And don't be upset. As the saying goes, if you don't change your approach, the result will not change. I decided to do everything differently.
So, how does the competitions in St. Petersburg help this?
Stanislava Konstantinova: I don't need to hide from difficulties, but to meet them face to face, learn to skate in stressful situations. I am eager to fight, and I needed to go through this, to open my eyes. I don't want to spend a new season on it, there I'll need to work. And I am glad that now I am training with Victoria Evgenievna, she is not afraid to experiment. I doubted the decision to go to St. Petersburg, I thought everyone would be watching now, and I wasn't in the best shape. She replied: "Why do you care? This is not the Olympics." Better this failure will happen now, with 48 points, it was also necessary in its own way. Not to turn tail, but break forward.
You skated a short program even without a costume. Why?
Stanislava Konstantinova: We just decided with the coach that I can perform in more convenient clothes. And I tried to skate my free program in a costume, because I'm keeping it for the next season. We will change it a little, we'll change the music a little, and perhaps there will be a different costume. While we are testing it.
The shape wasn't the best as you said.
Stanislava Konstantinova: Of course it wasn't great. But the main problem is attitude and self-confidence. It's no secret that in training, many athletes do not show their maximum, and then reach for the stars at competitions. And in my career, what was often shown at competitions did not correspond even to 50% of the possibilities. If this season I had skated as I did in training, I would have entered at least the national team's reserve. And I have either everything or nothing, something is not perfect – to hell with it.
Do you work with a psychologist?
Stanislava Konstantinova: Yes, also a new specialist. This is not a quick process, months of work, it will take all summer. The same with shape, weight. I want to grow as a person, not just as an athlete, in order to be satisfied with myself and kind to myself.
You talked about the pressure that has been put on you for a long time during your career. Are you getting rid of it now?
Stanislava Konstantinova: Yes. I have been in this vicious circle for a long time, when you control yourself very tightly, diets, discipline and things like that. And the focus shifts from the result of training to your appearance and other secondary things. It's not that I admire myself and measure every centimeter of my leg, but the certain dependence on what you eat appears. You start to dwell on it. And success in life, sports is already a derivative.
Was this the reason for leaving Valentina Chebotareva?
Stanislava Konstantinova: Partially. In a way, it broke me. I held on for a long time. I had a quiet life, I was happy with everything, but at some point everything went wrong. Moreover, I clearly remember that it happened at one moment, somewhere in the 2019/20 season. I lived in limbo for six months, and then I realized that I had to change something. And there was a sharp spurt, spontaneous. I realized that I couldn't be here anymore.
Is it growing up?
Stanislava Konstantinova: Rather, it just boiled up. I realized that I was reaching for the bottom and would leave the sport soon. And I don't want to. I want to fight for myself, my talent, character.
That is, you are not going to quit?
Stanislava Konstantinova: No. It is very interesting for me to work with Victoria Evgenievna. I hope she also thinks so (laughs). After the Russian Nationals, there was a moment when I took a break and realized that not everything was going smoothly. I talked to the coaches and said that I would not last long, too much energy was spent. I don't want to analyze now what was right and what was not, I just didn't want to torture myself anymore. I performed with pleasure in Evgeni Viktorovich's (Plushenko) show, although my legs hurt a lot in boots, it was unusual, but I tried very hard, I really liked it.
What happened after the show?
Stanislava Konstantinova: Then I rested for two days, and realized that I had nothing to do and didn't want to rest. I called Victoria Evgenievna. A good person and my friend Adian Pitkeev said that I should succeed with her, because she is very energetic, cool. She said honestly: "Let's try, but I promise nothing. I will help you, I will try, but I am not going to press and force you ". She has a good approach – she will not force, she gives the task, it is up to the person to decide whether to do it or not. Very friendly atmosphere, coaches are smiling, fun, discussions. Team Moskvich, in short.
I was worried about how they would accept me, because for a long time I controlled myself 24 / 7. Up to the point that I was counting how much to run, walk, eat, no more and no less than a certain number. Wild enthusiasm was replaced by despotism towards oneself.
It turns out that you have come to the same thing you've left.
Stanislava Konstantinova: Even worse. In St. Petersburg, I had results. I was always at home with my family, people who led me for 10 years worked with me. And in Moscow … in fact, nobody was interested in me if there was no result. Which is absolutely natural – only you and your parents cheer for yourself in this world, to be honest. Nobody is obliged to support me, I come to training like to work.
This isn't the first time you've been asked about motivation. The next season is Olympic, and how do you see your role in it?
Stanislava Konstantinova: I have a close goal, there is a global one. Not much time to sway. I will not say about them yet. It is clear that there will be a battle for the Olympics. I want to show my work, to show that it's too early to write me off.
But you are not participating in the Olympic battle?
Stanislava Konstantinova: Well, I do. Of course, I would like to impose a competition. But I still need to sort myself out.
If we look at the big picture, we have a top and there are hundreds of skaters who have very little chance of getting into the national team, even among strong skaters of the middle level. What to do in such a situation? Change the sports citizenships?
Stanislava Konstantinova: It seems like a logical decision. But objectively it is clear to everyone that our federation will never give the go-ahead for my transfer.
Why?
Stanislava Konstantinova: I don't know, to be honest. I performed at the World and European Championships, that's why. But I myself am not attracted by the idea of ​​being in quarantine. I didn't really think about such a transition, because I need competitions, and apart from Russia, no country in the world can give them now. And not such competitions when you win with one participant, but with a competitive environment. I can fight in such an environment. As the World Championships has shown, you don't have to have five quadruple jumps to win. You may not have one. And the World Team Trophy has shown that it is possible to be in the top even without the most difficult combinations.
It turns out that ultra-c are no longer so necessary?
Stanislava Konstantinova: Now, perhaps, it is not necessary, but for general development it is definitely worth mastering. Because those juniors, doing a lot of quads now, thereby guarantee that by my age they will retain one or two jumps.
And if you look at the financial picture – again, there is a top with sponsors, but then there is an abyss. And even for the patch of Rostelecom the majority of those wearing a jacket do not receive money.
Stanislava Konstantinova: Now the situation in figure skating is already better, not only Rostelecom is there, but other sponsors.
Do you have sponsors?
Stanislava Konstantinova: (laughs)
Well, you see.
Stanislava Konstantinova: But I'm not in the national team. In general, I wear this jacket only because it is beautiful.
Just there are many lesser-known sports where athletes earn more. Isn't it true that figure skating is super popular now, but skaters are beggars?
Stanislava Konstantinova: Yes, I agree. A very difficult situation. For example, I have been outside the national team for several years, only in the St. Petersburg national team, but this year I paid for the coach's travel to the competitions myself, and also for the costumes. Also for two pairs of skates. There was a period when the federation was headed by Sergei Chopozov, at some point he helped to pay for training, dress, skates.
Have you counted how much you've spent?
Stanislava Konstantinova: I have, but these are some very global expenses. Hundreds of thousands of rubles. Travels to the competitions was paid by the city, thank God. The school is commercial, so I had to pay for trainings in Evgeni Viktorovich's school, training camp, programs. But in general I like to work, so now I am engaged in choreographing programs, I like it.
The Plushenko's show probably helped financially as well.
Stanislava Konstantinova: It helped a lot! I am grateful for this opportunity. Because after the Russian Nationals I called my mother with the words: "Mom, this is an exceptional case, but give some money for coffee, please". In fact, being on the show saved me from moving home to my mom.
There are also options like Elizaveta Tuktamysheva's photo shoot for Maxim. Not your option?
Stanislava Konstantinova: Oh, I admire Liza and her love of life, honestly! Now we talk less often with her, because we live in different cities, but she always gives good advice with such a positive vibe. Looking at Liza, I understand that everything is real – just work, love your job and yourself. And everything will come. I'm really not sure that they will pay a lot for the photo shoot … But I would rather refuse. Yes, someone can look natural in this format. I love something more aesthetic, stylish, not raunchy. I do not see myself in this. This requires 100% self-confidence. Maybe someday outside of sports, but so far it's unlikely.
Was it a surprise to you that Alexander Volkov left Angels of Plushenko?
Stanislava Konstantinova: No, it's not surprising. There was a big shortage of ice, the group could not go to Gorki (to the new skating rink of the academy – ed). It was known that we would be skating in Govorovo, a skating rink in the southwest of Moscow that can be reached by subway. It is unrealistic to get to Gorki by public transport. Although the skating rink there is gorgeous and stylish, Yana Aleksandrovna and Evgeni Viktorovich did their best. Well, here it is necessary to say that Evgeni Viktorovich and I rarely crossed paths, he coached other groups, and in the second part of the season he worked at a different rink.
Was the ice shortage situation not what you expected?
Stanislava Konstantinova: Before the Russian Nationals, I was glad to go to Gorki and told Alexander Sergeevich (Volkov – ed) about it – just let me have enough ice. But it didn't work out.
Did Evgeni Plushenko tried to keep you in his school?
Stanislava Konstantinova: When I announced my decision to leave, he didn't invite me to his group to train, I did not ask. At that time, I already thought that if I wanted to return my positions, I needed the usual system of a budgetary public school, with a clear schedule. I always skated in St. Petersburg and in a commercial school in another city I faced many problems that I had to solve on my own – paperwork, non-payment of fees. And it is not very easy to deal with this bureaucracy when you are an active athlete. A concrete example – my medical clearance was expired, but the city did not say about that. I had to travel quickly between cities. It is not clear why the members of St. Petersburg team go to training camps, get all the conditions, but they treat me as if I had suddenly ceased to exist. That is, when representatives of the federation call my coach and say: "Why is she skating? Let her to the ballet "… I didn't ask and didn't want to hear this opinion. For many years I have been bringing results to the city, and at the first recession they preferred to forget about me.
Evgeni Plushenko as a coach evokes a lot of emotions and even hate. How do you like him as a coach?
Stanislava Konstantinova: This is madness. When there's so much attention to a person, every mistake is inflated. And not even his, but his skaters. Athletes are not robots. Sasha Trusova skates with a lot of quads, she has the right to make mistakes! We are not made of iron. To blame Plushenko for every mistake his athlete makes … Why aren't other coaches so blamed? He went through a big school, was a great athlete. He knows a lot and understands a lot. You cannot be perfect when you are being examined under a magnifying glass.
But he himself attracts attention, probably because of the showdown with Tutberidze's coaching staff some have such an attitude.
Stanislava Konstantinova: Sure. But I do not want to judge it, it is not close to me. Everyone should do their job. I have a positive attitude towards him and respect him as a person and a coach. As a coach, he is good, he does his job conscientiously and does not deserve the kind of treatment that some haters show to him.
I can say that everyone needs to be a little more tolerant of each other. We all work for one federation, one country, one national team. What happens in social networks affects athletes and distracts them. Evgeni Viktorovich, by the way, is a person open to conversation. I would like their confrontation and all these quarrels to end.
Related topics: Stanislava Konstantinova