"Sinitsina and Katsalapov were given rather low marks. It's clear that they tried to take off points from our team a little." Russian specialists about victory in the team event and judging
Posted on 2022-02-07 • No comments yet
Russian specialists and former skaters about the victory of the Russian team, Mishina/Galliamov's mistake and judging in ice dance at the Olympic team event.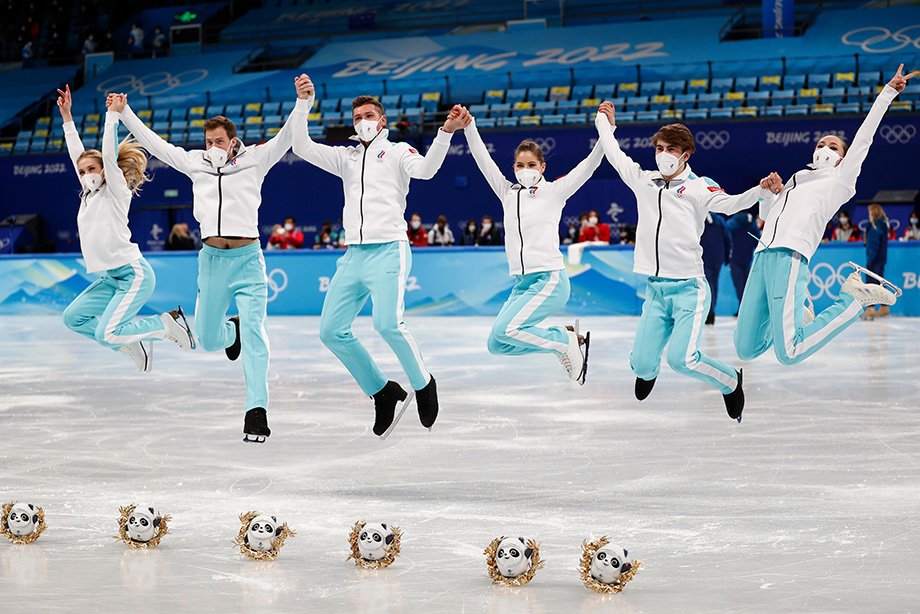 The Olympic champion of Sochi-2014 in the team Ekaterina Bobrova appreciated the victory of the Russian team in the team tournament at the 2022 Games in Beijing.
Ekaterina Bobrova: I was initially confident in this result even after the first day of the competitions. I'm glad the guys didn't disappoint. Each of them deserves the title of Olympic champion. Today I commented live, when the Russian team won, I ran along the hall with the Russian flag. Of course, we perform without our anthem and flag, but support is very important for the guys.
Mishina and Galliamov confirmed in an interview that they were tired. It is very difficult to get up at four in the morning, go on the ice at six, skate such complex programs. And then, after a short break, go to the competitions and skate a free program – a lot of complex elements. Sasha said that it was not easy, but I'm sure they will be given a couple of days off now – they will exhale, recover and begin to prepare for individual competitions. And everything will work out there.
As for judging in ice dance, I looked at the protocols, it shows which judges gave which scores. The Americans were also judged very strictly, no complaints. If our pair has a second level for a step sequence, then the Americans do not have the level four, but also second.
source: championat.com
World Champion Maria Butyrskaya commented on the performance of Victoria Sinitsina and Nikita Katsalapov in the free dance of the team event at the 2022 Olympics in Beijing.
Maria Butyrskaya: As far as I understand, Sinitsina and Katsalapov simply didn't do a specific lift in time. Dancing is a completely different story in the world of figure skating. Therefore, it is difficult to judge what the judges are doing there, how they judge, how they give scores. It is clear that somehow they tried to take off points from our team a little.
Tomorrow will be a new day, it will be necessary to reassemble. They can't afford to make that mistake in individual competitions. It's good that judges saw this mistake now, and not later. Otherwise, they would not gave deductions now, and then they said: "Oh, you are doing lift too long. Here you are, please, minus a point."
source: championat.com
The 2006 Olympic champion in ice dance Tatiana Navka appreciated the performance of Victoria Sinitsina and Nikita Katsalapov in the team event at the Beijing Olympics. In rhythm dance and free dance, they came second.
Tatiana Navka: Victoria Sinitsina and Nikita Katsalapov did not perform in the most successful way in the team event – this is an alarming bell. Unpleasant. The guys are our main hope in ice dance in the fight for gold medals.
In my opinion, Sinitsina and Katsalapov were given rather low marks. Yes, they made a small mistake in the short program. There were no mistakes in the free program. There was only a deduction, because Vika and Nikita extended the lift for a fraction of a second. Thank God it happened now. I'm sure the guys will take this into consideration before the individual competitions. I hope the situation changes. I think that now the guys were underscored.
source: championat.com
Pyeongchang 2018 silver medalist Alexander Enbert appreciated the victory of the Russian team in the team event of the Beijing Olympics.
Alexander Enbert: Mishina and Galliamov made us worry a little. All elements are great, everything was well done. Speaking of the fall at the end, it could have been because of a bit lack of concentration. Maybe they just lost their balance at the lift ending, the lift is difficult.
The scores of Sinitsina and Katsalapov are unexpected. Vika and Nikita are still reigning world champions. It seemed that they could defeat the Americans, but perhaps everything would be different in the individual competitions, they will be judged differently.
In the free dance, I did not notice any mistakes. Perhaps, somewhere there are problems with the level, it is necessary to look at the protocols in details. Somewhere lost a level. But, I think that in the individual competitions we can count on the victory of Vika and Nikita.
Kamila, of course, did everything well. Both in the short program and in the free program. Incredible scores, incredible skating. Kamila is just a super athlete. It was nice to watch. She's just great, it's even hard to add something. You just want to watch and rewatch her skating an infinite number of times.
source: sports.ru
Olympic champion in the ice dance Natalia Bestemianova commented on the victory of the Russian team in the team tournament of the Olympics in Beijing.
Natalia Bestemianova: This is a holiday! I really don't like the words "expected victory" – such work is behind it, they had to do so much to win. Therefore, I think we need to find other words. Yes, we dreamed of this to happen, and it happened.
Absolutely fantastic performance by Kamila Valieva. You know, today I realized that this is such a level when quadruple jumps and a triple axel are not just elements of figure skating, but colors that create the "Bolero" program.
This is such a high level, and so far only she has climbed to it. This is what every skater strives for: when every element that he performs, even if it is an ultra-c element, makes the program more spectacular. Kamila is an absolute miracle.
I am very happy for Mishina and Galliamov. It's a pity that they fell at the end, but I think it was God who threatened them with a finger from above, and they should do the right conclusions before the individual event. Now, when there was no competition, the Chinese pair were not the strongest and did not skate very well, Mishina and Galliamov were very good until the end of the last lift.
It's a shame that Sinitsina and Katsalapov lost today to the Americans, already to another pair – but I think this is also a good lesson before individual performances, when you need to look the exact amount of time spend in lifts, they had a deduction for extended lift. In other situation, they would have been the first. But in the sum, it all gave such an advantage to the whole team – such a miracle!"
source: sports.ru
Famous figure skating coach Tatiana Tarasova commented on the victory of the Russian team in the team tournament at the 2022 Olympics in Beijing.
Tatiana Tarasova: Just awesome! Numerous applause to all our skaters. I am proud of our team, our country, each athlete. All the guys are great!
Let's hope for good results of Russian skaters in individual competitions. I'm sure the girls will have gold. Of course, it will not be possible to get gold medals in each event, but I would like to have an award of any value. All the guys will try.
source: sports.ru
Related topics: Anastasiia Mishina Alexander Galliamov, Ekaterina Bobrova Dmitri Soloviev, Kamila Valieva, Natalia Bestemianova, Natalia Zabijako Alexander Enbert, Tatiana Navka, Tatiana Tarasova, Victoria Sinitsina Nikita Katsalapov