Sinitsina and Katsalapov: Now we live in the present
Posted on 2016-11-21 • No comments yet
Translation of Tatjana Flade's interview with Victoria Sinitsina and Nikita Katsalapov. Skaters told about difficulties in preparation for the season and explained why they returned to Moscow.
How do you estimate the first competitions of the season? This season you start relatively late in comparison with other pairs.
Nikita: Our performance in Beijing was quite good, I've been treated my shoulders, so we lacked run-throughs and competetive experience to show our best. Nevertheless, we didn't stop, we did what what was possible to do, what doctors allowed. At this Grand-prix we performed more or less clean, we tried to show what we're able for today. On the whole, we're satisfied with our performance.
The levels of elements were good.
Victoria: Of course, we had mistakes, but regarding elements we did everything.
Nikita, what happened with your shoulder?
Nikita: Immediately after World Championships I had a surgery on my right shoulder. We flew from Boston to Detroit and two days later I had a surgery. Recovery was going much faster than doctors predicted. Just after 3 months I slowly began to train, we started to do programs.
But I always had problems with shoulders. As it turned out, it wasn't a new injury. I just have such structure of shoulders. The diagnosis is shoulder joint impingement syndrome. We coped with the right shoulder, but not so long ago problems with the left shoulder appeared. But I was doing everything that doctors recommended , I was able to go on the ice and practice in full force. Now everything is ok. But in the future, when it will be possible, I'll treat the left shoulder. Probably, I will need to do another surgery.
You are got back to Russia – when and why?
Nikita: We returned this summer because of my shoulder. Unfortunately, treatment in US is very expensive and no one watches us like in Russia. Here I have an opportunity to be under the constant supervision of specialists. Victoria won't let me to lie, after each training session I go to the doctors, do procedures, have treatment. We had to stay in Russia for this period,  to be under supervision of our doctors.
In Russia you're coached by Oleg Volkov.
Nikita: Yes, he knows me for a long time. We speak the same language with oleg.
Victoria: And I understand them a little bit. (Smiles).
Nikita: Vika and Oleg Gennadievich quickly hit it off. The coach devotes all his time to us. We are constantly in touch with Marina Olegovna (Zueva). Oleg and Marina constantly communicate. We continue to maintain a teamwork.
Where do you train in Moscow?
Nikita: We prepared to competitions in Novogorsk.
Are you flying to Japan immediately after grand-prix in China?
Nikita: Yes, we will stay in Beijing until Wednesday, not to spend money and energy on flights to Moscow and back to Sapporo. We will prepare here at the training rink.
Victoria: Wednesday we're flying to Japan, we fly via Seoul. So we'll travel a bit.
Tell us about your programs.
Victoria: Last season we had thoughts to do a tango. But at that time we weren't ready for such a program. We decided to try this season, because we found a very beautiful music. It's not really overused in figure skating. I really feel it.
Nikita: We thought of various options that we can skate in principle. Discussed it with Marina. Oleg Yefimovich Epstein brought the music that sounds at the beginning of our free dance. We watched a lot of different video, just were taking the music, including tango and danced for ourselves – to gain the material. And once he brought a video, to show us how the professional dancers do it. We looked and immediately said, 'What a music!'
Put it on our "musical piggy bank", and began to add other parts. We did it just in case, for the future, maybe it'll be useful. We really liked the music, but it's not easy to skate a tango. Charlie White had a program-tango, and he also said that it's difficult. Tango is very energetic and emotional dance. You can't skate it properly without particular skills and experience. This year we decided to try it, because we already started to understand and feel each other without words.
So far, I can say that we don't skate this program in the way it should be. Separate pieces turn out very well. Now, while the shoulder doesn't hurt, the task is to collect it all together and try to keep the nerve of this dance. We really enjoy the program.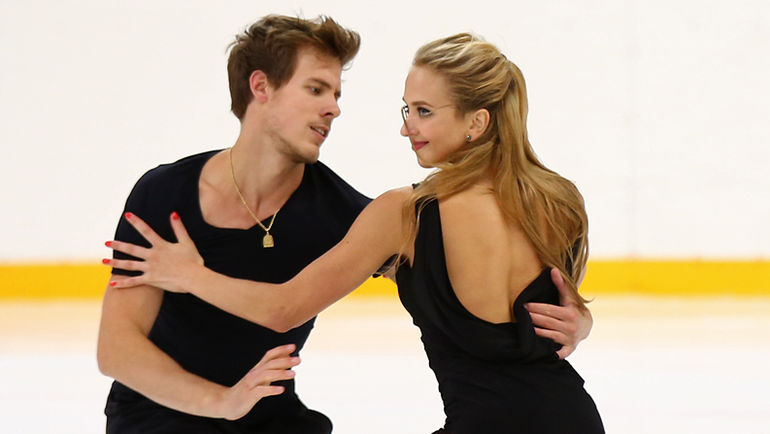 The music really suits you. How did you come up with the short dance?
Victoria: We took the Blues Duke Ellington, the second part is the swing by Tony Bennett and Lady Gaga. Nikita found this music. Accidentally. He was sitting and listening and then jumped up with such huge eyes. He said: 'Listen, listen, it's such a music!' We also liked the music. And both parts blues and swing combined very well.
It's clear that it's your first competition. But what are your goals for the season?
Nikita: The immediate goal is to skate well in Japan. To improve the result. Then the Russian Championships, where will be a tough internal fight. All our pairs skate well. Vanya and Sasha (Stepanova – Bukin) impoved a lot. They also have a tango in the free dance. I really liked the way the guys are working, how they're moving forward. Katya and Dima (Bobrova – Soloviev) – Well done. Our other pairs are strong. It will be interesting. And we will also participate in this fight. After Japan we'll have time to prepare for the Russian Championships. We will fight for the title, because athletes must always set the highest goals. Why else go to the competition? And then, if possible, the task is to qualify for the main competitions of the season.
Nikita, when you had problems with the shoulder, didn't you have thoughts to give up and leave the sport?
Nikita: I had a surgery to continue skating. So, I never had thoughts about finishing of my sports career. After the surgery, when doctors didn't allow to work, I attended each practise,  from 7am in the morning, I was searching and preparing the music for the short program.
Victoria: I skated, and Nikita was sitting with headphones and cut the music.
Nikita: We did not stop and we do not stop.
Who supported you in this difficult period? Perhaps Victoria?
Nikita: Of course. She is always with me. And coaches, and our entire team.
Do you look ahead, what will happen after this season, what goals do you have?
Nikita: Marina always teaches us to work on what we have now, but at the same time think ahead. Recently, we had different sorts of problems, so we need to focus on what is happening at the moment. When the situation will back to normal, we will think about next season. But it'll be in the future. Now we live in the present.
Related topics: ice dance, interview, Team Russia, Victoria Sinitsina Nikita Katsalapov