Ruslan Zhiganshin: We paid $ 10 thousand per month for trainings with Shpilband
Posted on 2019-08-08 • 1 comment
Interview with Ruslan Zhiganshin who is now coaching in Anjelika Krylova's group. About training in USA with Igor Shpilband, ending his sports career, being a coach and current situation in ice dance.
by sport24.ru dd. 6th August 2019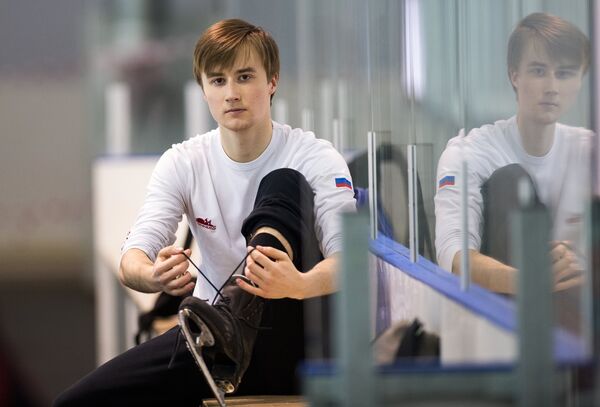 What is your day like now?
– Like everyone else's, I guess: I wake up, drink coffee, go to work. Although it's very unusual to call what I do "work". I have completely different associations with this word. Work is when you are sitting sad in the office from 9 a.m. to 6 p.m. and waiting when this day will finally end. I rather have a paid hobby.
As far as I understand, you work mainly with children.
– Last season, I really worked with children from elementary groups, also with candidate masters skaters. At the moment, Anjelika Krylova offered me to work in her team. Now we are working together.
What are your responsibilities?
– Anjelika is the head coach. She draws a work plan for each training session and sets me certain tasks to work on elements and programs. This is my main responsibility. In addition, I can always look at what the athletes do from a partner's position. I'm pleased to work in such format. Anjelika doesn't put me into any frameworks. I have a certain carte blanche.
I also like that Anjelika has experience of work in States. Thanks to this, we can combine several approaches to trainings. And that's great. It's not a problem for her to invite a specialist of a narrow profile, for example, an acting teacher or a yoga coach.
When your sports career ended, didn't you think about doing something radically different?
– Of course, I thought. Although I understood that in any case it would be connected with sports. At first I wanted to do sports management, at some point I was seriously interested in sports psychology. I read a lot of special literature. But all this quickly fell off. I asked myself: what can I do best? The answer was always the same – skate. And this is normal when you have been doing figure skating since 4 years old, in fact, all your life.
The coach is almost always on the background. The athlete, on the contrary, strives to be in first place. How did you adjust?
– Why on the background? When they talk about Medvedeva or Zagitova, who is remembered first of all? Of course, Eteri. Yes, it didn't come right away. But now Tutberidze is almost the main person in our figure skating.
I also have certain ambitions. In addition, I get a real pleasure from what I do. I'm not bored. All the time in motion. I travel a lot, even more than during a sports career.
What is the most amazing place you have visited?
– I really like Japan. This is the most amazing place for me.
For some reason I'm not surprised. Why skaters love Japan so much?
– I don't know. Never relied on the opinions of others. I just visited Europe, America and Asia – I can compare. I also liked China. But it is more specific. I used to think that Japan and China were a bit similar, but no. Not at all.
Japan is another planet. I like their pedantry, their dedication. They are crazy workaholics.
Are Japanese skaters also such workaholics?
– I hadn't communicate much with Japanese skaters. But, of course, I watched them. They seem to be very cultured people. They always look very presentable.
Do you regret that your sports career ended so early?
– No. I didn't regret a single day, although many said then that in six months I would come and say: "I'm such a fool that I left." But that didn't happen. I've been thinking it over for a long time. Of course, this was a step into the unknown. But now I think that everything happened on time.
Were there any chances to stay?
– I don't know. From a moral point of view – no. There was complete emotional devastation. Mom tried to persuade to think more, even tried to look for a partner a couple of times. But I don't change made decisions.
Your retirement is still very actively discussed. From the side it seems that everything happened very suddenly. And you have never talked about the reasons.
– Let them discuss further. There were many reasons. Main is injuries. I got a protrusion of the cervical spine (pathological process in the spine – ed). So could you understand, now I can't throw my head back without pain to look at a plane flying in the sky, for example.
Shortly before leaving sport, you and Elena Ilinykh went to Igor Shpilband in America. Was it a useful experience?
– I took this trip as a chance to change my life for the better. In fact, everything turned out completely different. I really enjoyed working with Fabian Bourzat. Actually, he did 80% of all the work.
I didn't get along with Igor. I didno't like the style of his work. It got to the point that I didn't want to come to trainings with him. I didn't like how they went. In Russia, a coach is much closer to an athlete. He follows you, your weight, your life as in general, does everything so you can achieve your goal and show the result. In America, only an hour of a paid private lesson united us with a coach.
Also everyone is very polite and tolerant there, they will smile into your face and discuss you behind the eyes. And I didn't like that either.
So, Igor Shpilband is now more of a face than a real coach?
– I don't know how it's now. And I don't know how he works with other athletes. When we trained in his group, he was more like a "face of the school", yes. Of course, he participated in the choreographing process. But then again – this participation was somehow strange.
Choreographer usually says what exactly you should do, or offers some options. So I didn't actually appreciate suggestions like "well, do it somehow". Ilia Averbukh is completely different, he's a generator of ideas.
Is an internship in America expensive? What should be prepared for those who think about it?
– It was very difficult to live there with the salary we received. In principle, I went into minus, although I wasn't living the high life there. For example, I didn't have home Internet, because I couldn't afford it. Only Internet on my phone.
Sponsors paid us housing. I don't even know how much it would cost. I spent about $ 25 a week on gas, 100 a month, 50 bucks – utility costs. All together is already 200. Plus insurance. Food is about $ 100-120 a week. 400-500 dollars per month. In total – about $ 1,000 per month. The salary was noticeably lower, first of all because of the currencies. I had some savings, but they melted very quickly.
But I learned to cook almost everything there. In this sense, a very useful experience. I went there and didn't know how to cook a chicken, for example. After a couple of months, I cooked all sorts of steaks. I also ate buckwheat. Brought it from Moscow. Tasty and healthy. In America it cost something about $ 14 and in our country – 1$. True, after America I almost don't eat it.
How much did you pay for training in the Spilband's group?
– It turned out $ 10 thousand per month from a pair. This is a lot. But it wasn't us or federation who paid – the sponsors did.
Now you have the coaching experience. Looking back, what would you change in your attitude to figure skating when you were an athlete?
– I would have changed something when I was about 14. We like to skate let's say in the Soviet Union style, with static poses. Neither the French, nor the Americans, nor Canadians skate like this anymore. We also shouldn't do that already then. We try to show every element, hold it, fixed it. They try to make one element moving into another, and do all this very smoothly.
We did as we were taught. At the same time, no way, I don't blame the coaches for anything. I'm very grateful to them for everything that they have done, for their patience and hard work. They also worked with us as they were taught. It's a long chain.
"Now, in my work, I try to avoid things I didn't like in the behavior of my coaches regarding me." Your words. What was wrong?
– I don't know how to phrase it better … I felt the nerves and worries of my coaches very strongly, some things simply put me into stress. When I saw that the coaches were worried, I immediately thought: everything is bad. When the coaches were relaxed, it gave me so much energy, inspired confidence, much better than: "Ruslan, step by step!"
When I became a little older, I started to step aside in such moments. But then again – no complaints about the coaches. This is my feature and my problems.
In general, which is harder: to train or to coach?
– Coaching is interesting. It brings incredible emotions. You see that something a pair couldn't do something, and they ask you to help, you prompt something, and suddenly everything turns out.
For example lifts: if everything is done correctly, no hellish efforts are needed. If it's difficult for a partner to lift a girl, then something is wrong. It's great that I can help to sort out such nuances.
In figure skating, coaches often face very active parents. Have you already developed for yourself a way of communication with them?
– I think parents should not be present at trainings. Their participation in the training process may be limited to an open lesson, let's say once a month. If parents will come to each training session, such a mess will begin. Because they know everything better.
I once saw such an active dad at the rink – he was teaching his daughter to jump. The girl crashes against the ice, but he does not stop. Stays behind the board, says something. And the child listens to him, not the coach. And then the coach will be the one to blame, because he didn't teach. The same dad will say that the coach is bad.
A big problem when parents start to criticize their child at home. If the coach sees and says that the child is not doing anything – then yes, you need to scold. If a child simply cannot do something right away – by no means. This is the coaches's task to teach and correct the situation, this is a working process. And parents should always remain a comfort zone.
How long, in your opinion, will Papadakis / Cizeron and their style dominate in ice dance? How did they make such a breakthrough?
– Until someone with a new style appears. I can't say that they made a rapid breakthrough. When we were at one of the junior Grand Prix, I looked at them with admiration. They already had a flight. Maybe the technique was weaker, but how they skated! They are phenomenal dancers.
But they are often criticized for lack of variety, say that they don't want to go on complication.
– I don't really understand such claims. They found their style. Moreover, half of the world is striving to this style.
As for complications, this also strongly differs the Russian school from any Western one. We always try to add something, complicate things, do some crazy turns. It all looks heavy and static. Turns out such worker-peasant style.
While the Americans or French in the simplest way are gaining tremendous speed, and it looks easy, choreographic. Among Russian pairs, Vika and Nikita look almost as easy right now. They are great. There is a feeling that in general they are the closest to the French now.
At what point did our dancers find themselves among those who try to catch up? Should we blame the French?
– Not really. For a long time the whole world has been striving for the level shown by Russian dancers. I read somewhere that the crash most often happens at the moment when you think that you are already untouchable. You just stop developing, and perhaps in Russian ice dance they allowed themselves to think so. At the same time, everyone else really wanted to win, worked very hard and eventually overtook. It's always easier to catch up than to hold leadership.
This season, pattern dance is quite specific – Finnstep. Many are afraid that it will turn out too difficult and not very interesting.
– I love Finnstep very much. Many people look at it through the prism of those compulsory dances that everyone loved so much before, like a star waltz, where everything is on arcs. Finnstep in this sense is very straight, but fast. Technically, it's really difficult. But the more interesting it will be.
Your personal top 3 dances.
– Well finnstep. Vika and I skated it at the Olympics in Sochi. We also had a cool cowboy dance with Vika. Polka. And I love our with Lena "Carmen".
Related topics: Elena Ilinykh Ruslan Zhiganshin
One response to "Ruslan Zhiganshin: We paid $ 10 thousand per month for trainings with Shpilband"