Rostelecom Cup 2017 review
Posted on 2017-10-24 • 7 comments
The big season has started and I'm ready to share my impressions about Rostelecom Cup.
Lyrical digression. Japanese fans, I'm really envy that you can follow your idol all over the world. Probably that's why I'm saying this. It was sad to watch how few of you stayed for the other disciplines. It was sad to see empty seats…..good seats in front rows.
Ok, let's start. Men
Unfortunately at every competition there are skaters who join the group "to hug and cry". At Rostelecom cup they were Denis Ten and Daniel Samokhin. Oh Denis, that was heartbreaking. Daniel, sorry but I couldn't pass by your costume for the short program! Those black&white arms……I think they would perfectly match Lacavelier's grey leg.
Now hussars, officers, dukes, princes or whoever they are – Lazukin and Aliev. Andrei is handsome and graceful like a cypress, he has musical arms, but he's boring to death. His music requires sparks and splashes of champagne, but he doesn't send anything to the audience. He skates like an exemplary family man. Sorry, Andrew, ladies on the stands won't faint away because of such skating.
Aliev was more convincing in Masquerade waltz. It seemed that happiness was near……His free program is in so trendy in  style of boredom and hoplessness. Oh, yes, there was a quadruple lutz! It's great that I was, but by the middle of his program I had already forgotten about this ray of light (
Moris moves on the ice with a grace of tree, so please next time at least give him a more cheerful programs. But the jumps was great! To change a flag was a really good decision for him. But he lost to Misha Ge who jumped neither three quads, nor two, nor one, nor one for two programs…..And how that happened? I love Misha, he skated beautifully and touching, but I didn't understand such generous scores at all.
I wanted to write again about poor Mozart, who was mixed with tango, but then I remembered what other skaters and their choreographers did with poor Chopin …Ok tango isn't the worst thing that could have happened. So comparing to the short I start to like Kolyada's free program more and more. Either he likes it more and it's more comfortable for him to skate, or it was already nothing to lose, but free program turned out pretty good. The technical score is quite impressive for not a perfect skate. But the tendency with the short is a bit worrying.
Oh, poor Yuzuru's fans…..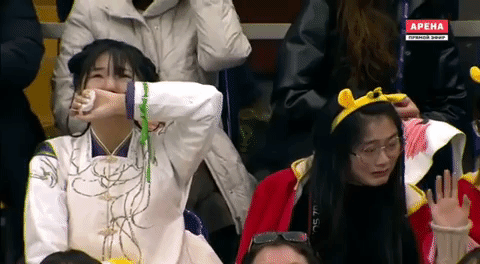 Honey, don't be so upset! It's only Grand-prix, not the Olympics. Come on, you're in Russia, drink some vodka and let's take a look from the positive side. It was definitely better then in Canada. He learned new quad. Poohs flied nicely. The shape isn't optimal, but who needs optimal shape in October.
I guess it wasn't easy for Nathan to skate after such performance and rain if Poohs. But he really impressed me with the strength of his nervous system. His free program didn't impress me much at the moment, the music isn't that easy to interpret….maybe it needs time. But I absolutely loved the short program! I like this slightly careless manner of performance and even a touch of sexuality that Shae Lynn managed to bring into the choreo. Oh, Nathan, If I were 18, I would be lost ;)
Ladies
I'm still in shock after Meite's free program…..Oh my god what she did with poor Chopin and why? Does she have a second gran-prix? Next time I will be mentally prepared )
Mariah Bell and Kaori Sakamoto skated something lovely in lovely dresses……That's all what I can say about them.
I feel terribly sorry for Mirai Nagasu. Not from a good life she tries that triple axel. That reminds me of my favorite skater, so Mirai gets an additional portion of sympathy.
Elena Radionova changed her dresses again…… The dress for the short program is interesting and totally in the style of the program. But it does suit Lena (let's give it to someone for latina?), also it's a crime not to highlight arms in this program. The dress for free program is very beautiful. I like the silhouette and color. Why am I talking about dresses, not about performances? Well…..it's a much positive discussion…..
Wakaba Higuchi has such a powerful energy! Ugh! The girl is a hurricane. I really like her short program. And it's not a warhorse music. In the free program she appears such a grown-up beauty, a Bond girl. But I continue to believe that this program is not Olympic. Cool, but not for the Olympics.
I continue to be sad that libretto about clinical death and all this ooh-sighs from the short program wasn't thrown into a trash can together with free program by Averbukh. Chopin's music is beautiful and it suits Zhenya's crystal skating. So every time I hear this "Come back" I will hit Arbukh with defibrillator….couple of times….in my dreams.
As for the free program, I know all Zhenya's fans are going to hate me for saying this. But this program and this black dress, together with this music give an impression of unavoidable tragedy. So please change the dress to something less dramatic. Or at least remake leotard…..Anna is a fallen woman, but still an aristocrat. Anyway, I think the decision to change the program was absolutely right, great that they had guts to do that.
Pairs
Every time I see programs and costumes of Castelli/Tran and Ziegler/Kiefer and want to give tem to a better skaters. Sorry guys, I just envy that not the top-pairs are so much better in this then some leaders. So consider it a compliment.
Seems that Moscow ice isn't lucky for Canadians Seguine/Bilodeau. Second year in a row things didn't turn out well for them here. Charlie looks more and more like Scott Moir and like every dancer learned the bitter truth – failed twizzles cost a lot, even if you're a pair skater) But I really like their short program! Very stylish. The free is their usual lyrical style which makes an impression only with a clean skate.
I also liked Valentina and Ondrej's short program! Such a great choice for them. I think it's cool that they're bringing some national colour in Olympic season. As for the free program, I still don't get it, sorry.
Kristina Astakhova and Alexei Rogonov have a good progress. I like their programs, less creative than in last seasons. I think it's the first La La Lend than I actually liked in figure skating. They have a nice music cut. But please burn this yellow tie together with Morozov's polka dot tie, they both are horrible.
Ksenia and Fedor….oh they're so beautiful. I like their short program, it looks stylish, mature….but still ominous. I can not get rid of this thought. As for Carmen…well it doesn't work for me and I will try to explain why. Carmen can be different. Playful and charming like Elena Ilinykh, pathetically victorious like Tatiana Navka, sexy and provocative like Tessa Virtue … .. but in any case partners should have some interest to each other, there should be some contact, tension… But they did not have any of this. There are handsome Fedor and beautifully arrogant Ksenia …… no contact, no sparks ….
Tarasova/Morozov – wow everything what concerns lines, quality of elements. That first throw in the FP was amazing – she was flying higher than boards. But programs….and costumes….why? I will deal somehow with the short program…but their free.
Everything what I think about this program can be said with one move. "What is going on?" Do I understand correctly thet the second victory in these costumes reduces the chances of a replacement up to zero … .. Ok, I'll try to think of something positive. Zhenya had a nice hairstyle and make-up in the FP ….
Ice dance
Parsons' skating is something amazing. This time I liked their free dance, it started to gain a momentum, but still requires work. The lifts looks a bit heavy. But what happened to Michael's twizzles? He should ask Mr.Zhulin about his secret method called "Hand on the head".
I don't know what's wrong with me but again I really liked Betina Popova and Sergei Mozgov. Of course they also have some funny moments because this's latina) I like their Carmen. They was able to come up with something own….Betina's Carmen turned out charming, with lots of energy and, what I like the most, not refined. Because I always surprise to see this proud, passionate Carmens in rich dresses. Girls, Carmen is a gypsy girl who works at the cigar factory, not a noble lady)
Speaking of dresses. I still don't understand Charlene Guignard's white, half-naked, cupcake dress. The free dance is really amazing, I think, the best in their career, even though we've heard Muse thousands of times…..
Richness of Piper's dressing gown makes me speechless. I guess Kaitlyn Weaver should be extremely envy) It will be another six months and I will get used to this yelping in their SD. As for the marks….It's Rostelecom Cup, nothing personal just Russia.
The more short dances I watch, the less complaints I have about Stepanova/Bukin's latina. But why they're doing their signature twizzles in the free dance not in the short? I think such twizzles would look much better in latina then in lyrical and tender FD. Speaking of their free dance….those vocals…my ears are in pain)
Bobrova has some new moves) I can't pass by)
Their free dance would have been very good, almost the best in a career if they had removed all the pantomime, because in some moments it looks really funny. They have great skating skills, amazing lifts, even the music cut isn't weird huge progress. Oh no, actually I have one more question to their choreographer. Why at the end of the program Dima throws "blinde girl" on the ice, what did they want to say with this move?)
The Shibs have lovely short dance, with a nice choreo, their technique is great…..but at the end I can hear in my mind Marina saying her "kids". That was lovely, the costumes are lovely….but I don't think they have a chance with this dance against VM, PC and probably HD if they skate clean.
And Alex has this funny moves at the beginning Free dance is also without revelations, the music is pleasant, the choreo is beautiful, in their style. But the whole dance I'm waiting for the twizzles to the music growth. The twizzles are amazing, but it's no longer a wow effect. So I wasn't amazed by this dance, but technically it was very solid.
And about Carolina….Why in the end of my review and not with other ladies? Because Carolina is a special figure skater for me. This is not about sports. It's about joy, about feelings, about emotions. I criticized her short, I criticized judging …… but at the Rostelecom cup everything finally fell into place for me. I loved her short program from the first to the last note, from the first to the last gesture. I was terribly happy for every landed jump and wanted to give her all +3 just because I love her) My fan's heart was so happy. This was such a beautiful ending of competitions.
See you in Canada!
Related topics: Alexandra Stepanova Ivan Bukin, Andrei Lazukin, Betina Popova Sergei Mozgov, Carolina Kostner, Charlene Guignard Marco Fabbri, Daniel Samohin, Dmitri Aliev, Ekaterina Bobrova Dmitri Soloviev, Evgenia Medvedeva, Evgenia Tarasova Vladimir Morozov, grand prix, ice dance, Julianne Seguin Charlie Bilodeau, Kaori Sakamoto, Kristina Astakhova Alexei Rogonov, Ksenia Stolbova Fedor Klimov, ladies, Mae Berenice Meite, Maia Shibutani Alex Shibutani, Mariah Bell, Marissa Castelli Mervin Tran, men, mikhail kolyada, Mirai Nagasu, Miriam Ziegler Severin Kiefer, Misha GE, Moris Kvitelashvili, Nathan Chen, pairs, Piper Gilles Paul Poirier, Rachel Parsons Michael Parsons, Rostelecom Cup, Valentina Marchei Ondrej Hotarek, Wakaba Higuchi, Yuzuru Hanyu
7 Responses to "Rostelecom Cup 2017 review"