Rafael Harutyunyan: It's not my plan for Nathan to compete with someone on equals at the Olympics
Posted on 2020-10-29 • 4 comments
Elena Vaitsekhovskaya's interview with Rafael Harutyunyan. The specialist commented on Skate America organization, the victories of his skaters, shared his opinion on Alexandra Trusova race for quads and told about the problem of rising figure skaters in the United States.
by Elena Vaitsekhovskaya for russian.rt.ru dd. 28th October 2020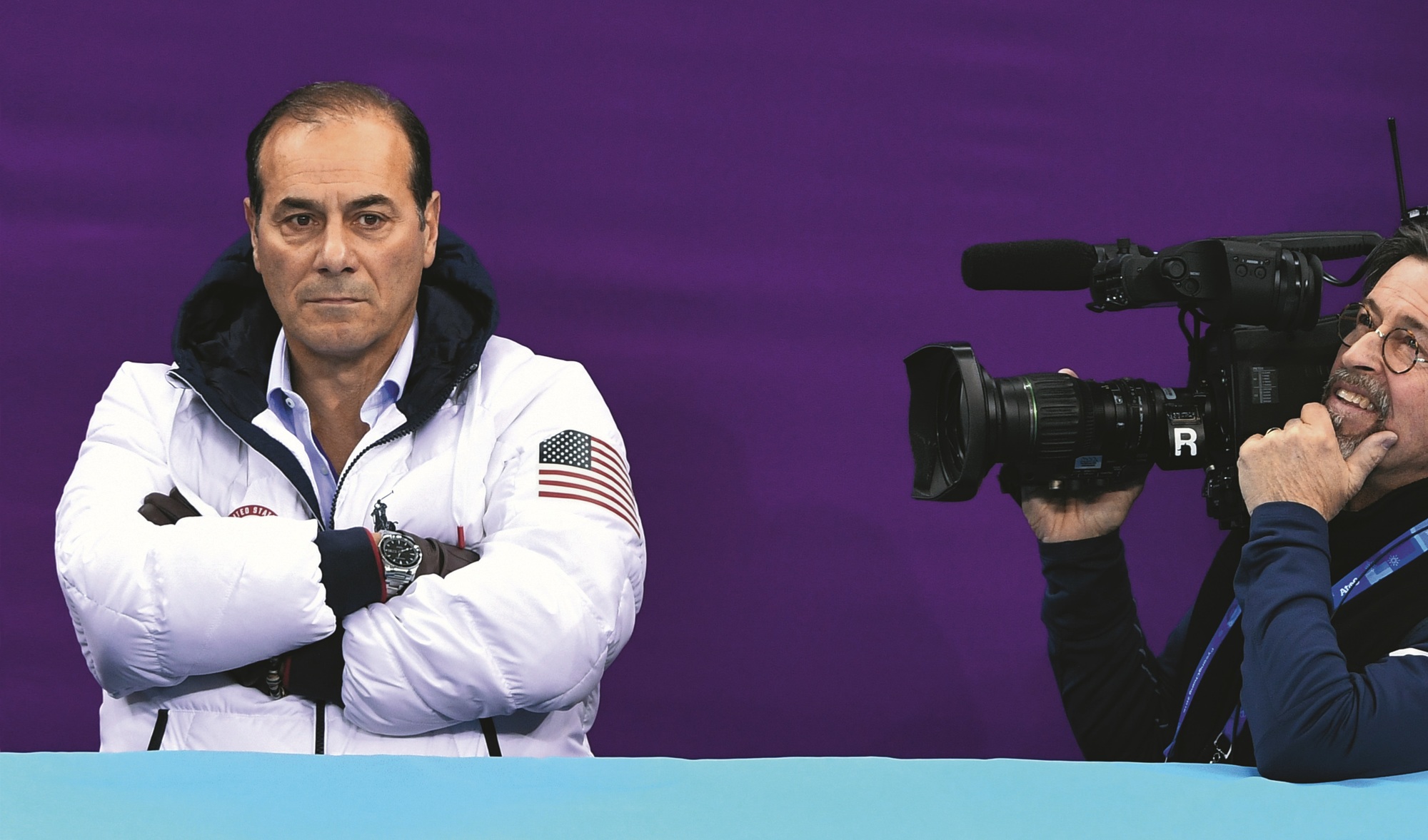 In social networks and in the corridors, they continue to discuss the Skate America event held in Nevada. And rather its organization than results. What impressions do you have as a direct participant of the events?
Rafael Harutyunyan: To be honest, I was amazed: I did not expect that US Figure Skating would be able to hold a competitions in Nevada at such a high level. There were no questions regarding organization and security. Throughout the whole event, we were sitting in a so-called bubble. The competition was held at the same arena as a year ago, and all participants were accommodated in the hotel nearby.
Has this greatly simplified the logistics issue?
Rafael Harutyunyan: Of course. It was possible to get from the hotel to the skating rink through a special corridor without going outside, the organizers managed to create a completely autonomous space. There was a private elevator on the floor where the athletes and coaches lived, which could not be used by anyone else, including staff. That is, people could get from the door of their room directly to the ice, without contacting anyone from the outside world.
Was the food also organized in a closed restaurant?
Rafael Harutyunyan: They fed everyone at the rink, and they fed them very well. Before coming to Las Vegas, I heard how NBA basketball players play their matches during a pandemic, but there were fears about figure skating. I even brought and took some food with me in case I got some problems getting it in Vegas. But in the end, nothing of what I brought with me was needed.
During the second stage of the Russian Cup, which took place in the Moscow Megasport arena, a lot of violations of epidemiological requirements were recorded.
Rafael Harutyunyan: In this regard, in Las Vegas, everything was done very well. The organizers explained the rules in detail to everyone, held special videoconferences, reminding of the seriousness of the necessary measures, and then everyone was so grateful that the competition was still held that they did not perceive tight control as something annoying. The main thing is that people got the opportunity to perform again.
You сame back from Las Vegas with a triumph, Nathan Chen and Mariah Bell won their events. Taking into account that the Grand Prix series turns out to be not complete this season, what does this victories mean for you?
Rafael Harutyunyan: Victory is always valuable – regardless the level of competition. In addition, at Skate America, both girls and boys had worthy rivals. By the way, Audrey Shin, who took the third place, skated quite seriously in our group for two years. But then she left to Colorado Springs for a jumping training camp and decided to stay there. In principle, this decision is clear to me: an Olympic training center is based in Colorado, there is preferential ice for which the athlete does not have to pay, and some other preferences …
But do you still regret the loss of the athlete?
Rafael Harutyunyan: I treat such things philosophically: I will be happy if a new name appears in American figure skating thanks to my efforts as well. It was a pleasure for me to work with Ilia Malinin this year, the son of Tanya Malinina and Roma Skornyakov. In Las Vegas, he did two quadruple jumps in the short program and two in the free program.
If you have time, look how luxuriously a guy in his 15 years jumps a quadruple toe loop. I also consider this to be my contribution to a certain extent, and I will be very pleased if Ilia grows into a serious skater.
In ladies' skating, they start thinking about quadruple jumps much earlier …
Rafael Harutyunyan: In America, the situation with girls does not change: at first, no one demands anything from them because they are too young, they are simply not trained as it should be. And when the athletes themselves realize that they want to skate at a high level, it is too late to start serious work with them. Therefore, when I hear from someone something like: "She is only 13 years old," I always correct: "She is already 13 years old."
A coach who has Nathan Chen among his students can afford not to think about ladies' skating at all, don't you think?
Rafael Harutyunyan: Since childhood Nathan clearly understood that he was already an adult. From about ten years old, he began to appear on the ice in Lake Arrowhead, coming to the training camps, and at 11 he told his mother: "If we don't move here, I will not achieve anything." And they really moved, rented some very tiny apartment near the rink. And at the age of 12, Nathan jumped all triples, and with a good technique. Therefore, in fact, it was not difficult for us to turn all these jumps into quadruples.
What task did you set for Chen at Skate America?
Rafael Harutyunyan: You know, I don't like to open cards ahead of time and reveal secrets. From what you've probably noticed – we started moving jumps towards the end of the program, we try different options. In the short program, Chen jumped a quad flip in the second half, which is a big step forward for us. At the team event, which was organized within the framework of the competitions a day after, Nathan performed without me and tried to perform a quadruple loop in the free program and coped with it very well.
Was it the organizers' initiative to arrange also a team competitions?
Rafael Harutyunyan: Yes. To give the skaters an opportunity to compete once again. This was doubly good for Nathan, because he skated the free program with two popped jumps in the main competitions. I think he just didn't have time to recover: the schedule was drawn up in such a way that the skaters had less than a day between the short and free programs.
When is your next chance to compete in official competitions now?
Rafael Harutyunyan: Most likely, it will be the US Nationals. Plus, we hold test skates at our rink. Without spectators, but now we will celebrate Halloween – it will be possible to use all the festive props: put skeletons on the stands, pumpkins. At worst, make the little people out of cardboard, as it was done at Skate America. We are still very lucky that at my rink I can let the same Nathan skate alone. This is a great luxury. On most American ice rinks, if people paid money, they would not free the ice. They do not care whether the world champion is skating next to them or someone else.
At the moment, Chen looks stronger than all his rivals and is definitely ahead of them in the technical richness of the programs. Isn't it more logical to decide on the set of jumps for the Olympic season now and prepare it without any experiments, achieving maximum stability?
Rafael Harutyunyan: It is a myth that Chen is the strongest. The bigger it grows, the more dangerous it is to believe it. It does not happen in sports that there are no rivals. There is always someone who is able to jump out from behind. So why should we stop? So that those who are now behind, come closer? To be honest, it is not my plan at all for Nathan to compete with someone on equals at the Olympics. Therefore, we use all the opportunities and loopholes to make maximum progress and go far ahead. And it's never too late to slow down.
Turns out that the most correct tactics in ladies' skating has been chosen by Alexandra Trusova, who is about to show a quadruple loop at the competition and will perform all existing quadruple jumps?
Rafael Harutyunyan: Certainly. I think Sasha is doing the right thing. The more money you have in your pocket, the more you can afford to spend. In addition, one must understand: in order to perform a complex element more or less consistently, an athlete must have two or three years of experience in performing it in competitions.
Any risks at the Olympics increase the probability of a failure several times – this is an axiom. Therefore, they always try to put the most stable athletes on the team event. Like Americans did letting Adam Rippon to skate a free program in Pyeongchang, and he, not having any super difficult jumps in his arsenal, brought the team a lot of points.
Do you follow what is happening in Russian single skating now?
Rafael Harutyunyan: Very partly. Much more attentively I follow what is happening in my group.
Related topics: Alexandra Trusova, Nathan Chen, Rafael Arutyunyan
4 Responses to "Rafael Harutyunyan: It's not my plan for Nathan to compete with someone on equals at the Olympics"