Rafael Arutyunyan: " I think that Russia will be the first to introduce the system of contracts with skaters."
Posted on 2021-04-19 • 2 comments
Interview with Rafael Arutyunyan. About Nathan Chen, prospects of Mikhail Kolyada and possible cooperation with Evgeni Plushenko.
source: rsport.ria.ru dd. 18th April 2021 by Boris Khodorovsky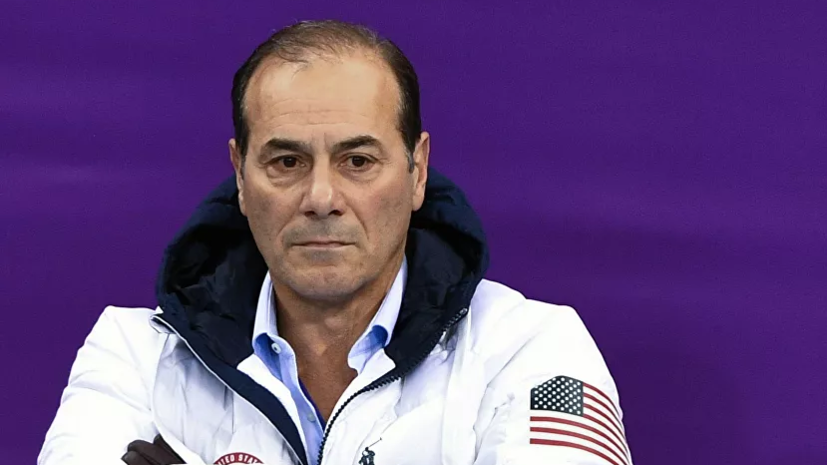 How did you let your most stellar athlete go to the World Team Trophy without a coach?
Rafael Arutyunyan: Since childhood, I've taught Nathan to go to competitions, which, let's say, are not the main ones in the season, on his own. Now he can do well without my presence at the World Team Trophy. We passed the main competitions of the season in Stockholm together. There my presence was necessary.
How can you explain the mistake that Chen made in the short program at the 2021 Worlds in Stockholm?
Rafael Arutyunyan: I will not go into details, but Nathan was limited in his attempts to perform the quadruple lutz in training. Hence the stiffness that led to the fall. He has a serious content and every jump must be worked out to automatism. Actually, Chen makes mistakes not that often.
That is why the only mistake caused such a resonance …
Rafael Arutyunyan: This can happen to anyone. The main thing is that Chen stayed calm and performed quadruple flip and a triple toe loop combination in the second part of the program. This speaks of his capabilities.
I don't know how ethical it is to ask this, but how do you explain Yuzuru Hanyu's so unconfident performance in the free program at the World Championships?
Rafael Arutyunyan: It is difficult to give any comments without knowing where and how Hanyu prepared for the main competition of the season. This is a mystery. With Chen, everything was very clear: for the last two years Nathan studied on the other side of America, we had to train remotely. But last year in April, he flew to California and did a great job. In Stockholm, everyone saw the results.
Besides Chen, who will you work closely with in the Olympic season?
Rafael Arutyunyan: To be honest, Chen is enough. I confess that after 45 years of coaching work I am tired of constant training and competitions. After all, I started to work at least eight hours a day at the age of 18! It's a lot. I don't even know if I want to start something serious after the end of the Beijing Olympics.
You know quite well the capabilities of Mikhail Kolyada, who, together with Stanislava Konstantinova and coach Valentina Chebotareva, worked with you in America. How would you assess his first season with Alexei Mishin?
Rafael Arutyunyan: He began to perform more consistently, it is a fact. He became calmer and more balanced, and this is also a big plus. Whether it was necessary to go to Mishin earlier? It is not for you and me to judge. And not for the fans. Each skater has his own destiny.
A few years ago, Kolyada often took risks, including not completely prepared quadruple lutz and quadruple salchow in his programs. Now he has limited the content to a quadruple toe loop …
Rafael Arutyunyan: It's not for nothing that Mishin is called the Professor. He always clearly builds a strategy for preparing an athlete. If Kolyada performs consistently two more quadruple jumps, he will be able to claim medals at the World Championships and the Olympics. Surely Mishin knows what he is doing.
Russian skaters noted the undoubted benefit even from a short internship with you. And what did it give you?
Rafael Arutyunyan: For me, any Russian skater is interesting because he is Russian. They called me both an Armenian coach and a Georgian one, remembering that I am from Tbilisi. But I consider myself a Russian coach. Although I have been working in America longer than in Moscow, and I have trained figure skaters from many countries. I have special feelings for Russian skaters. I always wanted to work with them.
What was in the way?
Rafael Arutyunyan: Various circumstances. Although I always welcomed Russian skater at my rink. Not only students of Valentina Chebotareva came, but also Maria Sotskova.
Could you dot the i's in the upcoming cooperation with Alexandra Trusova?
Rafael Arutyunyan: In the two decades that I have been working in the United States, I have visited a Russian ice rink only once. And even then – I asked about it myself, when Chen needed to fly to France after the Grand Prix in Moscow. Then I asked Elena Buyanova to shelter us at CSKA for two days. And that's it! At the same time, I received American citizenship only a year ago, and for 19 years I've worked in California with a Russian passport. Believe me, there was a resentment in my heart that no one needed coach Rafael Arutyunyan.
Evgeni Plushenko was the first to invite me. You can say that my dream has come true – to see how Russian figure skaters train, to breathe the air of Russian figure skating. It had nothing to do with Trusova. Evgeni invited me to his house, and his house is next to the ice rink.
What impressed you most during this visit?
Rafael Arutyunyan: The fact near to the medals won by Plushenko a jar of screws, that were screwed into his body, was standing. As a coach, I perfectly understand the price of the awards won by Evgeni. Of course, I was flattered that for the first time in 20 years I was invited to the skating rink to see how Russian figure skaters work. If something will work out in cooperation with Plushenko, I will be happy.
Does the skating rink where the Angels of Plushenko train meet American standards?
Rafael Arutyunyan: It doesn't match. His standards are higher. I have seen many ice rinks in my life and I can judge about it.
What help does Plushenko coach expect from you in working with Trusova?
Rafael Arutyunyan: So far, we have not discussed any specifics. It is important to note something else: Plushenko is not only a coach who does not depend on any external factors, but also a businessman. And I'm not dependent on anyone either. We may well find common ground. Perhaps I will come to the Plushenko Academy with my athlete or athletes, perhaps his students will come to me. It is quite possible to agree on cooperation that will be mutually beneficial.
Previously, such cooperation hasn't been discussed with any of the Russian specialists …
Rafael Arutyunyan: I was open to it. Every year I came home to Moscow. Cooperation offers should have to come not from the federation, but from the coaches. Or should I have walked around the rinks and offered my services?!
In the USA, everything is simple: the athletes themselves, their parents or sponsors they find pay the coach. The transfers from one specialist to another happen calmly. In Russia, they are accompanied by accusations of "betrayal", claims related to payment for the programs and costumes, and everything is submitted to the media and social networks …
Rafael Arutyunyan: It is important to note that in America, there is also no contract system that would tie an athlete to a coach and vice versa. It's just that almost everyone adheres to corporate ethics. If a skater comes to you, you need to call the coach with whom he worked before and ask if he owes him.
In Russia, there's also someone who pays for ice, programs, costumes. Although lately it is no secret in the world of figure skating that Russian athletes pay extra to coaches, but the bulk of the costs falls on the state. That is why it is difficult to take some Russian skater if the federation is not vitally interested in this. In the West, by the way, many people do not understand the role and significance of the FFKKR. I grew up in this system and know it well. I think that Russia will be the first to introduce the system of contracts with skaters.
Do you perceive Moscow today as a city that did not accept you and pushed you out, not giving you the opportunity to realize your potential?
Rafael Arutyunyan: It was not Moscow that pushed me out, but time. My kids were in high school and figure skating coaches were paid $ 200 a month. Even for a modest life, 800 was needed. I went to America without any ambitious plans. I wasn't going to train champions. My family stayed in Moscow and I was sending them money every month. This made it possible to give children a good education: son graduated from the Moscow Conservatory, daughter – the Moscow State University.
In Milan, when Chen became the world champion for the first time, you said that you were going to raise your coaching fee, which was then $ 40 in 20 minutes …
Rafael Arutyunyan: So I did. And immediately up to $ 50, so that it would be easier for students and their parents to count. This is also a rather sensitive issue related to corporate ethics. If you lower the price tag, your colleagues will immediately say: "Are you out of your mind? We will have to do this too!" I have enough to live on, and today it's no longer about money. I would like to have interesting work.
Related topics: mikhail kolyada, Nathan Chen, Rafael Arutyunyan
2 Responses to "Rafael Arutyunyan: " I think that Russia will be the first to introduce the system of contracts with skaters.""