"Once in your life you can afford to be impudent" Tamara Moskvina about taking We are the Champions for Mishina-Galliamov
Posted on 2021-03-26 • No comments yet
Interview with Tamara Moskvina. About the results of the WOrld Championships 2021 in pair skating.
source: russian.rt.com dd. 26th March 2021 by Elena Vaitsekhovskaya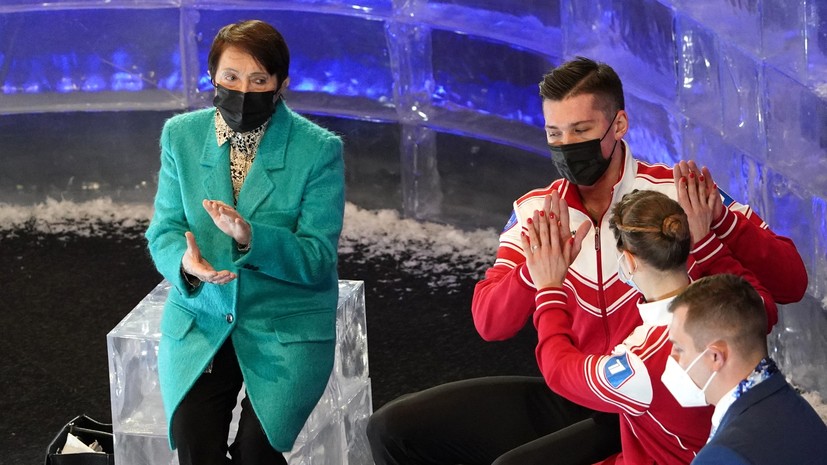 What turned out to be the most difficult for you at this World Championships?
Tamara Moskvina: Honestly? Nothing. For so many years of work I've got used to everything. Including the fact that when it comes to competitions, things turns out not the way they seemed at trainings. This does not always happen, but it happens.
Looking at Alexandra Boikova – Dmitrii Kozlovskii and Anastasia Mishina – Aleksandr Galliamov showed at the official trainings, did you expect such final result?
Tamara Moskvina: No. Until the performance in the free program, Sasha and Dima had an advantage both in run-throughs and trainings, and a huge one.
Think I won't be wrong saying that Mishina and Galliamov would be happy to win any medal in Stockholm. But unexpectedly for everyone, they became the first. Didn't it happen too early?
Tamara Moskvina: Well I couldn't tell them: "Guys, it's too early for you to think about gold, let's take some other medal". It so happened that they won. Boikova and Kozlovskii skated their program with mistakes, and the judges are very strict about such things now.
Are yesterday's juniors ready for the responsibility of the world title?
Tamara Moskvina: It is difficult to answer this question now, while the emotions have not subsided yet.
Probably, it is not so easy for the coach to solve the situation in the group when the leaders suddenly change places?
Tamara Moskvina: We did not have such a division within the group. There were two pairs, equal in class and capabilities. It's just that one of them already had titles, while the other didn't. That's all. In order to show the maximum result in Stockholm, Artur (Minchuk – ed) and I prepared both of them equally. How Mishina and Galliamov will behave now, having become world champions, we do not yet know.
That is, you do not exclude that you may face some star fever?
Tamara Moskvina: Why would I think about it ahead of time? And what is the point of assuming the worst? If symptoms appear, we will deal with this. And now there is no reason to talk about it. Artur and I did not have time to really communicate with the guys after the performance, they were immediately taken for doping control.
When you choreographed the program to the immortal composition We Are The Champions for Mishina and Galliamov, I honestly thought that this was a big audacity on your part. But now I don't even know what to say. It turns out that you have the gift of foresight and knew about everything in advance?
Tamara Moskvina: Of course not. Moreover, just like you, I understood that this was not just audacity, but outright insolence, which was completely alien to me. But then suddenly I thought: "Tamara, you are 80 years old. Well, you can afford to be insolent at least once in your life ?!" So I took Queen's music, but without lyrics.
But then I felt that without lyrics it does not produce the impression that I would like to get – there is no real upraise, no bright colors. So I decided to be even more impudent and brought back the vocals.
I will not say that I felt comfortable. I was constantly waiting for reproaches that it was indecent to take such a composition for debutants who have not won anything in their lives yet. In the end, I decided that this should not bother me at all. Since we've taken the first step towards being insolent, we had to go all the way.
Related topics: Alexandra Boikova Dmitri Kozlovski, Anastasia Mishina Alexandr Galliamov, Tamara Moskvina