Mikhail Kolyada: "I've just started to work better and harder"
Posted on 2021-10-28 • No comments yet
Interview with Mikhail Kolyada. About working with Alexei Mishin, new programs and dreams about pair skating.
source: olympics.com dd. 28th October, 2021 by Tatjana Flade and Tatiana Rogovich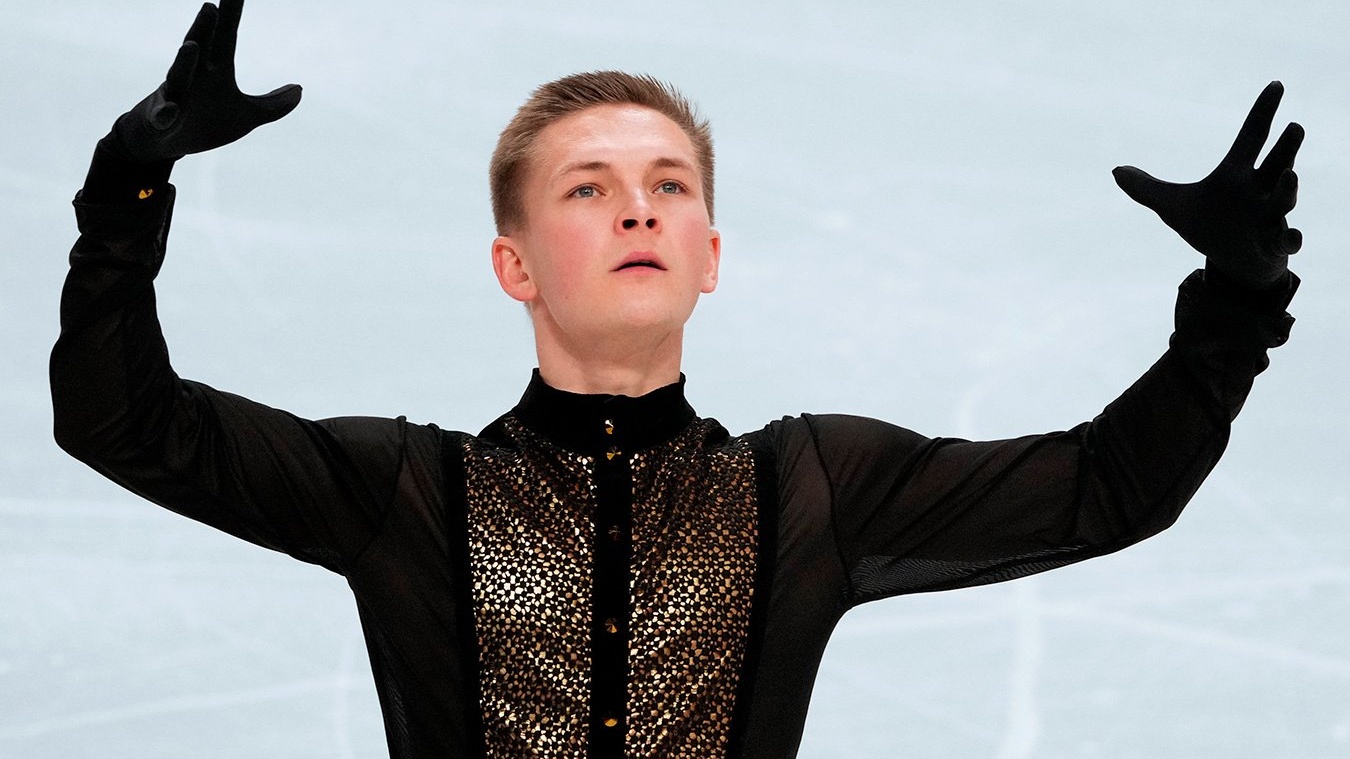 What is the main difference between Olympic and non-Olympic season one for you?
Mikhail Kolyada: There is no difference at all. The only difference is that one more competition is added. That's all.
Last season you joined the group of Alexei Nikolaevich Mishin. Before that, you worked with Valentina Mikhailovna Chebotareva for many years. What was especially different and new for you?
Mikhail Kolyada: Well, for me everything was new and different. Another group, different mode of work, trainings are built differently, work on choreography, general physical training – literally everything! And when people ask me, "Can you name some main difference?" I can say: "Everything! This is the main difference" [laughs].
Was it difficult to get used to?
Mikhail Kolyada: Very difficult at first. But then I gradually began to get used to it. I'm probably still getting used to this system.
How do you think, has your skating changed during this time?
Mikhail Kolyada: Yes. I feel like I grew up emotionally, professionally. And I don't want to flatter myself, but I just started to work better and harder.
What do you especially like about working with Alexei Nikolaevich? He is already 80 years old, didn't such an age difference scare?
Mikhail Kolyada: [laughs] No, it didn't scare me at all, because Alexei Nikolaevich has a lot of experience. He has already gone through so much that you can only learn from him. He is actually very young at heart! [laughs] So the numbers on the papers, in passports are nonsense. The main thing is how a person feels. And he feels great, God blesses his health for many years to come.
What do you especially like about working with him?
Mikhail Kolyada: Probably, the specification of the tasks set. He clearly tells you what to do, how to do and how many times. And this makes the task easier for me, because I don't have to come up with any challenges for myself. Alexei Nikolaevich had already invented everything a long time ago.
You have a large group, and many athletes skate at a high level – Elizaveta Tuktamysheva, Evgeni Semenenko, Sofia Samodurova … Does this help?
Mikhail Kolyada: Of course. When guys of a good level skate on the same ice, rivalry still happens want it or not. And we skate in training together in order to compete. Sometimes we have such small competitions among themselves. And this is great!
This season it took long for you to choose the short program – you tried The Nutcracker, then showed Caruso at the test skates, then returned to The Nutcracker again. Can you tell us how this process looked for you and what is important for you when choosing a program?
Mikhail Kolyada: This process was very interesting and long. For me it is important how I feel the music. I imagine a certain image in my head, and starting from this I understand whether I can convey it or not. I think it worked out with the Nutcracker. And with "Schindler's List" too. This year, both programs are very successful – I understand them, feel them, which means that I can show this emotion.
What exactly do you like about The Nutcracker music?
Mikhail Kolyada: I really like the orchestral sound. I like … I don't know, literally everything! I really like every instrument that sounds there. It gives you goosebumps!
The new Nutcracker received very good reviews after performing at the Finland Trophy. How did the work on this program go?
Mikhail Kolyada: We worked with different choreographers. And I believe that everyone made their own contribution. As Alexei Nikolaevich said that the program that turned out is all three programs that we did before [laughs]. That is, we took a little from each person and used it in The Nutcracker.
Probably, you also put something into it?
Mikhail Kolyada: Well … yes. For the most part, of course, this is choreographed by Ilia Averbukh – he has some tricks of his own. Ilia immediately developed a complete view of the program – the beginning, the end – and all this narration flows very logically during the program. And from myself, well, I don't know … Maybe some kind of micromovements, which are already coming from within, from myself.
There's also a little story in the program, can you tell it?
Mikhail Kolyada: First, I portray a "wooden" soldier [laughs]. Then there is some transformation in the middle of the program, and at the end I am a prince. But at the very end, I again shut myself off from everyone. And Ilia, by the way, had such an idea that it like I'm having a split personality – and we build our story on this.
The idea of "The Nutcracker" came from you and "Schindler's List" was the idea of ​​Alexei Nikolaevich. Tell us about this image – after all, it is completely different.
Mikhail Kolyada: In this program, I am Oscar. I show how he lived, experienced this story. I show that through pain, through suffering, in the end, he was able to help many people. And this program is rather heroic – it is about the great deed of one person who tries to break the system. And there is some kind of internal conflict in it. This is how I see it. And that's exactly what I'm showing.
Have you seen the movie?
Mikhail Kolyada: I have recently rewatched it. Very hard movie, honestly. In general, I am such an easy person, it is easier for me to watch light movies. It was hard for me to watch this movie.
Other skaters also skated to this music – and this season is no exception. At the Finlandia Trophy, you and Jason Brown skated it one after another. What do you think about this?
Mikhail Kolyada: If we talk about Jason, then I saw two completely different stories in terms of choreography, presentation, emotion. As for the other skaters, I think that each athlete presents his own vision, his own sense of music. And naturally they don't look alike at all. Even if all twenty people at competitions will skate Schindler's List one after another, it will still be very different stories.
You once told me what a costume means to you, and how it helps you get into character. How important are costumes for you?
Mikhail Kolyada: Very important [laughs]. I have two criteria: first – the costume should be comfortable, and second – the costume should be beautiful [laughs]. So that I feel comfortable in it, so that I can show the emotions that I thought about.
The costume for the Nutcracker is especially beautiful this year.
Mikhail Kolyada: By the way, it was Ilia's idea to leave one shoulder strap. I didn't ask why, but basically I liked the idea. Here the choreography is about two different types – there is a wooden Nutcracker, and there is a prince. And wearing a prince costume at the very beginning of the program could create a conflict.
You have so many interesting programs. What's your favorite program of your career?
Mikhail Kolyada: There is no such. They are all favorite. Because I put my soul into every program, skate it on maximum.
What about your favorite performance? Like when you got off the ice and was completely satisfied with what you did.
Mikhail Kolyada: Also no such [laughs]. I am always dissatisfied with something. Even when everything seems to be fine, but still there are moments that I am unhappy with.
Perfectionist?
Mikhail Kolyada: Yes.
Is there someone else's program that you like? Which have you watched many times?
Mikhail Kolyada: There are a lot of very good programs, and I do watch some over and over again because … for several reasons. The first reason is that it's just interesting for me to watch. As a spectator, I sit down and watch. The second reason is to find all sorts of interesting transition elements, interesting things.
But still, which ones do you especially like?
Mikhail Kolyada: From the recent ones – Javier's Spanish Olympic program. Very cool! I watched it many times. Also … Zhenya Plushenko's "Toreador" (the program to the music of "Carmen" of the 2001/2002 Olympic season – ed) also watched it many times.
You are such a graceful skater. You show artistic images very well. Have you thought about choreographing programs for someone?
Mikhail Kolyada: In the future? Well, you just said, and I started to think [laughs]. Well, why not? It might be interesting. I have not tried myself in this direction yet.
Do you think about the future seriously now, or are you putting it off for later?
Mikhail Kolyada: At this stage of my life, I only think about what I am doing right now. Then the next stage will come and I will think further what to do. Therefore, I do not yet look so far ahead.
Then let's talk about the past and the present. You married your youth love (Mikhail's wife – Daria Kolyada (Beklemishcheva), who performed in pairs – ed). What does Dasha mean for you, in your life?
Mikhail Kolyada: Well, literally everything! You can say she is my meaning in life. I want to create for her. It's for her I want to get up in the morning and go to trainings with a burning eyes and try to achieve everything.
Dasha was a pair skater. You once said that pair skating might be interesting for you, but you are short.
Mikhail Kolyada: Yes.
Could you imagine that you are performing with her?
Mikhail Kolyada: [laughs] It's very difficult. Probably even psychologically, because we have different approaches to the training process. And honestly I can't even imagine how it all would happen [laughs]. But, of course, yes, it would be interesting to try. I mean pair skating with Dasha, I don't want to skate with someone else.
Is Dasha very worried when you perform? Is she watching or not?
Mikhail Kolyada: Of course she worries. But she doesn't watch [laughs]. Only the recording. And only after I skated, wrote or called her and told how it all happened so that there were no surprises. So that she could calmly watch like a spectator or a judge.
Last question. What would you like people to remember about the skater Mikhail Kolyada in ten years?
Mikhail Kolyada: What would they remember in ten years? Uh … Well, probably just that I'm a great athlete [laughs]. This is a really good question, because I don't even know what to answer. I will do everything that depends on me, and then the audience will decide. Whether they remember me or not, life still goes on anyway.
Related topics: mikhail kolyada