Maxim Staviski: "Ravel's Bolero was inspired by working machines in the shop. What should Valieva understand about it?"
Posted on 2021-11-05 • No comments yet
Interview with Maxim Staviski. About Ice adge TV show and working as choreographer there, Kamila Valieva and her Bolero, Elizaveta Tuktamysheva, criticism and popularity of the sport.
source: sport-express.ru dd. 4th November, 2021 by Dmitrii Kuznetsov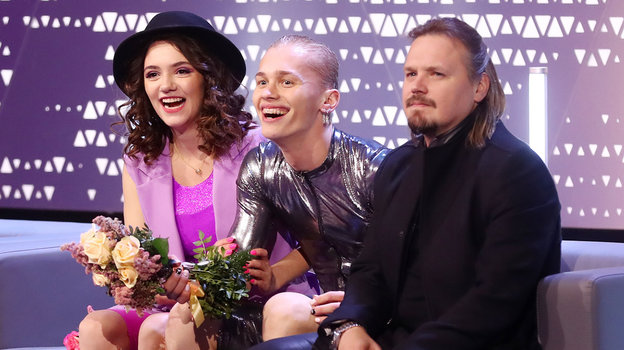 Maxim, how much time do you spend at the rink?
Maxim Staviski: Well, we are here all day. The shooting ends, we sit down at the headquarters, looking for new music. It is desirable that no one has used at it before all or used it a very long time ago. And at the same time, it should be recognizable so that the audience knows. And the judges. They are also spectators.
Doesn't burnout happen?
Maxim Staviski: It's terrible, yes. Completed the week – and everything again from scratch. The wave rolls in, then rolls back. It's hard, but it was always like that, we got used to it.
How long does it take to teach a person without experience serious elements, axel, for example?
Maxim Staviski: Axel is an element from single skating…
Is it no more difficult to do than a lift?
Maxim Staviski: Of course not! These are different things, it is difficult to compare them. Our emphasis is on skating in pairs, lifts. Axel can be done to a splash in music. Yes, it will be appreciated, but the jump itself conveys one emotion. And in a lift, you can show a lot of different things.
Do you follow the Olympic season?
Maxim Staviski: Something reaches me, something I watch, read, while I drink coffee in the morning. But, of course, I don't have time for everything.
But you have probably seen the world records of Valieva and her Bolero. And a strange discussion about whether she understands this music.
Maxim Staviski: Valieva, as usual Eteri's first girl, breaks all records. It's fine. People like Valieva, and all the Tutberidze's girls, are the engines of progress.
Figure skating must develop. As for understanding – do you know how Ravel came up with the idea of Bolero?
To be honest, no.
Maxim Staviski: He stood in the shop, looked at the working machines. And the rhythm they set gave him an idea. That is, what should she understand? Here, I think, you turn on the music and make your story. Everyone sees their own, and it is not necessary that these stories should be the same. If she feels this music, everything works out.
The Tutberidze's girls are the engine of the progress, and Mishin recently called Liza Tuktamysheva a searchlight. How important is it for figure skating that she makes it to the Olympics?
Maxim Staviski: Liza copes with the elements, why not? Doesn't she deserve to go to the Olympics? Deserves. She is a fighter. She looks great, skates well. Ilia Averbukh took part in the work on her programs. If she skates well at the Russian Nationals, gets into the top three, she should go. I have no doubt that she will compete for the top three. Although, of course, it is not easy for her to fight the Tutberidze clan. This is a back-breaking task. But she copes with it. I'm for Liza. But I'm not saying that let's all take this side. I am both for Valieva and for Shcherbakova. Liza deserves her place at the Olympics just like the rest of the girls. But her appearance there will give great hope to many.
Do you have time to follow men's skating? There are also very cool programs there. Samarin, for example, and there is such a competition.
Maxim Staviski: I know that they have a tough competition, I myself worked with Samarin, and I know Nikita Mikhailov for a long time. He choreographs well. Thank God that Sanya got better from his injuries and climbs this mountain again, happy for him. I worked in Krylova's group, but in the spring I said goodbye to them until next year, because the schedule of the show is crazy.
The "Ice Age" causes negative feelings among a certain part of the public, I don't know if you have noticed. Like, this is not a sport. It is a textbook situation that the show is on air, but they don't show Russian skaters at the Grand Prix, and this situation will most likely repeat itself this season. What would you say to critics? Admittedly, your rating is higher.
Maxim Staviski: Well, it's not even about the ratings, these are completely different formats – an entertainment program or a competitions broadcast. Yes, this is not a sport. But people here treat it like a sport – everyone's bones and muscles are cracking. Look – they make lifts, throws, try to do twists. If you don't like it, don't watch, these are your problems. Switch to another channel. But you cannot extol something while spitting on something else. If you like sports, watch sports. But why say that we have sports here, and your show is shit? You were neither here nor there. Close your mouth and watch what you want. Your opinion does not interest me absolutely.
Try it yourself. Go to some project, go to sports. Then open your mouth. Then say, we are athletes, have gone through sports, have gone through the "Ice Age" and we understand everything perfectly. I do not consider it necessary to explain anything else. Everyone is ready to open their mouths and say their competent opinion. Who the hell told you that it's competent? We, damn it, have a pandemic and everyone immediately became immunologists… There is a hell of a lot of specialists.
Listen, well, it's the same everywhere. In all countries, in all areas. As you know, the whole country plays football from the couch.
Maxim Staviski: Absolutely in all countries, everything happens the same. It was well shown in KVN (Russian humoristic show) – the Department of Internal Investigations in Football. Everything is said very correctly: "Who told you to play like that? Well all! The whole country is specialists. Only we, 11 people, do not know how to play!"
Probably, there's no such in figure skating on such a scale. Still it's a difficult sport.
Maxim Staviski: But all the same, half of the stands are specialists. Parents already understand everything better than coaches, they are trying to interfere. But actually this has always been like that.
But the popularity, in which the figure skaters are still lagging behind the football players.
Maxim Staviski: Thank God for the popularization. In principle, it all started with Ilia Averbukh, when his Ice Age started, immediately the amount of children in skating schools increased tenfold.
That is, you associate the boom of figure skating with the "Ice Age" show?
Maxim Staviski: Yes, statistics showed it. Senior coaches from various Moscow schools told us this. That popularization started to increase in huge leaps.
Many believe that this is due to the confrontation between Zagitova and Medvedeva in Pyeongchang.
Maxim Staviski: No, of course not! When the first "Ice Age" went on air, the rating was very high. They began to bring children, and then the further development of sports began. And the show of Ilia Averbukh, and ice performances, and then they started to show competitions. They didn't show anything before! Now even some Russian Cup in Syzran is being broadcast. Who can make any claims? Popularity began to long before Zhenya Medvedeva and Alina Zagitova. Why I remember – information about schools was brought to us, and we were very happy. And many years have passed.
In America in the late 90s, the popularity of figure skating collapsed very quickly. Whether we should fear the same in Russia?
Maxim Staviski: Yes, it happened really quickly for them. Here I agree with Garik Kharlamov. When ours lost in football once again, he said: "Maybe we should close football? Brazilians don't ski or play hockey. They don't have that kind of sport." We have figure skating, it is a national sport, where Russia and the Soviet Union have always been at the top. So we must go further, make it even stronger. You don't even need to do it, it is already there. We must support it.
In the realities of state sports in Russia, "to support" means "give money."
Maxim Staviski: And we do not mind. (Laughs.) Our problem is that the groups do not have enough ice, there is a confrontation with hockey. On the other hand, skating rinks are being built, they grow like mushrooms after rain. There are more of them, but there are either no fewer people who come to figure skating, hockey, even short track speed skating.
In this sense, is the success of private projects important? Plushenko's Angels, for example.
Maxim Staviski: Yes, please, I have nothing against this project. Whether it's a public or private option, it would be for good. If Zhenya takes children, coaches – it should be so. If people are able to pay, then who is against? Figure skating is a very expensive sport.
Is it more correct for the school to develop gradually, through children, juniors? You can take Trusova and start winning.
Maxim Staviski: I don't think this is correct, as practice has shown, this option didn't win. They tried it – it didn't work. If they want they can try again. Absolutely their business, I am not going to judge them. You see, there should be both small children and seniors in state schools. Otherwise, they will close it. The same Zhulin has children, Krylova.
In a private school, you can take only seniors, and no one will tell you anything. Like a small state. This approach is quite possible. For example Linichuk coached six senior pairs in America and no one else. But sponsors are needed. Zhenya is looking for them himself, but most do not have them.
We haven't caught up with America yet, probably. In terms of the economy.
Maxim Staviski: Yes exactly. We have not grown to this level of economics.