Mariah Bell: It's much easier for me to jump now then it was at the age of 15
Posted on 2019-11-20 • 3 comments
Two interviews with Mariah Bell for Russian media after her bronze medal at Rostelecom Cup 2019. Seems Mariah was quite popular among Russian journalists)
by Ekaterina Bespalova for sport-express.ru dd. November 17th, 2019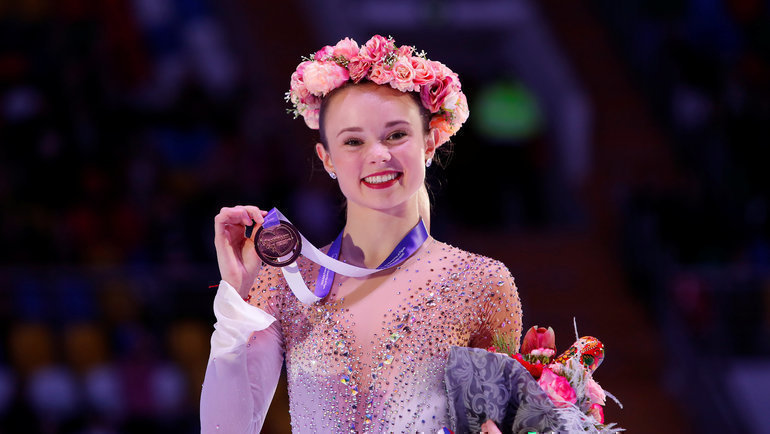 – In Moscow, everything turned out great for me, I performed well, walked on Red Square. I just enjoyed what was happening.
Was you upset because of not getting into the Grand Prix Final?
– I am truly proud of what I managed to show this season. It is still not known exactly who will qualify for the Final, but in any case, two Grand Prix medals are a cool result for me. I did everything that depended on me. My coach Rafael Arutyunyan and I worked for a very long time to achieve this results.
In Grenoble, one of your competitors was Alena Kostornaia with three triple axels in two programs, in Moscow – Alexandra Trusova with four quadruple jumps. What is it like to compete with girls who have jumps that you can't do?
– For me, this has not changed anything. Quad jumps, triple axels, well anything – I focus only on my skating. But I treat the girls who have such jumping with great respect. They do what they can, and I do everything in my power. Alexandra and Evgenia, who placed ahead of me in Moscow, were simply incredible. Trusova's quadruple jumps are amazing! It was not easy for me to go on the ice after Medvedeva, because the audience was very emotional about her. But I was very happy for her, because I know how hard it is to work for such performances.
In Russia, Elizaveta Tuktamysheva, who also won two bronze medals at the Grand Prix, is considered to be an age skater. In December, she will be 23 years old just like you. Is it hard for you to keep fit?
– I am just small and thin from nature (laughs), I don't know why. And I also do not understand why there is so much talk about our age. Now I really control my body, I know which shape is optimal for good results. Gymnastics helps, and many other activities. In general, only now at 23, I began to truly realize my potential. And I am happy to prove that age in figure skating is not so critical.
But wasn't it easier for you to jump at the age of 15, as many skaters constantly talk about?
– It's much easier for me to jump now. At 15, my legs were too long and my body was too short (laughs). Then I did not know how to control my body. Now I feel physically strong, I have a very strong coach who knows how to give the right technique and style for a particular skater. We tried to make the short program of this season special, different from what everyone was used to see in competitions. This is very important when other skaters do quadruple and triple axels. You should have your own thing that helps you to be remembered. And it could be a beautiful bright program.
Do you usually watch your competitors performances?
– At competitions – never. But after, I watch some to understand what I need to improve myself. But I try not to spend too much time on it.
********************************* *********************************
and here comes the second interview)
by Elvira Ondar for gazeta.ru dd. Novemer 18th, 2019
In Moscow, you became the bronze medalist. Are you satisfied with the result?
– I was disappointed with my fall in the short program, the free program was better, but even if I had a perfect short program, I would have still be in the third place after Alexandra Trusova and Evgenia Medvedeva. So I'm very proud of the Grand Prix medal in Moscow, as well as the bronze in France.
What was it like to perform in a free program after Evgenia Medvedeva, which was very strongly supported by Russian fans?
– It was a special experience that I will always remember. It was great to skate, because the audience was very heated.
In addition, my task did not change because of her excellent performance. I remained focused on my skating.
Until this season, you won medal at the Grand Prix only once, in 2016, when you became second at Skate America. After that, for almost three years you did not have any serious awards, and suddenly – two medals at Grand Prix. What is the reason for this progress?
– The rise started in previous season, which I consider so far the best in my career. In the summer, I worked a lot with former teammate Adam Rippon, who is now my choreographer and one of the coaches.
I told him: "I do not want to lower the bar below the level that I have already showed," and he understood me very well, because he was an athlete himself.
In the end, he made me work very hard. Even at the end of the day, Adam was saying: "It doesn't matter that you are tired or what you want now, you have to skate programs many times, do it again."
I accepted such mentality, and it really worked! I had strong emotions when I won my first competitions this season – the Nebelhorn Trophy.
At the same time, the feeling was twofold: you seem to be very happy, but on the other hand, expectations from yourself are rising before next competitions. However, I felt that I was able to climb high.
Turns out that the key to the rapid progress was the coaching methods of Adam Rippon?
– Yes, definitely (laughs)! At least he played a huge role in this. Rafael Arutyunyan, of course, remains my head coach, and he greatly influenced my success, but the daily hard work with Adam had a great effect just before this season.
He has incredible experience as a skater, participated in the Olympic Games, took medals many times at the Grand Prix. So I gladly take all his advice and use them in my work.
Speaking about your main coach Arutyunyan, you once mentioned that it took you two years to get used to his coaching style.
– Yes, he told me from the very beginning: "I need two years to work with you, and then we will see obvious progress." Two years just fell on the last season, and yes Rafael was right. Even when I do not want him to be right, he is always right (laughs). Now I have the task of preserving what we have achieved.
What was most surprising to you when you started working with Arutyunyan?
– The fact that he has a completely different style of working on technique. However, it turned out incredibly easy to find a common language with him, Rafael is very straightforward. My previous coaches talked a lot and he just says it as it is.
If something looks bad and you can't cope, he will immediately tell you everything. At first it shocked me, but Arutyunyan is very honest, and I respect him for that.
You said that you do not even have planned classes with Arutyunyan, while in Russia the coach controls many aspects of the athlete's life.
– In the first two years of our cooperation, Rafael also devoted a lot of time to me. But then he said: "You are an adult. I won't lead you by the hand. I gave you all the necessary tools for the job. There are many other skaters in the group now, and you already know everything, there is no sense in telling you the same things."
Partly for this reason, I began to work more with Adam so that he would help me with advice on a daily basis, but I really respect Arutyunyan for his words.
They filled me with confidence that I could control my career myself, they made me become a more mature person. I'm really an adult, I'm 23 years old and I know how to do everything.
In addition, Rafael is still devotes me time and follow my practices closely. He says: "I see everything that you do, do not think that I do not watch." And he knows when it's necessary to say me something, and when it's better to leave it as it is.
Rippon, who is now both a coach and a choreographer for you, did you a short program to "Radar" and "Work" by Britney Spears, but there's some obscene language. Have you doubted such a choice?
– When Adam first came up and said that I should skate to Britney, I replied: "Well, I don't know, this is not my style, besides there's strong language, we cannot afford that…"
I was not sure that the judges would accept this, but I really trusted him, so I decided to try. Now I think it's cool to show the other side of yourself. In addition, Adam mixed my music as a DJ, so this is a single copy, no one else skates to this version of Britney's songs.
Now in figure skating there are incredible athletes who jump quads and triple axel. And maybe I could stand out in this world with something unique – for example, my short program.
If you go a little deeper into the topic of quads, what do you think about such progress among girls?
– It's very interesting for me to perform in such an era of figure skating, when the sport is developing rapidly in terms of technique, and to compete with those who can do quads and triple axels. I do not think that the huge advantage of female athletes with quadruples is unfair, although this is not my business at all, it's up to the judges to give points.
I don't know whether quads will remain the privilege of few gifted skaters or in ten years all the girls will easily do them, but now it seems that it is necessary to have quads in order to claim great victories.
Getting back to the programs, Shae-Lynn Bourne did your free program, she also worked with Evgenia Medvedeva and Elizaveta Tuktamysheva this season.
– Yes, I was very glad to do a program with her, we worked for the second year in a row. She sent me music options, and among them was "Hallelujah," which I always liked, so I immediately agreed.
Shae-Lynn is a very popular choreographer who works with many skaters, but she is really talented in capturing the individuality of each of us. She studies the athlete and uses all his strengths, helps to show what you can do best.
You mentioned that you plan to work on triple axel. Do you want to repeat the achievement of Tuktamysheva, who performs this element at 22?
– Yes, Liza be a source of inspiration for sure! I respect her very much. Tuktamysheva had a triple axel at a young age, then she lost it and struggled for several years to return it. Now she has become very strong again, makes two triple axels in a free program. It is very impressive and proves once again that we have no limitations. However, I am moving in my rhythm, and for now it is important for me to constantly show what I'm capable of now.
Before Rostelecom Cup, you performed at the Grand Prix in France, where is your boyfriend Romain Ponsart from …
– Yes, it was a very special competitions for me, because I have not seen Romain since August. In France, this finally happened, so I was very happy when I found out that I was going there.
Besides, Nathan Chen was there, we are close friends, but because of his studies at Yale we don't see each other much. And in Grenoble, the three of us met, and it was like a family reunion (laughs).
There was also a funny incident in France: you were awarded the gold medal of Alena Kostornaia.
– Yes! When they put it on me, I noticed that it shines a lot. But just thought: "Okay, just a shiny medal." However, then Alina Zagitova leaned down from her step of the podium and said: "I think this is gold."
I participated in many competitions and shows with Alina, so we became friends. After her words, I looked carefully and said: "Oh my God, this is really gold." And I decided to present the medal to Alena myself. Congratulated her, shook hands, then we all just laughed on the podium, so it was a fun moment.
Which Russian figure skaters do you also have good relations with? Evgenia Medvedeva, for example, came up and congratulated you after winning the bronze medal.
– I respect each of them as an athlete and as a person, but most of all I had the opportunity to communicate with Alina. I am not so familiar with other Russian figure skaters, but they are all very cute. I think that among Russian girls I have the closest relations with Zagitova, because we participated in the show together a lot, but I respect Evgenia too.
Related topics: Adam Rippon, Mariah Bell, Rafael Arutyunyan
3 Responses to "Mariah Bell: It's much easier for me to jump now then it was at the age of 15"