Loena and Jorik Hendrickx: "Oh no, we didn't expect such results! You know, we're realists. Russian girls are up there and we're down here, so to speak."
Posted on 2022-01-14 • No comments yet
Loena Hendrickx and her brother Jorik commented on her performance in the short program at the 2022 European Championships in Estonia.
Loena skated the short program clean, scored 76,25 and placed 2d after the short program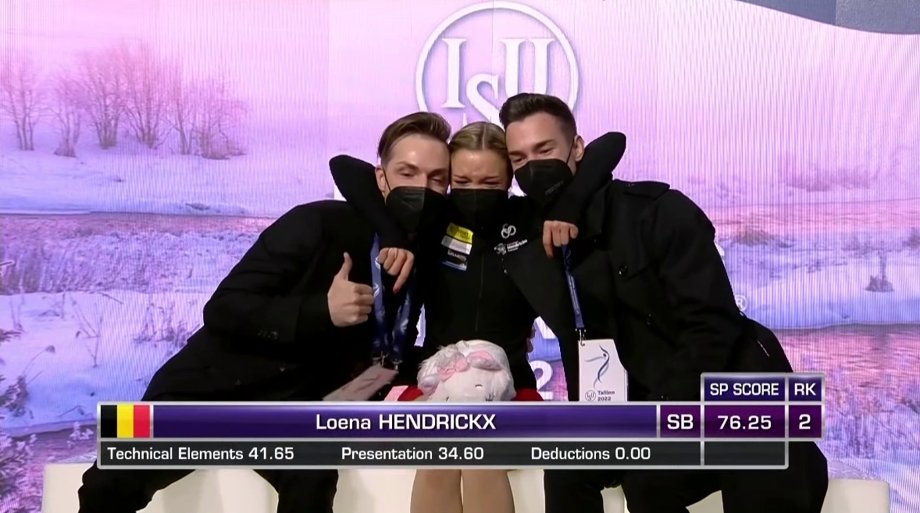 Loena Hendrickx: I still can't believe this happened, maybe that's why I'm crying now. Russian girls are so strong, it's incredible. I was very nervous before the performance, but I knew that I could skate well and I'm so happy now.
Of course, I did not expect such scores, but now I know that I can do more, now I know it. It doesn't bother me at all when I skate last in the warm-up, it seems to me that psychologically I'm a pretty strong person and I can handle it.
source: sports.ru dd. 13th January by Maia Bagryantseva
Jorik Hendrickx: Oh no, we didn't expect such results! You know, we're realists. Loena and I know how strong figure skaters are in Russia. They're up there and we're down here, so to speak. But we know what Loena is capable of, and today she showed it. She did everything she had to.
And yet, Loena rather modestly perceives this result. We know that the Russians are technically stronger. They have different jumps, different elements. We don't have those. In these conditions, you just need to show yourself, show what you can do. Loena did it.
As for competition, I think Loena looks up to all three Russian girls who perform here. Both to Kamila (Valieva), and to Sasha (Trusova), and to Anya (Shcherbakova). And it's a great honor to take a place between them.
source: matchtv.ru dd. 13th January 2021 by Vlad Zhukov
Related topics: European Championships, Jorik Hendrickx, Loena Hendrickx