"It was probably the best moment of my life – I was incredibly happy. And yes, it was really very unexpected." Aleksandra Stepanova about marriage proposal on the ice and career plans.
Posted on 2022-08-10 • 1 comment
Interview with ice dancer Aleksandra Stepanova. About marriage proposal and career plans.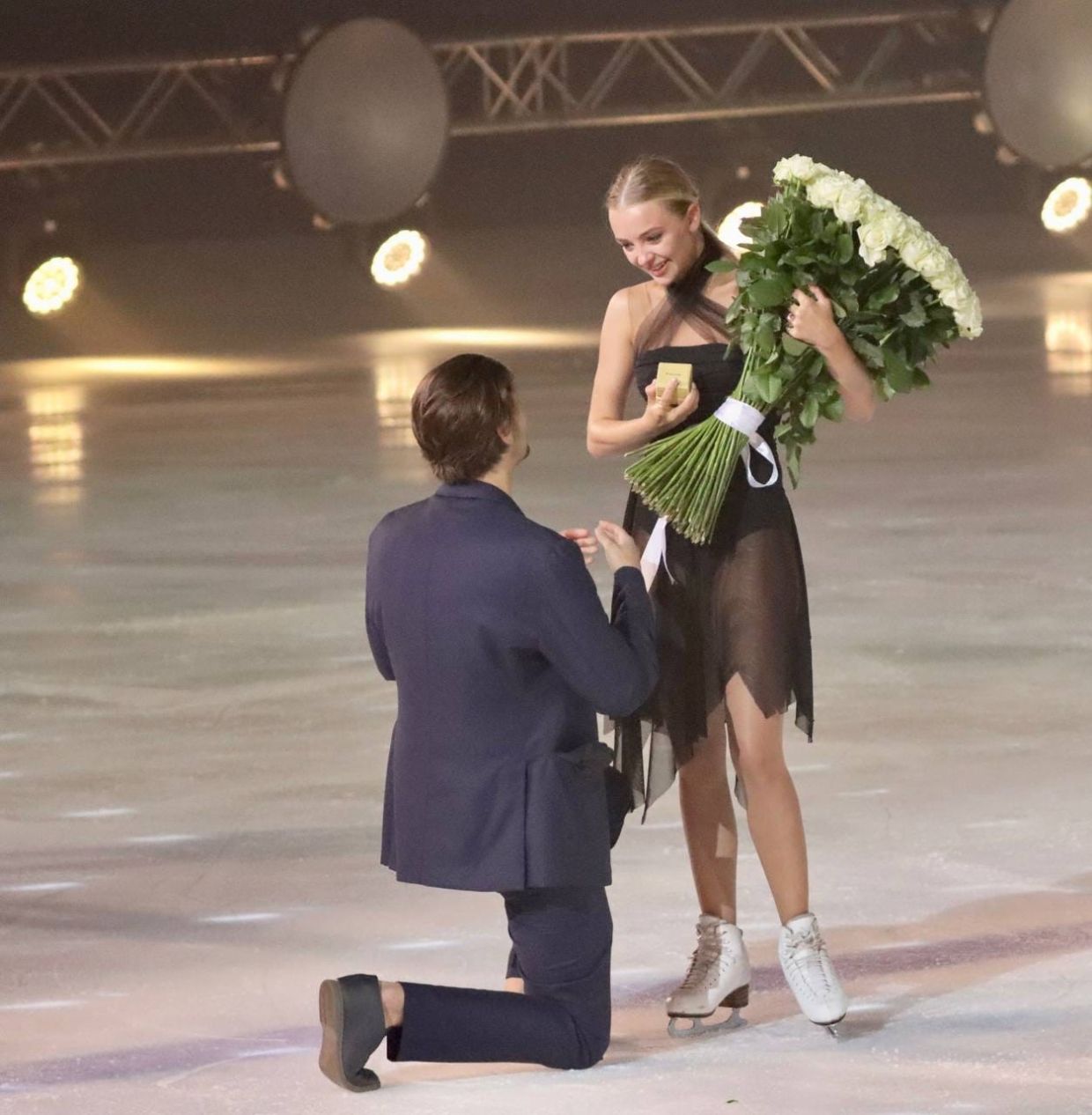 source: sport24.ru dd. 9th August 2022 by Konstantin Lesik
Sasha, congratulations on a joyful event. Ilia Averbukh (director of the show where Aleksandra got a merriage proposal – ed.) said that you did not know anything about the proposal being prepared. This is true?
Aleksandra Stepanova: Yes. I really didn't know anything. It was probably the best moment of my life – I was incredibly happy. And yes, it was really very unexpected. The shock lasted for several days (laughs).
Isn't it difficult to perform in such a state?
Aleksandra Stepanova: It all happened at the very end of the show, so I had the whole night to sleep with that thought. And then I continued to skate absolutely happy, joyful, on the rise.
Are there plans for a wedding?
Aleksandra Stepanova: We talked about this, but both me and my…now fiancé have a lot of work (smiles). The exact date was not discussed, but I just really want the whole family and close friends to be around at such an important event. Therefore, of course, it will take time to gather everyone together, and so far we do not have an exact date.
Are you planning to change your last name?
Aleksandra Stepanova: I do not know. Honestly, I haven't even thought about it yet (laughs).
Few of the fans knew that you have a boyfriend. How did you manage to keep the secret? Or just didn't tell?
Aleksandra Stepanova: Basically, you answered this question yourself. I didn't hide it, but I didn't advertise it either. There was simply no desire to share this information.
I always wanted to keep my personal life to myself, because this is probably the only thing that can be private and not posted for the public, for example in social networks. Yes, the proposal turned out in public, but I don't regret it in any way – this is my happiest moment.
I imagined before how it could be, but I didn't think that everything would happen just like that – this was the main surprise. And then I cried a lot – at that very moment, in the evening. Because it was incredibly beautiful.
Can you tell us something about your fiancé? Little is known about him.
Aleksandra Stepanova: The only thing I can say is that he is not an athlete and is not connected with sports. And the rest I will still keep to myself (laughs).
Skating in show almost every day for a month is not an easy task?
Aleksandra Stepanova: Well, yes. We haven't been on tour for such a long time. I remember, as a child, we went to Korea with Natalia Bestemianova, Igor Bobrin, Andrei Bukin – they had their own theater, and we went there for about a month. But a lot of time has passed, and for the last period this is our first such trip.
But I really like it, Vanya and I love to work with Ilia Averbukh. It's always a pleasure to be here – we really like the atmosphere, his team. We have weekends when we manage to relax a little. But it's very energizing that people come, give their energy, and you give them something of your own in return, you give them some emotions – it's incredibly nice.
How are you spending your weekends?
Aleksandra Stepanova: Once we were in the bathhouse, we all went together. Here, of course, a stunning place – in the mountains, very beautiful, very cozy, comfortable. Very good. And so … Honestly, I didn't go anywhere much, on the weekend I could sleep, maybe even the whole day – it happens (laughs). I'm just not a fan of going anywhere.
In the show you skate not only with Vanya. Many viewers liked the women's performance to Be Italian.
Aleksandra Stepanova: Yes, it's great. It's great that Ilia made the second part more theatrical – thanks to this, we have both a women's and a men's performance.
Honestly, I really like it, because always, when I watched his show and saw some general numbers, it was interesting how it all works: how they follow each other or maybe it is prepared that literally something different for every beat of the music. So performing with girls is fun and cool.
Your partner Vanya Bukin said he wanted to try pole vaulting. Maybe you have some interesting ideas in terms of other sports?
Aleksandra Stepanova: I'm not so extreme, I'm more worried about my back, health in general, and in general about everything. In addition, figure skating is not over for us – we continue, skate, train, and therefore I probably won't risk it. Well, maybe I'm just afraid, I don't know (laughs). It's really hard for me to trust, to try something. I only trust my partner.
That is, unlikely we will see you in the "Ice Age"?
Aleksandra Stepanova: I don't know anything about the Ice Age yet, I can't say anything. But something new, even trite to ride a bike or rollerblade, is already scary for me.
In the USA, by the way, a new discipline in figure skating, experimental, has appeared – solo dance on ice. Could you imagine yourself in this?
Aleksandra Stepanova: Probably I can imagine, but I'm still more for chemistry on ice, for dialogue. Single skaters are jumps that you wait for, wait for, and then the athlete jumps, you: "Hurrah!" Applause, flurry of emotions and so on.
Our sport, ice dance, is a slightly different program, a different approach, and here, it seems to me, it's all about love, about hatred, about interaction with each other. Therefore, it is difficult for me to imagine single dances. I don't know, maybe it will be interesting, maybe if they are allowed to do some tricks – somersaults or something else, because we have a lot of athletes who do different cool things – maybe it will be interesting , but I'm still for some kind of contact and story.
Recently you have launched your own stylish merch. How did the idea come about?
Aleksandra Stepanova: Vanya persuaded me for a very long time …
So this is Vanya's idea?
Aleksandra Stepanova: Yes. He encouraged me to do something of my own, interesting for our fans. In the season, I couldn't realize it, because my mother sews for me, I know many nuances, I understand that it's actually not so simple.
Now, at the end of the season, we got a little time, and we worked hard, thought how to do it best. I really wanted to do something so concise, laconic. So that these were not some of our color photographs, because this already exists – I wanted to do something of my own. And I had the idea to make our profiles from the program "Romeo and Juliet" – I think it will be beautiful. I really hope everyone enjoys it.
Who helped with the drawing, design?
Aleksandra Stepanova: Our friend, figure skater Igor Eremenko, helped to draw. But yes, we can say that we came up with the design ourselves, we did not communicate with any specialists, this is purely our idea. Very soon – I think that around the middle of August – we will launch our mini-collection. There will be a very small amount – let's see how interesting it will be.
Why small?
Aleksandra Stepanova: It is problematic both with fabrics and with tailoring. As it turned out, there is something else that I do not know, a number of some such small snags, so there will be a small batch. Let's see how it will develop, if it's interesting… It's just that in the future I really want to make trousers for our collection, shorts, maybe some ordinary T-shirts. I hope it will be interesting (smiles).
What are your career plans? Are you planning to skate until the next Olympics?
Aleksandra Stepanova: Of course, there is such a plan. Now we are working on our new free program – there are training sessions between shows, and in some places we have time to work on something.
We will skate – that's for sure. We do not leave the sport in any case – we really do not want to leave on such a note. We will work, let's hope that there will be Olympics for us, and we will perform worthily there.
Related topics: Alexandra Stepanova Ivan Bukin
One response to ""It was probably the best moment of my life – I was incredibly happy. And yes, it was really very unexpected." Aleksandra Stepanova about marriage proposal on the ice and career plans."