"It seems to me that the "Bolero" theme is not for Valieva. Music dominates her" Inna Goncharenko summed up the results of the second stage of the Russian Cup
Posted on 2020-10-15 • No comments yet
Inna Goncharenko summed up the results of the second stage of the Russian Cup. Told about the victory of Trusova, Valieva's programs, the level of judging and competitions without spectators.
by Timur Ganeev for iz.ru dd. 14th October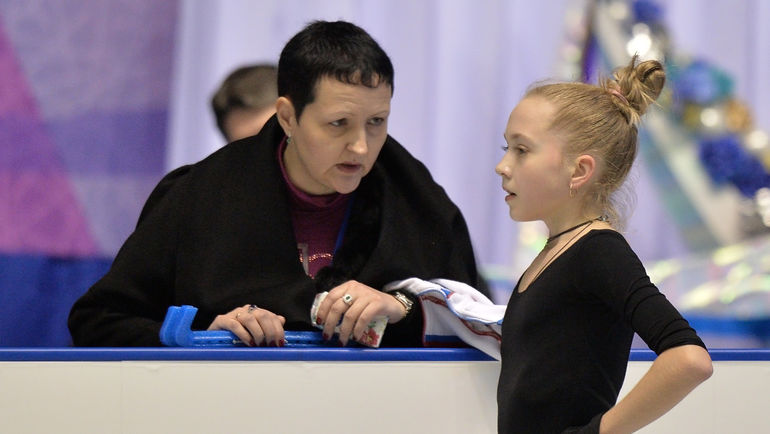 How would you rate the performances of Alexandra Trusova? Can we can say that she improved after the change of coach, primarily in the short program?
Inna Goncharenko: Sasha did well. Last season, at all competitions, she showed herself as a fighter. She often win back in a free program. The same thing happened now. Although, to be honest, the skate was not perfect.
If we talk about the short program, back after the test skates I said that Trusova had improved in terms of skating, quality of gliding and expressiveness. I would like to see faster spins, better performance of the steps sequences. In the free program, compared to the short, Sasha, because of the more complex elements, saves on transitions. Therefore, she has a room for growth, but a step forward has been taken.
Is Kamila Valieva's unsuccessful performance in the free program a consequence of being nervous?
Inna Goncharenko: I really liked Kamila. She showed an almost flawless short program: beautiful and inspiring skating. In my opinion, Valieva's short program was the best performance at this competitions. As for the free program, it seems to me that the "Bolero" theme itself is not for her. She doesn't feel it yet. Music dominates her. In the short program, Kamila looks much more harmonious. But I don't see any kind of failure in her mistakes. This is only the beginning of the season, it happens. They need to draw conclusions, work further, and everything will work out.
Daria Usacheva showed one of the brightest performances at that competitions, although she hardly prepared for it – she was announced at the last moment after Medvedeva's withdrawal. Do we have a strong athlete growing up?
Inna Goncharenko: If you do not have complex elements – quadruples and triple axels – then everything else needs to be done flawlessly. Dasha coped perfectly. Moreover, in the free program she had the last starting number. It's tough, especially when stronger competitors perform before you. So she proved to be a fighter of the highest standard. She didn't give a single point. It always makes me happy when a young skater shows character where and when it's needed.
Is Usacheva capable of ultra-c jumps?
Inna Goncharenko: I think she can. Everything has its time. Someone masters quads earlier, someone later. Moreover, in the performance of such elements, the character, attitude and desire of the athlete are very important. And when you watch such performances as Dasha had at the Russian Cup in Moscow, you understand that has character.
What can you say about Stanislava Konstantinova's performance?
Inna Goncharenko: I'm glad that Stasya is in the mix. She performed well enough. Yes, she still has problems with under-rotations, technical flaws. This time they were also present, but they were not so noticeable. You can see that she likes her new program. She skated with a good mood, the audience responded perfectly.
Didn't you think she deserved more than a fifth place?
Inna Goncharenko: We shouldn't discuss the decision of the judges, especially when the competitions have ended. In my opinion, the judging in Moscow was quite adequate. Of course, there are always dissatisfied people. How many people, so many opinions. But if you have under-rotations, then you need to be aware of this, work on these elements. As it seems to me, she has improved. Both in skating and jumping technique. But not all at once. The mood she performed with suggests that she will continue to improve. So the fifth place for Stasya is like the first. It's very important to overcome yourself and not to give up.
In men's skating, Artem Kovalev, who cleanly performed all the elements, wins the second stage in a row. Is his next victory a surprise?
Inna Goncharenko: It wasn't unexpected for me. Both at the test skates and at the first stage, it was clear that the boy had a fighting spirit. That is, the coaching staff did a great job. He grew up, you could expect problems with jumping technique. But Artem still goes forward. It's great.
The young are daring. When they reach the senior level, they want to compete with established leaders. And often youthful courage does its job. Kovalev performed his program perfectly, but it must be borne in mind that Sasha Samarin did not perform his full content due to a back injury. So he would probably be higher. But victory is victory. First of all, victory on yourself. Now Kovalev has to learn other quadruple jumps and develop further. Anyway he did well.
Petr Gumennik had a rather complicated program. Have you been watching him for a long time? Do you see his prospects for becoming one of the leaders of our men's skating in the upcoming years?
Inna Goncharenko: All young guys who are now on the podium have prospects, but what will happen next is a big question. Guessing is pointless. Everything will depend on their work.
The third stage of the Russian Cup in Sochi will be held without spectators. Will this be a problem for the athletes?
Inna Goncharenko: I think there are objective reasons for this. Athletes and spectators need to take care of themselves. The year is difficult, and it is not a fact that this is the last season when we compete in such a format. Therefore, we need to focus and work in the existing conditions.
Related topics: Alexandra Trusova, Inna Goncharenko, Kamila Valieva, Stanislava Konstantinova