Inna Goncharenko: "Tutberidze's coaching staff is working great, but let's be honest – they are not the only one"
Posted on 2020-11-11 • 3 comments
Inna Goncharenko about the results of ladies' competitions at the 4th stage of Russian Cup in Kazan.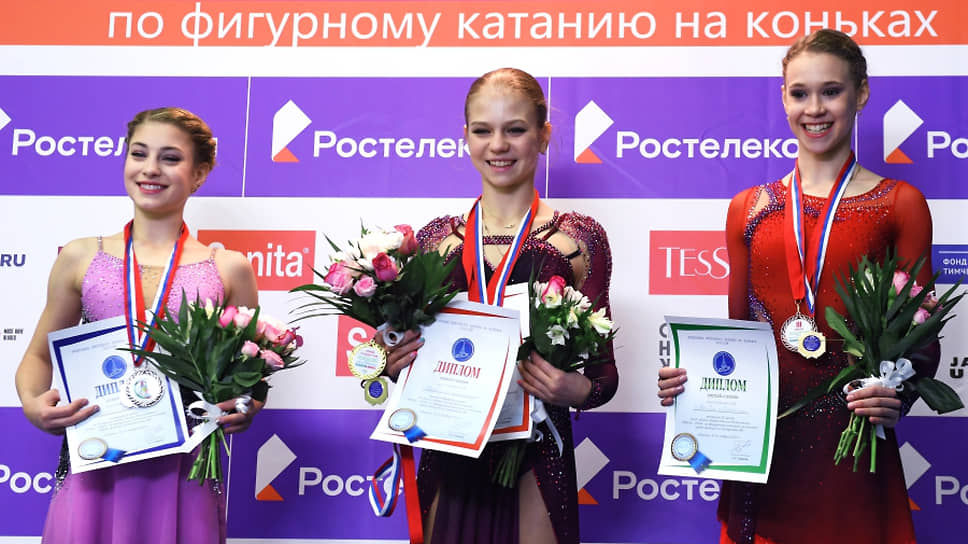 Inna Goncharenko: Back after the short program, I said that the free program will put everything in its place. Because there was talk that Khromykh placed unfairly low.
Guys, we have a double event. She did very well in the short program, it was the best skating. But there are magic words: rating, components, bonuses. The judges sit at the board and see everything perfectly. Therefore, girls were placed like that.
If we talk about Trusova, then she has a such a content that no one could compete with.
Kostornaia had to give a clean skate, and she did it. But the spins were not fast, not confident, she can do better. You can see that she is not completely in shape. Also an objective second place.
Khromykh let the situation go, but could have fought for something more.
by Dmitry Kuznetsov for iz.ru
About Trusova
Inna Goncharenko: It's great that Sasha is attempting the triple axel, but so far I do not see one hundred percent readiness. She goes on willpower, on character, on desire, and this is commendable. It's necessary to start with something. It can be seen that she is in the process of learning it.
by tass.ru
About Kostornaia
Inna Goncharenko: I understand that this is her first competitions after transfer, after a difficult break, and psychologically it was difficult for her. It can be seen that she has matured, a stage of growth and formation has begun, and considering everything – this is a success, a very decent start. Alena is an experienced athlete, a European champion, therefore, of course, you should not fail combinations, you need to do spins well. And until I haven't seen the "old" Alena – this is the beginning of something, but what – we will see further.
Alena is a very bright, beautiful athlete. She has an interesting program (short program – ed.). I liked it, and for me it echoes last year's free program.
by tass.ru
About Alena's triple axel
Inna Goncharenko: Don't forget that this is her first competitions of the season. It'll be necessary to take risks at the Russian Nationals. This is a wise and well-grounded decision, I think it's also the decision of the coaching staff. It didn't make me angry. She did not crawl off the ice, she had no noticeable failures. But at the same time, there was no feeling of great skating. When she skated the "Angel" short program last year, it was to tears. Now it's not.
by iz.ru
About technique
Inna Goncharenko: There are moments in the technique of Trusova and Kostornaia, which already come from Zhenya Plushenko. More accurate entry on the lutz, not due to the back and arms, but due to twisting from the arc. On the other hand, Trusova seemed to me more sharp in the former group. There are pluses, there are minuses. Here you need to understand that the girls have matured, and the body is obviously changing. In such conditions, it is problematic to master the technique; you try at least to hold it.
I try to be objective about both coaching staffs. There was a lot of hype around the transfers, yes, it's terrible when athletes leave you like that. But let's face it: there were a lot of people who were expecting that Trusova and Kostornaia will fail. They say, there is only Tutberidze coaching staff, which works great, and there is no one else. But the Cup showed that the girls did not fail. Someone may like it or not, but there is an objective reality – Sasha wins with the most complicated content, Alena got everything together and skated both programs, she did not have any shortness of breath. Yes, Tutberidze's coaching staff is working great, but let's be honest – they are not the only one. And competition in this case is a good thing.
by Dmitry Kuznetsov for sport-express.ru
Related topics: Alena Kostornaia, Alexandra Trusova, Inna Goncharenko, Maiia Khromykh
3 Responses to "Inna Goncharenko: "Tutberidze's coaching staff is working great, but let's be honest – they are not the only one""