Inna Goncharenko: "No one knows how the pandemic will develop further. We did everything right holding the Russian Nationals"
Posted on 2020-12-24 • No comments yet
Inna Goncharenko about the intrigues of the Russian Nationals, Tuktamysheva's shape and Valieva's prospects.
source: Rustam Imamov for iz.ru dd. 23d December 2020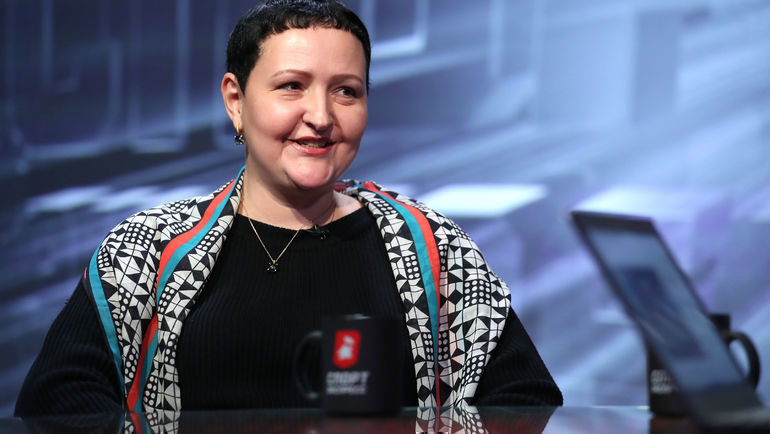 What are your main expectations from the National Championships?
Inna Goncharenko: The first thing I expect that all the athletes will reach Chelyabinsk and we will see them at the Russian Nationals. But in any case, even with losses, the competition will be very tough. This will be, perhaps, the most striking event of the entire sports season, because the European Championships has already been canceled, the World Championships is in question. Therefore, this is not just competitions, but a sports holiday. In the current realities, it is necessary for all specialists, spectators.
I am sure that we will see new achievements in terms of super difficult jumps, especially in ladies' single skating. I would like the boys to catch up with the girls and also make us happy. There is a very strong composition in pairs, one pair is better than the other – the battle will be very intense. In ice dance there is an understanding of who will be in the lead, but no one canceled the fight for the second and third places. So it will be serious.
In your opinion, was it right to refuse to postpone the Nationals to other dates, since the European Championships was canceled, and many skaters of the national team are still ill or were ill recently?
Inna Goncharenko: And when else to hold it? Now there is information that a new strain of coronavirus has been discovered in Britain, which is much more infectious. Therefore, refuse to postpone the Nationals is the right decision. No one knows how the pandemic will develop further. There's no guarantee that by the next dates of the hypothetically postponed Russian Nationals, even more athletes will not get sick. We did everything absolutely right, we live in such a reality, you need to understand this.
At the same time, the Russian Nationals have a clear practical task – selection for the World Championships. Evaluate the adequacy of holding it now, given that World Championships, if it takes place, will be not earlier than in three months?
Inna Goncharenko: These competitions are always held on the current dates. The World Championship takes place every year three months after the Nationals. It did not suddenly happen this year. Nothing new, the dates have already been tested and they are real. Whatever one may say, the New Year brings albeit a small, but inevitable break in training work. After that, recovery is required, and preparation for the Worlds is always very thorough.
And besides, now there is a coronavirus pandemic, but athletes also had got sick before. There were withdrawals, participation in a non-optimal shape. Nothing can be done about this, if we adapt to everyone, we will move something somewhere every year, and still we will not find the perfect dates. So here everything comes down to luck. Moreover, if an emergency situation occurs, an additional chance is always given to qualify through the Russian Cup final. We all remember the story with Zhenya Medvedeva, when the decision to include her into the national team was made by the coaching council. I think that everything will be decided according to the situation.
That is, this year, a scenario with an additional selection for the World Championships through the Russian Cup final is possible?
Inna Goncharenko: It's always possible, we have a coaching council for this. To make the necessary adjustments and decisions in extraordinary situations for the benefit of the athletes and the national team. The most important thing is that the strongest team goes to the World Championships. Everyone is interested in this, our task is to represent the country at the highest level successfully.
Considering all the difficulties faced by our skaters, the current shape, who would you call the favorite to win in ladies' single skating?
Inna Goncharenko: We have several favorites. Of course, this is Anya Shcherbakova. Of course – Liza Tuktamysheva, Sasha Trusova. Initially, I did not discount Alena Kostornaia either, but, unfortunately, she withdrew from the competitions. First of all, I single out this trinity. There is also a new contender – Kamila Valieva. She impressed and charmed everyone so much that she could claim for gold, despite her young age. But there is always a factor of unpredictability, that's the beauty of the sport.
But you need to take into account the factor of the disease, which the same Shcherbakova and Tuktamysheva faced. Elizaveta started training less than a week ago. Is it really possible to prepare for the Nationals in such amount of time?
Inna Goncharenko: She got sick at her peak shape, almost right after competitions. We saw that she was very well prepared. Liza is an experienced athlete, so there are always chances. Moreover, a skater with such a good base and many years of experience. Everything is possible. Of course, it will not be easy, but every year something appears. No one is safe, you can catch another disease if not covid.
Tuktamysheva at 24 is the oldest figure skater in ladies' single skating. Does this indicate that the sport has become much younger?
Inna Goncharenko: It only shows that Russian figure skating is multifaceted. It shows that there are many athletes of different ages and this is a very strong, developed sport in our country.
Anna Shcherbakova said in a recent interview that she would have gone to the Russian Nationals in any condition. She couldn't afford to miss this competitions. Is this the right approach?
Inna Goncharenko: Of course. She is an athlete, this is her life. Situations can be different, and you need to be able to perform in all circumstances. Everything is very relative – an athlete can be one hundred percent ready, but fail at competitions. Or he can be not in a perfect shape, but give the best skate in his life. Waiting for your peak and going to competitions only at that moment is a stupid tactic.
Trusova failed the last competitions. Will this be additional motivation for her?
Inna Goncharenko: When I look at Sasha, I get the feeling that she always wants to prove something to someone. So I want to wish her to stop doing that. There's no need to prove anything to anyone. She can skate very well, she needs to perform without excessive pressure, without the need to live up to someone's expectations. Just skate for herself, perform the way she can. A skater is 90% an artist. Therefore, she needs to let go of the situation, and everything will work out.
Kamila Valieva is one of the main favorites, while she cannot claim to be included into the national team. How logical is the decision to allow juniors to compete at the senior Nationals, especially taking into account the possible change of the age minimum?
Inna Goncharenko: I do not want to run ahead, let's talk specifically about Kamila Valieva. There is a current season, this competitions. In my opinion, the situation is completely ok and right. Kamila Valieva is a contender for the Olympics. If any changes take place, they will be adopted after the Games. And even if before, then those who have already moved to seniors will not be touched. At least I really hope so.
Kamila has practically no experience in senior competitions, and athletes need to be prepared for the Olympic Games in advance. Therefore, the leadership of the federation, having such an athlete and perfectly understanding all her prospects, rightly believes that she needs to try herself in seniors. The best workout is competitions. And participation in a major competitions is the best workout ever. This is an experience, and now any experience will be invaluable to her.
That is, she is gradually preparing for the Olympics?
Inna Goncharenko: All athletes are preparing. And she too. In the case of Kamila Valieva, we are talking about a unique figure skater who, with a coincidence of all circumstances, will claim not just for a trip to China, but for the highest places. This is a special person with a unique jumping technique and expressive skating. And unique people require a special attitude.
Related topics: Alexandra Trusova, Anna Shcherbakova, Elizaveta Tuktamysheva, Inna Goncharenko, Kamila Valieva, Russian Nationals