Inna Goncharenko: At the European Championships the competition will be only between our three girls
Posted on 2020-01-15 • No comments yet
Inna Goncharenko about perspectives of Russian single skaters at the upcoming European Championships 2020.
by Anatoli Samokhvalov for rsport.ria.ru dd. 14th January 2020
Inna Goncharenko: At the European Championships, I would like to wish our boys consistency, which they lack. Perhaps, with the participation of a debutant (Artur Danielian), the era of stability in our men's skating will come? … Of course, I doubt it, but you never know. With a clean performance Danielian is able to win a medal in Graz.
Sasha Samarin declares a very difficult content – combination with quadruple lutz, quadruple flip right after that. Consistency suffers from this. And not because "physics" does not allow him, it is not a matter of preparation, it's difficult for him because these elements are placed to close.
Samarin's content needs to be reviewed a bit, both in a short and free program. I would reviewed the order of his elements towards a more real option, in order to rely on clean skate. This is my personal opinion, of course, he and his coach will decide for themselves how they need to do.
In ladies' skating, the competition, of course, will be only between our three girls, and they can place in any order. I give preference to Kostornaia because of her skating and beauty. This is my personal perception. Although in a free program at the Russian Nationals, Shcherbakova just won me over. Of course, Trusova did well, but I'm talking about my preferences.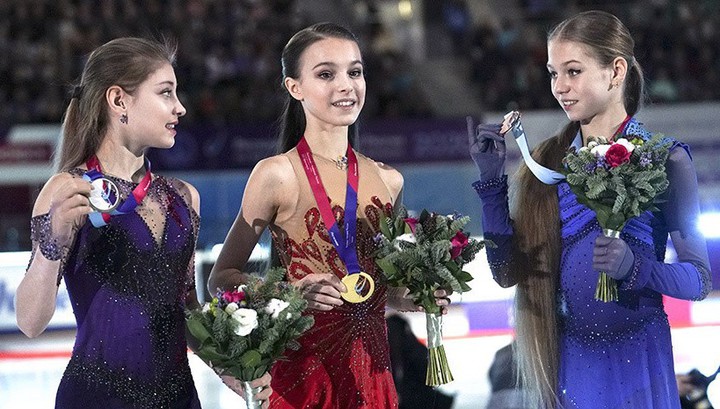 Goncharenko agrees that the fate of the gold medal depends on the cleanliness of Trusova's skating.
Inna Goncharenko: Yes, the result of the free program depends on it. I think that Kostornaia will take the lead in the short program, because she has a very beautiful program and a triple axel, but if Sasha (Trusova) does everything she pans, it will be impossible to beat her.
About Kostornaia's quad salchow
Inna Goncharenko: The question is – how reasonable is it right now? If she adds a quadruple in the near future and starts this jumping race, then, of course, Alena's program will lose in the presentation. At the moment, I see no reason to do this.
If Kostornaia skates her programs perfectly, then she looks advantageous. True, at the Russian Nationals, I think, she didn't perform cleanly. She was trembling on landings. I know what kind of energy she can give, but there she held herself, and this was evident. When she is nervous, she restrains her emotions, which is why a couple of landings were not the most "+GOE" ones. In my opinion, Alena should start working on quads after the summer training camp, and now she needs to skate her programs to the maximum, achieve high components scores, it will be better.
Related topics: Alena Kostornaia, Alexander Samarin, Alexandra Trusova, Anna Shcherbakova, Artur Danielian, Inna Goncharenko