Inna Goncharenko: "Accepting the new age minimums, ISU needs to think what to do with junior sports and how to develop it"
Posted on 2020-12-09 • No comments yet
Interview with Russian coach Inna Goncharenko. About increasing the age minimum in figure skating and the necessary reforms at the junior level.
source: Elena Vaitsekhovaskaya for russia.rt.com dd. 5th December 2020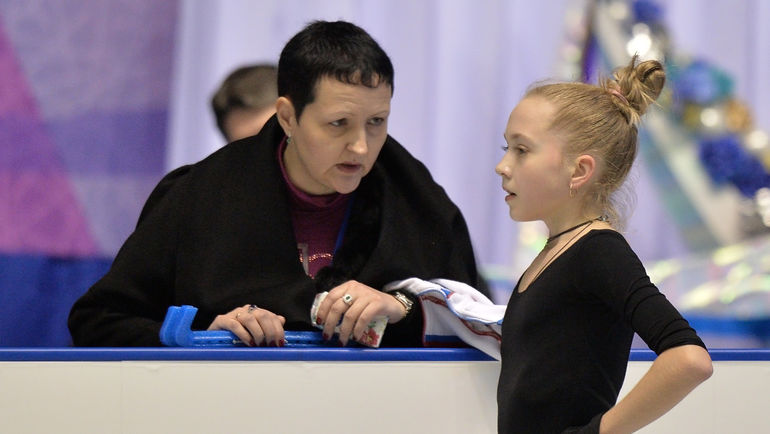 Most of the comments boils down to the fact that ladies' single skating will collapse in terms of further progress if the age minimum for the senior level is raised by two years.
Inna Goncharenko: No collapse will happen, even if it happens, I'm sure. Sports are very flexible and figure skating will definitely adapt to any rule changes. Juniors will not go anywhere and at their junior level they will hold the line the same way they do it now. Progress cannot be stopped, especially if it has already gained momentum. If someone hopes that raising age will prevent girls from learning multi-turn jumps, then I want to say: this will not happen, the process has already started and cannot be stopped.
Besides, there is Elizaveta Tuktamysheva, who mastered the quadruple jump in adulthood.
Inna Goncharenko: Liza gave an example to all those who follow her. I think, she will greatly inspire many people, will give them confidence.
All innovations are always hard. For example, I have a question: let's say the ISU will really accept the new age minimums, what to do with those 15-year-old athletes who are already in the top? Make them wait two years? 17 years is the age when an athlete graduates from school and begins to think about his future life. This is always a difficult period, and not only for Russian figure skaters.
Do you want to say that at 15 they don't think about it?
Inna Goncharenko: Not so much. Especially if they have already achieved high results, which in one way or another facilitate the choice of a further profession.But if the athlete is 17 and do not have great success, there is a great risk that he will decide to study instead of skating at the rink. The requirements for applicants are constantly increasing in the top universities, the number of budget places is decreasing, so it is necessary to devote more time to classes with a teacher, to learn foreign languages. If you don't enter the university in time – the Unified State Exam will be no longer valid and you will have to prepare again for the exams. Any coach who works with 17-year-olds knows that the moment comes and the group begins to "float away". On the other hand, if a person fanatically loves figure skating, he will not go anywhere: he will continue to skate at both 17 and 18. Why, by the way, are we talking only about ladies' single skating?
Because in ice dance, the requirements for the expressiveness of skating, the ability to convey deep feelings on the ice are incredibly high. Agree that at the age of 15, an athlete simply does not have such a skill.
Inna Goncharenko: And what about pair skating?
Figure skating has already gone through the experience of Stanislav Zhuk, who had lots of pairs with 14-year-old partners. Marina Cherkasova – Sergei Shakhrai, Marina Pestova – Stanislav Leonovich, Veronika Pershina – Marat Akbarov …
Inna Goncharenko: I agree. All these duets were really very similar to each other. Even quadruple twists did not help. But I still think that Russian ladies' skating will withstand these innovations. Although I cannot say that I am delighted with the proposal to raise the age.
Why?
Inna Goncharenko: I don't know how to formulate it more precisely. You can always see when a small child really strives for a result. At the junior level there are just few interesting top competitions. World Championship, Grand Prix – and that's it. There are a certain number of good series B events, but, for example, with Lena Radionova, we went to such a competitions only once. Either these competitions were at the same time with the Russian ones, or it was too expensive – I don't remember. After all, among the other things, you have to pay an entry fee that is not refundable. Not all schools can pay it, not all parents.
If ISU stands on the idea that age needs to be raised, then it is necessary to think what to do with junior sports, how to develop it. "Junior" is of little interest to anyone in principle. When you switch to the senior level, you get in a completely different atmosphere. There is different organization, different interest of the public, press, sponsors. Everything is different.
And it is already clear that many people – from the world of figure skating as well – do not want to see juniors at the world championships.
Inna Goncharenko: Exactly. You think juniors don't feel that there's no much interest about them? They feel. Therefore, in adolescence, it is so easy to make the decision to leave the sport. Last season, we all admired the skating of Alena Kostornaia, Sasha Trusova, Anya Shcherbakova, before that – Zhenya Medvedeva, and before her – Yulia Lipnitskaya. But if the age is raised, all this skating will be where few people, except specialists, pay interest to it. So, in any case, ISU will have to think how to attract maximum attention to junior sports, how to keep talented juniors for big sports, and not to encourage them to become architects or IT specialists at the age of 17. This is a big problem, in my opinion, and not only Russian. And you need to start solving it now.
Do you agree that the desire of some countries to increase the age is directed against our country?
Inna Goncharenko: On this topic, I also have a question: when Russian ladies' single skating was in a very modest state, no one cared at all about the age of the skaters. Why? And as soon as Tuktamysheva, Adelina Sotnikova, and after them Lena Radionova appeared, everyone immediately became very worried about this. I can say that I am generally a conservative when it comes to rules. I believe that you need to defend your interests. Attract public opinion, press. Do something. ISU justifies constant changes by the desire to make it interesting for people. But this is not so. In fact, people do not even have time to get used to some changes, and they are already being offered the next innovation. This certainly does not attract the audience to the stands. And I do not like it.
Related topics: Inna Goncharenko