"I won't say that it's the coaches fault – the girls themselves put the cart before the horse, because of this competition" choreographer Alexei Zheleznyakov about Daria Usacheva's injury
Posted on 2021-11-12 • 2 comments
The choreographer of the Eteri Tutberidze group, Alexei Zheleznyakov, about the condition of Daria Usacheva, who got injured before the short program at the Japanese Grand Prix, and also shared his opinion on her future prospects.
source: matchtv.ru dd. 12th November, 2021 by Elina Konovalova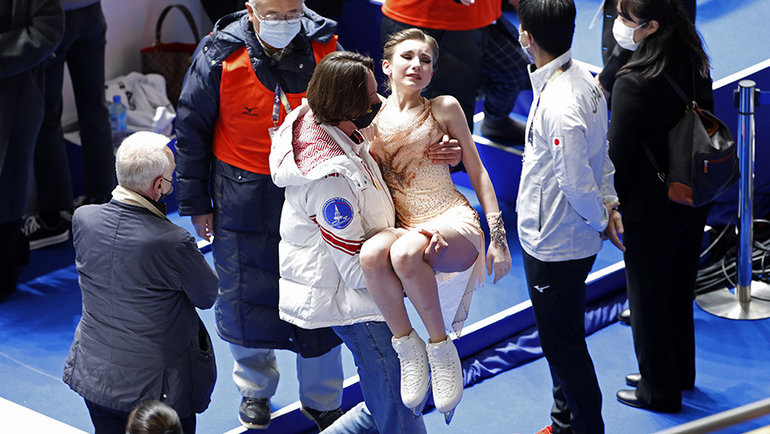 How is Daria feeling? Have you noticed any problems in training?
Alexei Zheleznyakov: I can't answer you how Dasha feels, because I'm not in Japan now, but I think that she feels depressed. How could it be otherwise? She flew to Japan for a serious competitions, and such happened. This is sport, what can you do, injuries happen in training too, anything can happen in our difficult sport – the ice is slippery, as they say.
In my classes, I did not notice any problems, there were no questions, Daria trained, danced, everything was fine. I think that now the girls are undergoing a nervous strain, tough competition, they are trying, rushing forward. Even the coach sometimes cannot stop them, because they have to work – the Olympics are soon, everyone wants to "shoot". It is very dangerous when such things happen.
A break down, albeit temporary, of almost half of our candidates for the Olympics – is what we should fear regarding the Olympic prospects?
Alexei Zheleznyakov: We need to be afraid of injuries, girls need to take care of themselves, sometimes know when to stop. I will not say that it is the coaches fault – the girls themselves put the cart before the horse, because of this competition. Sport is impossible without injuries. Girls are already adults, and they need to understand when to stop, hold themselves back a little in terms of the training process. When there is a feeling that the muscles are too tired, you need to warn the coach, he is not a telepathic person.
Related topics: Alexei Zheleznyakov, Daria Usacheva
2 Responses to ""I won't say that it's the coaches fault – the girls themselves put the cart before the horse, because of this competition" choreographer Alexei Zheleznyakov about Daria Usacheva's injury"