"I wasn't able to fall in love with ice dance. I couldn't jump there." The story of Alena Kanysheva who trained with Tutberidze, had to switch to ice dance because of injury and retired at the age of 17
Posted on 2022-07-06 • No comments yet
Interview with Alena Kanysheva who trained with Eteri Tutberidze, won bronze of the 2018 Junior Grand Priz Fianl then switched to ice dance and retired.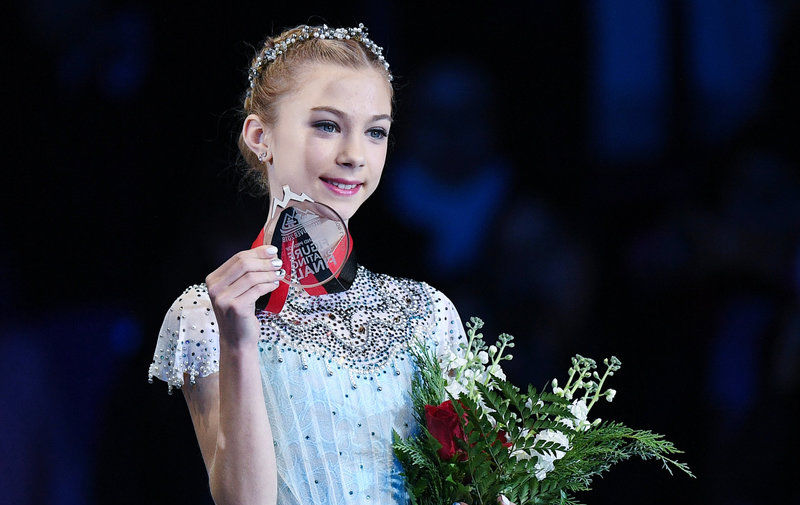 source: matchtv.ru dd. 29th June by Marina Tchernysheva-Melnik
During her short career, Alena Kanysheva managed to win solid titles at international competitions, learn the quadruple jump in the group of Eteri Tutberidze, then switch to ice dance and find a new life calling.
Figure skating fans remember her as the fragile "Snegurochka" – this program has become Kanysheva's visiting card and a symbol of her most successful season. The girl is only 17 years old, and she is already coaching. Alas, the continuation of her career as an ice dancer did not happen, and Alena made an important decision in time.
For the first time since retiring from sports, Kanysheva talks in detail about the emotions of ice dance on ice, why she never managed to fall in love with this discipline, how she lives now and for what she appreciates the Olympic champion Anna Shcherbakova most of all.
Do I understand correctly that you made the final decision to retire at the end of last year?
Alena Kanysheva: Yes, it happened in December. After returning from the Denis Ten Memorial, my last competitions, our skating rink was on quarantine due to the pandemic. Two weeks later I returned to the ice, but almost immediately got sick.
There was time to think at home. You know, skating for ten years in singles, then forced to switch to ice dance and to fall in love with this business in two years … It turned out to be difficult for me. Still, I was the bronze medalist of the Junior Grand Prix Final, I had a certain status, and now everything is all over again. Ice dance already has its own champions, it was difficult for me and Andryusha (Andrei Pylin – Alena's partner in ice dance) to accept all this. Although we worked hard, we tried. But it was extremely difficult to catch up.
When I talked with your first ice dance coach, Maria Borovikova, she made an interesting observation: that you remained a single skater at heart, you miss jumps. This is the impression she got from her work. Is Maria right?
Alena Kanysheva: Yes, I wasn't able to fall in love with ice dance with all my heart, in order to give it all my energy and continue to skate. It was rather a forced measure, which I sincerely tried to accept. But it didn't work out.
I can't say that I didn't like ice dance. But it seemed strange to me: why can't I jump on the ice?! I could not get used to it and even went to public skating rinks just to jump from time to time.
Why didn't ice dance impress you? Indeed, there are more variations of elements, lifts, chemistry between partners, a lot of dance rhythms … And the competition is not so crazy, the career is longer.
Alena Kanysheva: For me, the most difficult thing is lifts. I did not understand how to perform them organically, and often made mistakes. Andryusha already had experience with other girls and tried to help me master everything. We learned the simplest lifts and transferred them to the ice. And yet this element remains the most difficult for me.
It only seems to the viewer that the boy is carrying the girl in his arms and she is cool. But the girl also strains at this moment to help her partner! And the twizzles were the easiest for me, oddly enough. Many dancers consider them the most difficult, but I fell madly in love with twizzles.
Maybe because it's some kind of a reference to single skating? After all, you perform twizzles a little away from your partner, albeit synchronously.
Alena Kanysheva: When Andryusha didn't train due to illness, I worked on everything alone, and succeeded. Everyone asked the same question: "Well, why can't you skate with Andrey like that?"
For other girls from the group, on the contrary, it's a torture when a partner is absent. They feel inferior, many skills slip away. And I was comfortable skating alone. So, yes, there is something about the twizzles.
I had a question prepared: how soon did you start feeling the harmony of performing in a duet after ten years of single skating? But, judging by your story, you haven't used to it …
Alena Kanysheva: It's all about the jumps. They are the reason why I started skating. Having lost the opportunity to jump, I lost the inspiration.
Does your story include such a banal reason as a late switching to ice dance?
Alena Kanysheva: Hardly. You can learn and grow in any conditions when there's a great desire that moves you. The coaches felt that I lacked inspiration, and often discussed this point with me. I denied the obvious for a long time: I said that I love ice dance. Rather, I tried to make myself to believe it. But I should have formulate long ago, clearly and honestly: I like to skate, but alone and with jumps.
Did Andrei Pylin stay in sports after your retirment?
Alena Kanysheva: Yes, he found a new partner Varvara Zhdanova and has already made his debut with her at the end of the season. The guys won the competitions – I'm very happy for them!
There was a moment when Andrei and I stopped communicating. Still, it wasn't nice towards him, ending my career in the middle of the season. He is not to blame for my inner experiences. Later we normalized our relationship, now we communicate. Let Andryusha succeed in sports!
Let's jump back into 2020 and analyze your dance seasons. You managed to perform at the "Southern Breeze" competition. Why failures happened there?
Alena Kanysheva: Everything fell apart from the first twizzle. Then I began to worry about the first lift, which we had just learned and did not have time to train much. As a result, we did it, but the nerves made themselves felt: I failed the lift, which I had always performed correctly before. I fell and the first thought in my head: "What a nightmare!"
As a result, Andrei injured his hand, and after that competitions we weren't able to perform until the end of the season. Plus, after arriving home, I got sick with coronavirus. Then we continued training, while I was studying at the same time. Soon another injury happen and I spent a month at home.
Did moving to the group of Ksenia Rumyantseva and Ekaterina Volobueva gave you a second wind?
Alena Kanysheva: At first I left, and Andrei remained in the group of Denis Eduardovich and Maria Valerievna. He paired up with another girl, as he urgently needed to get a sports category. I didn't know if my partner would join me. I just skated, regaining shape. Soon Andryusha came, and we continued to work together, prepared programs for the new season. First everything was fine. Of course, far from ideal, but with fresh emotions, we started to succeed.
Tell us about your programs, the last ones for you.
Alena Kanysheva: Free dance was to the "The Umbrellas of Cherbourg". I remember when I told my mother that I would skate to this music, she was happy (smiles). It turns out that my mother has long dreamed of seeing me in this image, she loves this movie and the famous love story.
As for rhythmic dance, the coaches offered a choice of two options – hip-hop or disco. We thought that many people would take hip-hop, and we decided to take disco. It turned out bright and extraordinary: shorts with sequins, jacket with sequins … It was funny when the guys were on the ice in their outfits for hip-hop, and we were all so shiny!
At the Moscow championship, you skated without big mistakes and took 15th place. How do you think why?
Alena Kanysheva: We performed well, but far from ideal. Still, we hadn't gone such a path together to get used and start to feel each other. The judges understood this, so the scores were appropriate. The skaters who ranked higher were stronger and more experienced. Everything is fair.
Did winning the Ice Star somehow motivate you?
Alena Kanysheva: Oh, there were only two duets in our category, so we can hardly consider bright such a victory. Initially, we did not go for a medal, but to show ourselves to the judges, to learn how to perform, to train programs. Of course, it's nice that the rhythmic dance turned out to be the best performance of the season. And so I do not attach much importance to this event.
What happened at the Denis Ten Memorial? You fell three times in a row…
Alena Kanysheva: It seemed to me that tape got under the skate, because it began to fly off my leg. Perhaps a psychological factor also played a role. I was madly upset after an unsuccessful performance, blaming myself. And this is performance became the last one for us. You could say it was the beginning of the end.
You decided to speak frankly about the end of your career and your emotions six months after. Was it a process of accepting the situation?
Alena Kanysheva: Of course, it is difficult to accept the end of a long journey, a huge work. But I reasoned objectively, starting from my moral state – I could no longer continue. I even had hysterics and screamed that I couldn't go on the ice, otherwise I would burst into tears. Can you imagine what state I got to?
Mom understood where everything was going long time ago, so she just reconciled when, she was the first person I told frankly about it. It was harder for my dad. He found out about my decision only a week after I said goodbye to the coaches. After all, for many years he did everything for me to skate. He was offended that so much effort and money had been invested, and the sport ended abruptly.
What helped you psychologically?
Alena Kanysheva: Support of the loved ones and work, which I quickly got involved in. It gave and continues to give me great pleasure. I love children and coaching them is very cool! I was also motivated by books about psychology and philosophy of happiness. I read a few in my first difficult period (when I had to leave single skating), and now, as an adult, I re-read some. I like to learn examples of building a happy life. This is both interesting and helps to set yourself up to the positive.
How and when did your coaching career start?
Alena Kanysheva: I was helped by an old friend Sofya Marchenko, who works in the group of Ksenia Gennadievna and at the same time works in the Figure Skating League. The last thing I wanted to do was sitting at home after leaving the sport. It was necessary to do something, so I immediately asked: can I come to learn how to coach? They told me: "Yes." In the end, I tried, showed my skills, and they took me to the League.
There is a wonderful team here: Maxim Viktorovich Marinin, Maxim Igorevich Zavozin (he used to be my coach), Vilena Vladimirovna Zavozina, Emir Knyazev, Artur Biktimirov. I do not consider myself a full-fledged coach yet. They give me kids, and I learn my craft in their company, I am extremely happy with their results.
How often do you train?
Alena Kanysheva: I have a full-time working week – from Monday to Saturday. We start at 4 pm and finish at 9 pm, because in the morning kids are at school, and I am still studying. And now we are at the training camp, kids are on vacations so we're working more.
Tell about your students. What have you been able to teach kids?
Alena Kanysheva: They are 7-11 years old, they compete at the championships. One girl from the League branch even goes to city competitions.
I can't say that I teach anything specific. Rather, I help experienced coaches – most of all with spins. After all, I can show them myself, and explain with words.
For the six months that I have been working here, the progress of the kids can already be seen. Probably, it is a little easier for children to hear me thanks to a small difference in age: I'm not quite an adult myself yet. By the way, now I'm trying to create a program for one girl.
Have you decided to dedicate yourself to coaching? Or is it still a hobby and income?
Alena Kanysheva: From the age of seven I began to dream of this profession, and I still have this dream. I have a year left at school, and next summer I will enter university to study to be a coach. I will get a second higher education, but have not yet chosen an additional profession.In the future I really want to raise champions from small children who have barely started skating.
Have you thought about skating in shows while your age allows?
Alena Kanysheva: Yes, I wanted to and spoke with Maxim Marinin on this matter. Alas, an injury from single skating makes itself felt: when I jump for two hours in a row, the next day the pain is simply unbearable.
Do you follow the competitions? Who do you like?
Alena Kanysheva: Yes, I watch it from time to time and admire everyone. Of course, all our girls were impressive at the Olympic Games. I am happy for the new champions, and, of course, sad for certain moments. I rooted for each of the girls at this Olympics.
I don't follow the ice dancers much – I only watch global competitions, where fate is decided, and sometimes some individual programs. Since childhood, I loved the duet of Alexandra Stepanova and Ivan Bukin, and still like them.
You once trained with one of our main stars Anna Shcherbakova in the group of Oksana Bulycheva. Tell us how you remember the future Olympic champion.
Alena Kanysheva: I don't think Anya has changed at all. She has always been kind and friendly. Now I see that she has remained the same.
Who are your sports friends?
Alena Kanysheva: I have rather acquaintances with whom we communicate sometimes. These are Anya Shcherbakova, Dasha Usacheva, Sonya Akatieva and some other guys. The closest people are Gosha Kunitsa, Nika Egadze and the guys from my last dance group.
Do you rewatch your performances?
Alena Kanysheva: Yes, I often show our students some fragments as an example. Let's say spins and an edge on a lutz, which I've always had good. I watch it sometimes, just to be nostalgic. Mostly single programs: there are still more of them than from ice dance, and I like to admire myself as a single skater.
What has every coach you've trained with given you?
Alena Kanysheva: I'll start from the beginning. Nelli Nikolaevna Kafiskina taught me how to skate. She gave me the basics and always called me a deer. This cute nickname stuck with me (smiles).
Thanks to Nelli Nikolaevna and the next coach – Sergei Sergeevich Roslyakov – I fell in love with our wonderful sport.
Then Oksana Mikhailovna Bulycheva, who taught me double jumps and a triple toe loop, under her guidance I received the first youth sports category.
Then I went to Svetlana Vladimirovna Panova. She became a second mother to me. The most memorable coach, because in four years I have progressed. Starting from the second sports category and ending with the Grand Prix Final … We went through all this together, so I love Svetlana Vladimirovna madly and am grateful to her.
Then Eteri Georgievna Tutberidze: I associate with her the cherished quadruple jump, useful advice. Various specialists and members of the federation often came to the skating rink. They paid a lot of attention to me – it was a wonderful experience.
Denis Eduardovich Samokhin and Maria Valerievna Borovikova were my first dance teachers. They taught me the basics of working in a pair. I remember how at the first training session I was confused and asked: "What should I do? Should I hold someone's hand? Why?!" The coaches changed my gliding technique and brough me to the first competitions, gave a lot of new knowledge and emotions.
Then the group of Ksenia Gennadievna Rumyantseva. All the coaches of this group are people of the kindest soul. They supported me at every stage, in any situation, and it was a big step in development.
Can you remember the most valuable advice from coaches that motivated you at the right time?
Alena Kanysheva: Svetlana Vladimirovna [Panova] always said: "There is nothing to be afraid of! You know how, worked in training. Just perform, enjoy and show yourself! You can do everything".
As a result, whenever it was necessary to show my maximum, I knew how to get ready. In training, something might not work out, but in public at the decisive moment I set myself up. This is a great merit of the coach, my second mother. I really appreciate her every advice and today I often speak her words with my students.
Related topics: Alena Kanysheva