"I dream of returning home and training on the home rink." How Ukrainian figure skating survives during the war.
Posted on 2022-12-20 • No comments yet
Translation of the article about how Ukrainian figure skating survives during the war.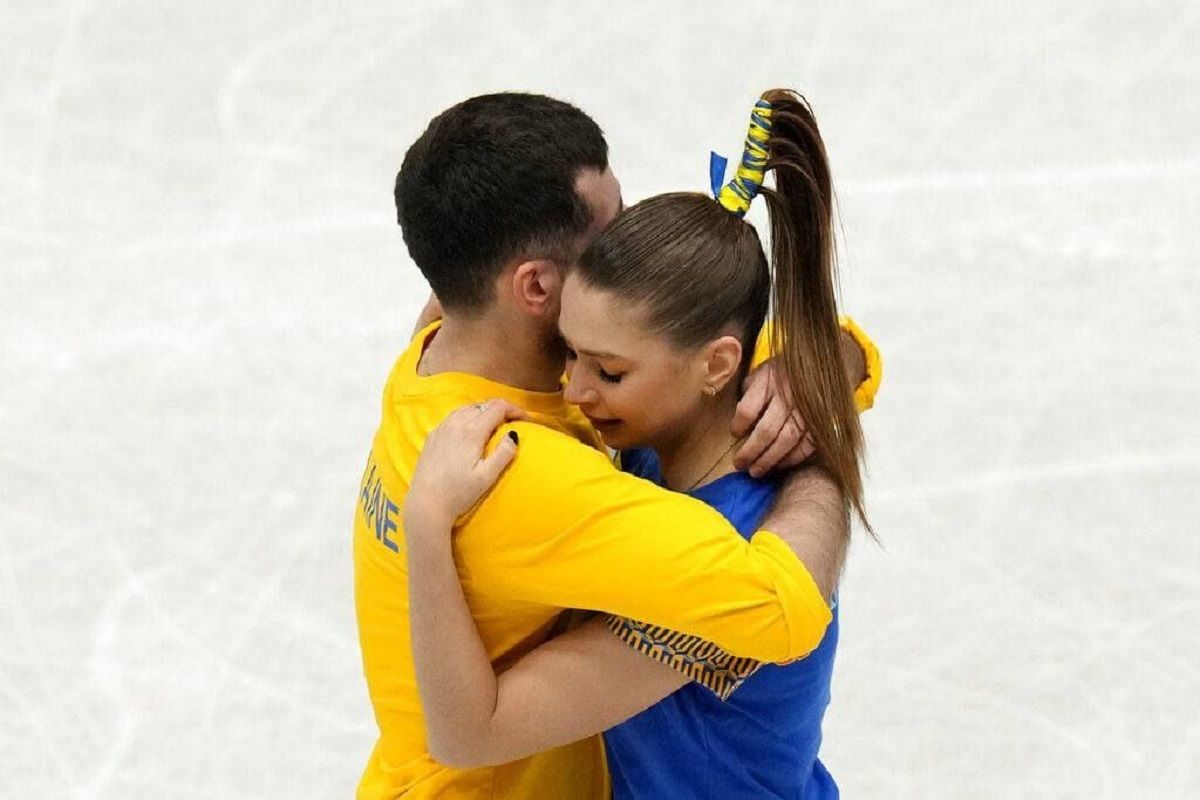 source: skateukraine.org dd. 19th December 2022 by Vlada Kovalenko
What will you tell a foreigner about Ukrainian sports if they ask? Football? Boxing? Tennis? If you ask a person who doesn't follow sport closely to name a famous Ukrainian figure skater, they will either not know or will think for a long time. Because little is written and spoken about it. In addition, due to the invasion of the Russian Federation into Ukraine, figure skating suffered a lot, and athletes fight every day to ensure that this sport does not disappear from our country.
Ukrainian figure skating owes its beginnings to Oksana Baiul, an outstanding figure skater who became the champion in 1993 in Prague, and a year later won gold, representing an already independent Ukraine.
Maryna Braevska "Mama"
She did not want to show her face, and she also changed her name for the safety of her mother.
She is a figure skater and Winter Olympic Games participant who currently coaches in Bila Tserkva. Due to a spinal injury that manifested itself in full force after giving birth, doctors forbade her to go on the ice. "Coaching is my salvation," Marina often repeats in conversation. She ran away from the war in 2014—from occupied Horlivka, she went to visit friends in Bila Tserkva and stayed there. She did not leave the second time; she said that she would never leave her home again.
"Whatever happened to me, I always knew that there was ice and figure skating. "I may be without a home, but I will not be without skates," Marina expresses sincerely.
She remembers how she came to Bila Tserkva. She says that she went on the ice and cried. She understood that there would be no other life, but there is a cold that hits her cheeks.
"I train small children… Everyone has left, all of them. No one of the children comes to my classes. I am not closing the club; I agreed to a partial payment of the rent of the dressing room and office. I will wait for my students to return. Now I'm a volunteer. I coordinate the search for wounded fighters—professional athletes—in rehabilitation centers. Do you know how many dead athletes we have? And I know."
With the beginning of a full-scale war, the figure skating classes, at least in the Kyiv region, were not fully restored. The Ministry of Defense recommended not taking children out for training for their safety. Many coaches work for those who stayed and even travel internationally to compete.
"Mother, because I love my students immensely, but I also keep them in good shape," the woman concludes.
Changes have also occurred in the national team.Russian Anastasia Shabotova was excluded from the Ukrainian figure skating team. The pair who competed in ice dance – Oleksandra Nazarova and Maksim Nikitin, ended their sports careers in March 2022.
In July, the vice-president of the Ukrainian Figure Skating Federation, Viktor Petrenko, was also dismissed because of his performance in an ice show in the Russian Federation after the Russian invasion of Ukraine.
Back in April, the Ministry of Youth and Sports of Ukraine approved the composition of the national teams for winter Olympic sports for 2022–2023. The main figure skating team consists of 15 athletes. We do not have the right to publish their list under the conditions of martial law.
We managed to talk personally with two representatives of the Ukrainian national figure skating team.
Artem Darenskyi – pair skater
"Everything started like it did for everyone else—we woke up from the explosions. "Then we saw rockets and heard explosions again," the figure skater recalls. "I live near the airport, so… We were at home for a month, then we went to Montpellier for the World Championships; later, we moved to Poland to the city of Torun, where we were provided with ice and accommodation."
The athlete talks about the conditions he and his partner Sofia Golichenko currently have to work in:
"And after two months, we returned to Dnipro and skated at home. Well, we tried to do it as best we could. Due to the constant air raids, full-fledged training is impossible; it is interrupted. We had to leave the ice. We also did not have the usual training camp. Well, you can say we also almost didn't have training."
Artem speaks about the performance that took place in Germany in September. He says that he is not satisfied with his work on the ice, but such results are quite expected since there was no proper preparation.
"The national team changed, our ice dance duet ended its career," the athlete continues. "Now only Ivan Shmuratko remains in the senior team—the "single skater," me, and Sonya."
Artem says that now they are training as hard as they can. Problems were added when the electricity began to disappear. Competitions are not planned yet. The figure skater hopes that next year he and his partner will go to the European Championships.
Ivan Shmuratko
Ukraine's national champion in single skating
"Life has changed radically. I haven't been at home since March," says Ivan Shmuratko, a Ukrainian figure skater who competes in men's singles, is the champion of Ukraine, a silver medalist at the 2016 Youth Olympic Games, and a participant in the Winter Olympic Games in Beijing.
"I went to the World Championships in France, and since then I've been looking for a place where I can train. I was in Germany. I trained in Italy for two and a half weeks, and the rest of the time I traveled to competitions. I am currently in France at a training base."
"By the way, my first competition was in Oberstdorf, where I trained for four months. Feelings are… how to say… close to home. I decided to do everything possible to feel at home at international competitions as I feel at home in Kyiv."
Ivan says that he is looking for conditions and information to develop his potential and calls the current work with his coach a collaboration. They both want to avoid the concept of "superiority" of the coach over the athlete. When asked what is going on with his club in Ukraine now, he answers that people are "living" and training as best they can.
"I dream of returning home and training on the home rink. To raise the level of figure skating in Ukraine, which my colleagues and I are doing now, every day, with joint efforts. I plan to open a new rink after the reconstruction of the destroyed ones in a few years, which will create better conditions for figure skating, both for the national team and for children. It is necessary to make sports popular. This is a dream that is gradually turning into plans and possibilities."
As one of the leaders of the national team, the figure skater is convinced that the development of figure skating in Ukraine will depend, in particular, on his work on the ice, and, aware of his responsibility, he does everything possible to preserve and develop the industry.
Finally, the athlete notes that everyone finds opportunities to realize their own potential and time to help each other and their country.
"A lot depends on Ukraine's financing and support—both domestic and international," Ivan Shmuratko believes.
Consequences of the Russian invasion for Ukrainian figure skating
General Secretary of the Ukrainian Figure Skating Federation Anastasia Makarova told how many ice rinks were damaged during the war:
"Before the start of the war, the main bases of preparation were Kyiv, Dnipro, Odesa, and Kharkiv. Ice rinks are currently working in Kyiv, Dnipro, and Odesa (non-standard). Unfortunately, for obvious reasons, there is currently no opportunity for training in Kharkiv. We can say that 60% of the ice rinks have been destroyed or are beyond repair," Ms. Anastasia summed up.
The Russian occupiers destroyed the Severodonetsk Ice Palace of Sports, which was opened on May 5, 1975. This was announced by the head of the Luhansk Regional Military Administration, Serhii Gaidai. The palace burned down due to shelling. Ice rinks in Kharkiv (Saltivskyi Lid and Icehole), Druzhkivka (Altair) and Mariupol were also damaged – Mariupol Ice Center was one of the last rinks built in Ukraine. It opened its doors to visitors on October 22, 2020.
Related topics: Alexandra Nazarova Maxim Nikitin, Ivan Shmuratko