"I believe that with such an injury it was possible to skate." Eteri Tutberidze about Alena Kostornaia
Posted on 2021-12-27 • 4 comments
Part of a big interview with Eteri Tutberidze. This one is about Alena Kostornaia.
Eteri Tutberidze believes that Alena Kostornaia could have trained and performed at Russian Nationals, despite the fracture of her hand.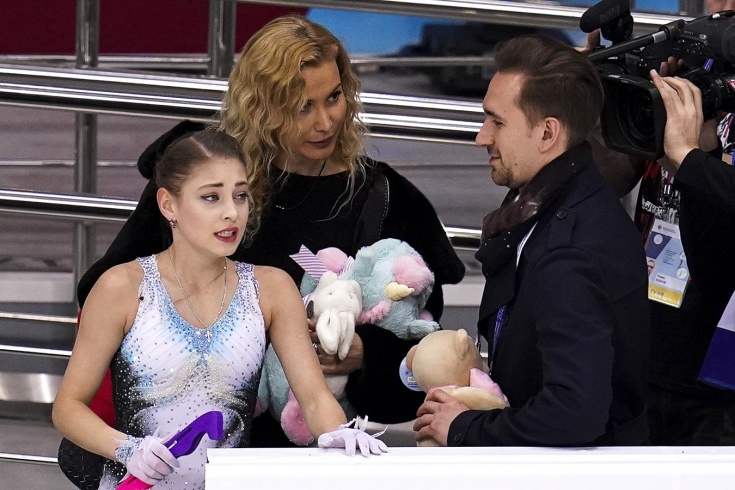 source: Channel one, text version sports.ru
Is it true that you forbade Kostornaia to talk about your injury?
Eteri Tutberidze: I don't know who forbade her to comment. I think, on the contrary, she could have told quite calmly that she fell, and she had a crack on the bone of some finger.
In general, here's such a situation. You can think of it in different ways – maybe some kind of cruelty or something else. But honestly, I believe that it was possible to try and skate with this injury. Because Evgenia Medvedeva skated with a plaster cast on her arm at the Russian Nationals and no one even knew about it. And she won that Russian Nationals perfectly.
Of course, there are some injuries incompatible with the continuation at the moment, when it is necessary to heal. And there are some injuries that athletes have been skating with for years. Moreover, it's Russian Nationals – selection to the Olympics. It seems to me that she should have trained, should have tried. But it's a shame. It seems to me that it was possible, maybe I'm wrong.
There is no formula for how to fulfill yourself a person. Maybe she, having missed all her opportunities in sports, will become super-famous and popular. I don't know. For everyone, there are different concepts of what is good and what is bad. It's a pity, because I believe that this is a missed opportunity. I believe that with such an injury it was possible to skate.
Related topics: Alena Kostornaia, Eteri Tutberidze
4 Responses to ""I believe that with such an injury it was possible to skate." Eteri Tutberidze about Alena Kostornaia"