Grand-prix Final 2017 review
Posted on 2017-12-12 • 8 comments
I love figure skating, but honestly, I had not a lot of enthusiasm to watch Grand Prix Final. Because of several reasons.
First, Grand prix series this season was so dramatic, so many injuries, so many withdrawals. I was scary to watch Final!
Second, as much as skaters love competing in Japan, that much I don't love watching it because of the time difference. I'm not a morning person)
Third, it's personalities who make skating exciting to watch, who motivate me to wake up early. A lot of skaters whom I like were in the Final but still someone was missed so terribly that I really thought that maybe I should take a pause in watching skating and switch to movies? I just had a new crush among actors)))
I didn't follow juniors closely this season, so briefly about them.
Great to see that junior pairs do triples. Not always turns out, but it's much better then before, when we had pairs with good pair elements and insecure doubles who had zero chances in seniors.
Australians looked the most mature, I'm still surprised that Russians gave them such a good girl!
I've heard so many positive feedback about junior ice dance. I watched…..and where? Either I understand nothing in ice dance or we have been watching completely different competitions)
Main impression – Anthony Ponomarenko's costume for the short dance. Oh honey….neckline deeper than Cizeron or Bukin has, pants – favorite design of Max Arron…I'm not sure that it's the best solution for Anthony's body type.
Junior men…..please tell me that some unpredictable results happened and some unexpected skaters happened to be in the final! Because if that's the best we have….well then in men's skating we have quite sad future.
Alexei Krasnozhon showed the most solid skating and took gold. Please show this guy  a dance class, he's young he still can improve.
Camden Pulkinen was rubbing salt in my wound. Seems he has watched all Patrick Chan's programs and tried to take as many moves as he could. Sorry Camde, you're a nice skater, but not Patrick, not even close)
Girls were great! All six! I don't even know what to add. And each has individuality! But still most of all I liked Alena Kostornaya, this girl has everything to become a star, if her jumps survive puberty.
That's all for juniors, let's move to seniors.
Japanese organizers started with men. Seemed that no one actually wanted those medals and guys competed who will make more mistakes(
I think Jason is a lucky person. He had almost no chances to get into the Final, then he got a chance…and lost it, but fate gave him another) For me it's always a pleasure to watch his skating, but if you don't have quads at least do your triples well. Love his short program, it's such a fun to watch. As for the free program….The strongest impression his FP left at some b-event and since then hasn't reached that level again….and obviously blue plush won't help to do that.
Adam is Adam and I don't know what else to say)
Sergei is 30, Sergei got into the Final, Sergei showed solid skating and took not the last palce. Wow. Well done Sergei!
Misha…Misha had a chance to place higher than third…gold was so close…Who would have thought? Yeah with current level of competitions in men's skating, for a Russian guy to take bronze is actually a success, but appetite comes with eating.
Shoma and what was that in the short program? Split? You know, men's rhythmic gymnastic isn't an Olympic sport yet) In the free program everyone tried to help you to win gold at home, even Nathan) But you decided to be a  gracious host.
In the short program Nathan was a bit nervous, but it added the program some charm, some nerve. Oh I really like it. So far it's my favorite male short program this season. FP doesn't turn out that well, with mistakes on jumps this is just an average program to the music which is much stronger then skater. And please do something with that sweat stains on his shirt.
This time Chinese Emperor and his Swan Princess didn't impress me much. This happened not because of mistakes, just they were a bit slow and skated too carefully.
But this time Tarasova – Morozov's short program finally made an impression. That was a powerful skate and the throw was just unreal! I wish only the music cut of Rachmaninov was more delicate. Their free program wasn't a choreo masterpiece from the beginning, but with mistakes it's just a horrible mess. Nothing can save or improve that program….I wanted to say, ok bring back some old FP but realized they actually have nothing to bring back(
Ksenia and Fedor in the short program looked gorgeous! But you can't win medals only because you look damn good. Unfortunately their skating is still inconsistent and it seems that Russian skating federation decided to make a bet on younger pair….This the only explanation I can think of when I see that Megan and Eric got higher PCS. I love Meagan and Eric, they strong technical skaters but PCS are not their strong side.
Has someone told Megan that gold costumes bring bad luck?) Or she's brave and not superstitious at all? Well, the dress is very lovely, but if I were her…I'd change the color. Taking account their performances at grand-prix I actually a bit surprised they managed to take bronze here.
I hoped to hear Hallelujah at the Final….what an irony. But I really want to say thank you for Sui and Han for such an amazing performance. Despite fall it was very sincere and emotional, it was their best performance of this program. Probably that's why I can't fully appreciate their free program, for me it less emotional, more standard and I really wanted them to have a more unique program that would really show why this pair is so special. I also thought that they're favorite to win the Olympics, but this competitions showed that actually the fight is real and there can be some surprises in pair skating.
I liked Aliona and Bruno's Flamenco in the short program. That was stylish, firy and complicated program. So I feel a bit sad that they decided to go back to last season's SP. But probably it was a wise decision.
Their free program was my moment of the whole Final. It was incredible! I even cried. Getting old … getting sentimental. I was so happy for Aliona! I don't know any other athlete who loves figure so much, who has so much desire to skate and compete! And well done Bruno, you did your best and didn't let down this amazing woman!
This time they showed ice dance not early in the morning? Not on Sunday before gala? I'm surprised….or is it some kind of catch?
I love Anna and Luca but this time they got lost a bit on the background of other pairs.
The main intrigue of the Final in ice dance for me was fight of US pairs. And they gave us some intrigue with Chock – Bates win the free dance, Shibs who lost it to everyone and Hubbell – Donohue who again lost bronze but keep the status of second US pair. More drama!
Watching the short dance, I suddenly realized that somehow undeservedly didn't pay attention at Chock-Bates' latina. Have they done any changes? Because this time I saw this and it was hard not to laugh: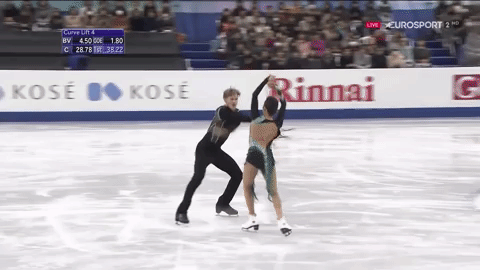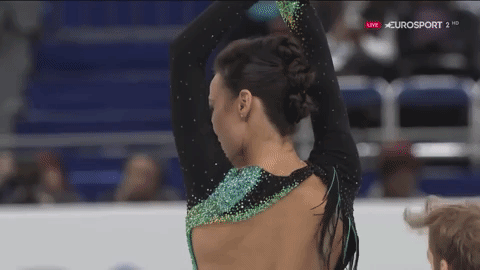 The free dance is lovely, but give it to the Shibs and bring back sexy Madison!
Every time watching Madison and Zach's FD, I have a feeling that I'm spying a couple that is about to start pulling off each other's clothes. It's feels awkward ….but danm hot.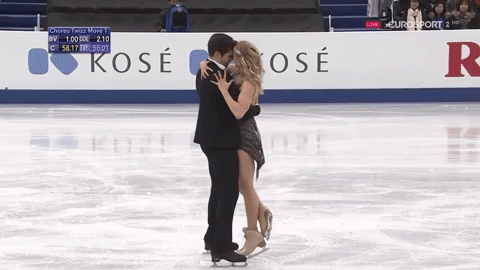 What happened to the Shibs? I thought they have nerves made of steel! And it always seemed that they can do a couple of circles around the ice rink doing twizzles. Is Alex healthy? First, there was a short dance with that weird moment when tech fall first but then got back to normal….But then there was a free dance and everything became even more unclear. What is going on in Canton?!!
I don't think I can say anything new about Tessa and Scott, about pair I love so much. They are gorgeous, they are amazing. Nobody dances latina like they do, no one tells the story of feelings in their dances like they tell. Scores? Well, I will leave it for the judges. If silver is the price you need to pay for the pleasure of watching them skating then as a longtime fan, I'm ready to pay it. Because performances stay in memory, not medals.
Guillaume added some rhinestones on his tank-top! Well, now it's not a brutal tank-top, it's a glamorous tank-top) As for the free dance … .. I can not say that this was their best skate, I liked it better at the grand prix….but the scores tells the opposite)) But they learned how to cope with nerves, good for them.
Both pairs got huge scores, but it's hard not to feel that everything is already predetermined in ice dance.
Honestly, I started watching GPF without proper emotional mindset and by the end of the competition I felt some kind of burnout. That's why, there are not so many impressions from  ladies' Final.
Japanese skating federations gets the prize for most illogical behavior. First, they sent their strong girls to the same GP where they took points from each other. Then they didn't support Wakaba….In GPF they supported Satoko….but only in the short program. Where was her PCS in the free program?! Ok, lots of underrotations, I have no complaints about her TES, but Satoko has nice lines, beautiful programs she's really good in PCS so why her protocol doesn't show that?!
I've been Carolina's fan for so long, so neither medals nor scores are important for me anymore. At the beginning of the season I liked her FP and did not like the SP. By the GPF, everything was exactly the opposite. I even thought maybe she could go back to one of her old free program? For example, Mozart?
Kaetlyn Osmond slowly but getting momentum. I like her short program and her powerful and confident landings. The free program looked better, but I still think that it was a mistake of choreographer to make her portraying a ballerina. By the way, what is this suppose to mean in balletic program?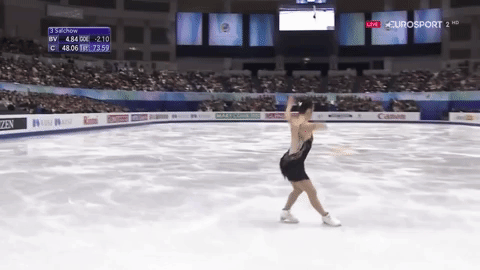 Maria Sotskova made another step closer to Olympics. For sure it's a titanic work to keep the jumps with her height and such a long legs. Respect. But in Masha's skating, almost everything is boring for me, well, except for a new wonderful dress for the free program … ..Yeah her lines are beautiful, she skates cleanly, the music is pleasant, but so boring. I remember only trendy eyebrows and a strange new blonde hair color)
Another swan – Alina Zagitova is also far from ballerina as I from British throne. But who cares. So I wish they gave her not an OST from Black Swan and some other movie but Tchaikovsky. It' would have made the program more powerful and memorable. The free program wasn't excellent this time, but still a great achievement for Alina to skate two almost clean programs at competitions of such level.
That's all! It was a difficult beginning of the season, so I'm glad that this crazy grand prix series is finally over)
Related topics: Adam Rippon, Alina Zagitova, aliona savchenko bruno massot, Anna Cappellini Luca Lanotte, Carolina Kostner, Cheng Peng Hao Zhang, Evgenia Tarasova Vladimir Morozov, Gabriella Papadakis Guillaume Cizeron, grand prix final, Jason Brown, kaetlyn osmond, Ksenia Stolbova Fedor Klimov, Madison Chock Evan Bates, Madison Hubbell Zachary Donohue, Maia Shibutani Alex Shibutani, Maria Sotskova, Meagan Duhamel Eric Radford, mikhail kolyada, Nathan Chen, Satoko Miyahara, Sergei Voronov, Shoma Uno, Tessa Virtue Scott Moir, Wakaba Higuchi, Wenjing Sui Cong Han
8 Responses to "Grand-prix Final 2017 review"